You have /5 articles left.
Sign up for a free account or log in.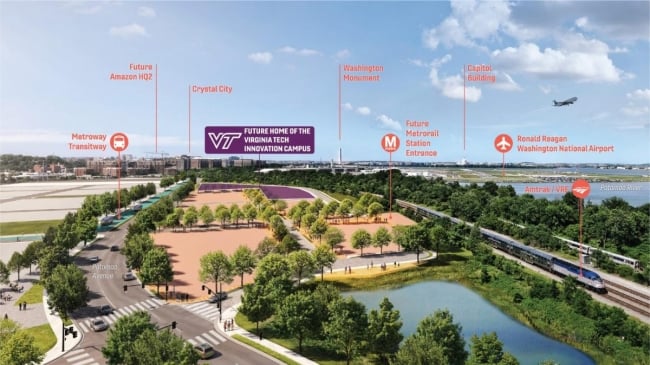 Virginia Tech and George Mason University both pledged to significantly expand their computer science programs following Amazon's announcement last year that it would build a second headquarters in Arlington, Va.
The institutions planned not only to produce thousands more computer science graduates to fill Amazon's need for highly skilled employees, but also to build state-of-the-art facilities close to Amazon's chosen 105-acre site near Reagan National Airport. The plans hinged on hundreds of millions of dollars in investment from the state, philanthropic grants and industry partnerships.
But the two universities do not appear to have made equal progress with their plans. While Virginia Tech has already secured a substantial amount of funding from the state, George Mason is still far from meeting its fundraising goals, making the institution's original five-year timeline seem increasingly infeasible. 
The state this year appropriated $168 million for Virginia Tech to build a new Innovation Campus, whereas it authorized $7.5 million in spending by George Mason -- far short of the $125 million the university is seeking from the state. The $7.5 million will be used to knock down an old building on George Mason's existing Arlington Campus and make room for new construction. 
Ralph Northam, Virginia's Democratic governor, said last November that the state would make performance-based investments of up to $375 million available to the two institutions to build new facilities and dramatically increase the number of graduate-level computer science students they enroll. The funds would be made available over the next twenty years, subject to a one-to-one match from the universities. Virginia Tech initially requested $250 million and George Mason $125 million. Northam said additional funding will be available to boost undergraduate enrollment in technology degrees at all Virginia public universities and community colleges, including at George Mason and Virginia Tech. 
Anne Holton, George Mason's interim president, said she's confident the state will honor its $125 million commitment. She said the university has so far identified around $20 million from philanthropic sources and is working to secure more.
"I'm on a rigorous schedule of meetings with current donors and potential new donors," she said. "All the major tech businesses in Northern Virginia are eager to see us succeed and several of them have already stepped up to host events to help us raise those dollars. I am confident we will meet our match. It may be a couple of years, but that's ok. We don't have to have it all right away." 
Holton said the university is "still on track for ambitious growth." She noted that unlike Virginia Tech, George Mason already owns the land that it is planning to build on. "We will move forward expeditiously," she said. 
Big Plans, Big Price Tags
Tim Sands, Virginia Tech's president, last year shared plans to build a $1 billion Tech Innovation Campus near Amazon's new headquarters that would accommodate 750 new computer science master's students and hundreds more doctoral students and postdoctoral fellows. Sands proposed that the campus would be built with $250 million from the state, $250 million from the institution and a further $500 million from a mix of philanthropic grants and industry partnerships.
George Mason's former president, Ángel Cabrera, who will start his new role as president of the Georgia Institute of Technology in September, announced last year that George Mason would invest $250 million to build a 400,000-square-foot Institute for Digital InnovAtion (IDIA) on its Arlington campus and prepare to significantly expand its computer science enrollment. The planned $250 million investment would include $125 million from philanthropic giving and $125 million in matched funding from the state. He planned to more than double enrollment in undergraduate and graduate computer science programs to 15,000 students by 2024. The current level is around 6,500 students.  
Quickly raising $125 million to support the expansion of its computing programs and fund the new institute could prove challenging. The George Mason University Foundation reported that it received around $68 million in total contributions in 2018, up from $62.5 million in 2017. The largest ever single donation to the university was a $50 million gift for the law school in April this year. The university has also been the subject of criticism in recent years over a perceived lack of donor transparency, particularly regarding financial ties to the conservative Charles Koch Foundation.
Enrollment at George Mason has grown by 17.5 percent over the past decade, from 32,067 students in 2009 to 37,677 in 2018. But increasing tech enrollment by around 8500 students in five years would be a significant feat. The Volgenau School of Engineering, which teaches computer science among other tech subjects, gained 462 students between Fall 2018 and Fall 2019. 
Michael Sandler, a spokesman for George Mason, said Mason is already playing an important role with Amazon and other tech companies because it produces the state's largest number of graduates in highly sought tech majors. "The number of tech talent graduates is a primary reason cited by Amazon in its decision to build here in Northern Virginia, and we plan to triple the number of graduates in tech talent fields over the next decade to meet Amazon's demand."
Sandler said Mason has a strong track record of providing access to education for students from a broad range of socioeconomic and demographic backgrounds -- answering "an important demand from Amazon and other employers across the region and state."
For example, the university recently announced a partnership with Amazon Web Services and Northern Virginia Community College that "offers students a seamless transfer pathway and provides a clear path to high-demand careers in cloud computing."
Unequal State Support?
Writing for the Richmond Times-Dispatch in July, Cabrera hinted at his frustration with Virginia lawmakers in a "presidential farewell," which celebrated the university's achievements in spite of limited state support compared with neighboring institutions.
"The university today is a powerful engine of innovation, social mobility and economic growth for Northern Virginia and, by extension, for the entire commonwealth," wrote Cabrera. "Quite notably, the university achieves all this while charging about 28 percent lower in-state tuition than the other three R-1s in Virginia (University of Virginia, Virginia Tech and Virginia Commonwealth University), with a fraction of their endowment, and, sadly, with about one-quarter less state support per student. While private philanthropy has more than doubled in recent years, it alone cannot compensate for the weakness in public support."
For the university to continue to grow, Cabrera wrote it is "essential that Virginia lawmakers reassess current funding levels as well as the university's treatment from an overall policy standpoint."
After talking about the university's planned computer science program expansion and its commitment to diversity, Cabrera said he was concerned that the path ahead "is precarious and likely unsustainable without funding structures that invest in this growth on par with peer institutions."
University insiders hope Holton, who is a former Virginia education secretary and current member of the state Board of Education, will be able to foster a better relationship with state lawmakers. Holton's connections in Richmond and Washington, D.C., are significant. Her husband is Tim Kaine, a Democratic U.S. senator from Virginia, and her father is A. Linwood Holton Jr., Republican former governor of Virginia.
Holton said state support for Mason's ambitions is strong, citing many positive interactions with lawmakers in the first few weeks in her new job.
Although George Mason has yet to secure all of the funding it set out to, Holton said she does not view this as an issue. The university doesn't need to secure all $250 million in one hit, instead requesting funding from the state "as and when it is needed" over the next few years.
Stephen Moret, the president and CEO of the Virginia Economic Development Partnership, the economic development agency that led the state's Amazon bid, refuted the suggestion that the state may be favoring Virginia Tech over George Mason.
The Tech Talent Investment Program (TTIP), which is the mechanism through which the state will award funding to grow both undergraduate and graduate tech programs, has not yet finalized any funding decisions or institutional memorandums of understanding -- this work is expected to be completed by the end of October, he said.
"The $375 million total amount in the HQ2 press release for graduate-level computer science education was the combined total of what Virginia Tech and George Mason respectively proposed for state support in exchange for a one-to-one philanthropic match from each institution,'' said Moret. "Accordingly, it would be misleading to suggest that Virginia Tech secured the lion's share of master's-level funding 'over' George Mason, when the reality is that those tentative amounts actually are what the institutions themselves proposed to the state."
Moret said "it definitely is possible" that George Mason will receive the amount it requested, contingent on the final funding allocation decisions of the designated reviewer group for TTIP, and subject to George Mason securing one-to-one matching philanthropic commitments.
"This is a 20-year initiative, so only some of the new state commitments show up in the [fiscal year] 2020 budget," said Moret. "Most of the state funding will be provided in future budget years as all the participating schools ramp up their programs. Some of the capital projects for Virginia Tech were included in the FY20 budget because they have been underway for quite some time."
Bethany Letiecq, an associate professor in human development and family at George Mason and president of the local advocacy chapter of the American Association of University Professors, said the university's faculty members have received little communication about the expansion plans.
"We just don't know very much. There are a lot of questions," said Letiecq. "As the university chases the promise of Amazon, we're left wondering what will happen to the university's resources. Will there be funding to uplift other components of the university system? Which programs or departments might get hit? How does this growth fundamentally change the institution?"
There have already been "really troubling" suggestions that George Mason's humanities departments may be downsized to focus on computer science and "push toward where the jobs are," said Letiecq. "I'm not sure that faculty have been given much voice in this matter." The university said it is committed to the humanities.
She's also concerned about a lack of guarantees that Amazon will hire the thousands of computer scientists George Mason plans to graduate. The state's promise to grow computer science programs across institutions in Virginia by 25,000 to 35,000 students over the next 20 years has been reported as a significant factor in Amazon's decision to pick the region. But it's unclear whether the tech giant will actually hire a significant proportion of these students, when it could have its pick of national and international candidates. And Amazon recently announced plans to invest $700 million in postsecondary job training for 100,000 of its largely entry-level workers -- most of which will be offered outside of traditional colleges and universities.
Letiecq said she hopes Holton might actually slow down the expansion at George Mason, rather than speed it up. "Faculty are very concerned about the pace of growth. There is a lack of infrastructure available to accommodate the number of students that the institution is pushing toward."
Holton said she understood that some faculty members may feel anxious about the planned computer science expansion, but stressed the university's "very strong commitment to the humanities and social sciences."
"I am confident that it's going to be a win for everybody," she said. 
Full Steam Ahead for Virginia Tech
Stephen Fuller, professor of public policy and regional development at George Mason, has researched Amazon's potential economic impact on Northern Virginia. He believes Virginia Tech's new Innovation Campus will have a "major beneficial impact" on the region. Comparatively, George Mason's plans are not so ambitious or advanced, he said. 
"Mason is still in spring training. They don't have much support from Richmond, and they should have been in the forefront," said Fuller. "George Mason didn't talk to the right people early on. Meanwhile, Virginia Tech had a plan in the drawer, ready to go."
Brandy Salmon, associate vice president for innovation and partnerships at Virginia Tech, said plans for the $1 billion Innovation Campus were catalyzed by the prospect of Amazon's expansion in the region but not driven by it. The campus had been in development for a number of years, she said.
Virginia Tech will partner with Lionstone Investments to build the campus on a mixed-use development close to a planned Metro station less than two miles from Amazon's HQ.
The campus will include academic classrooms, incubator space for start-up companies and research and development, offices, and an events space, said Salmon. The first master's degree students will enroll in fall 2020 and will study in an existing building that is currently being used for retail. The design of the campus is yet to be finalized but is expected to be fully completed in about 10 years' time.
Cal Ribbens, professor and head of the department of computer science at Virginia Tech, said development of a new master's of engineering in computer applications is already well underway. The degree is planned to begin in the spring of 2020, pending approval from the State Council of Higher Education for Virginia.
The degree program will be hands-on and will feature courses in software development, communication skills, ethical issues and applied research and development, said Ribbens. It is designed to turn out graduates faster than a traditional research-based program. For example, full-time students will be able complete the program in about a year.
The road map for expansion of the program, which will be the first degree offered from the Innovation Campus, is "pretty aggressive," said Ribbens. And working from a new location may throw up some logistical challenges, particularly for faculty who will need to commute to Northern Virginia. But Ribbens points out that Virginia Tech already offers programs outside its main campus in Blacksburg.
Informal conversations with Amazon and other tech employers have informed the curriculum of the new degree program, but there is no formal partnership with the company, said Ribbens. It is possible, however, that the program may use "a small number of adjunct faculty from Amazon or other companies."
Leaders at both George Mason and Virginia Tech said their plans are not contingent on Amazon's needs.
"We're not just growing tech talent for Amazon, but for Northern Virginia," said Holton.