You have /5 articles left.
Sign up for a free account or log in.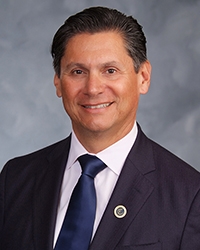 The California Community Colleges system is trying to ease the concerns of immigrant students worried about the impact of a new immigration rule scheduled to go into effect next month.
The rule change by the U.S. Department of Homeland Security will more closely scrutinize immigrants based on their use of federal public assistance programs, such as food stamps and Medicaid, when they apply for legal immigrant status or renew their Permanent Resident Card, which is commonly referred to as a "green card." The so-called "public charge" rule is designed to deter noncitizens from using, or becoming dependent on, government social assistance programs.
Although it specifically excludes Pell Grants and other forms of educational aid, some critics still consider the rule an attempt by the Trump administration to only allow wealthy or financially better off immigrants to come to live or study in the United States.
The rule was published last month in the Federal Register and is slated to be effective on October 15, 2019. "The primary benefit of the final rule would be to better ensure that aliens who are admitted to the United States, seek extension of stay or change of status, or apply for adjustment of status will be self-sufficient," it states.
College administrators and immigrant advocates worry that mixed messaging by the Department of Homeland Security and misinterpretation of the rule could deter immigrants who aren't U.S. citizens from enrolling in college or applying for financial aid. The rule change could also influence low-income immigrant students' willingness to enroll in financial aid programs they need, said Jill Desjean, policy analyst for the National Association of Student Financial Aid Administrators.
"I would expect that, generally, the number of people applying for federal benefits would go down, and that would include the benefits from the specific school," Desjean said. "I wouldn't be surprised if students didn't apply because they saw in media reports that they fell under that broad umbrella of students that this rule would effect."
Representatives of the National Education Association voiced similar concerns in a letter to the DHS last year and also warned that the inclusion of benefits that help meet people's basic needs could severely impact students' educational success.
"Educators can readily attest to the effects of inadequate nutrition, a lack of routine medical care, and destabilized living situations on students," the NEA letter said. "These factors contribute to disruptive behavior, inattention in class, absenteeism, and incomplete work. In other words, a marked decline in the quality of education follows, for both directly affected students and their peers."
In California, where more than a quarter of the country's immigrants lived in 2017, the state's community colleges are trying to address students' unease about the rule change.
Eloy Ortiz Oakley, chancellor of the community college system, encouraged students in a press release last week to continue enrolling in the system's 115 community colleges and to apply for state and federal financial aid despite the rule's impact on residents living legally in the U.S.
Oakley's advisory emphasized that the rule does not extend to student aid.
"The rules are fairly clear that enrollment status is a plus and financial aid isn't counted against" residents whose status is up for renewal, said Eric Kaljumägi, president of the California College Association, an NEA affiliate and the higher education branch of the California Teachers Association.
"Whether or not students know this is unknown," Kaljumägi said. "The chancellor's office has encouraged local schools to get that mention out -- that financial aid is not going to be a negative factor … The further down the economic ladder you go, the more people rely on word of mouth."
The rule change could also affect international students who apply for visa extensions. "A student is required, as part of the eligibility for the nonimmigrant classification, to establish that he or she has sufficient funds to study in the United States," the rule states.
Opponents argue that exchange students could also be deterred from attending college in the U.S., but these students tend to be relatively self-sufficient, Kaljumägi said. There might be a small drop in low-income international student enrollment, but students with more resources or in exchange programs will likely not be deterred, he said.
Citlaly, a second-year nursing student at East Los Angeles College, a two-year college where more than 7 percent of the students are immigrants, said she heard that immigrants receiving food and medical assistance or financial aid would be prohibited from extending their legal resident status.
"There were many students here who thought they were going to have to drop their classes" because of the rule change, she said. But some of the confusion about the rule change was cleared up after an information session was hosted by the college.
Citlaly requested that her last name not be used because her parents are undocumented immigrants. She immigrated to the U.S. with her parents from Tapachula, Mexico when she was two years old and is able to live and work legally in the U.S. under a program known as DACA, or Deferred Action for Childhood Arrivals
She knows she will have to adjust her immigration status in the future and said she's aware that her enrollment in both food and health care assistance programs could negatively impact her or her three-year-old child. She also receives aid through the California Dream Act (unrelated to the federal DACA program), which provides some immigrants with state financial aid for college.
Brian Barrick, student services specialist at the college's Dream Resource Center for immigrant students, said many students are worried about the rule. He said a student who had recently applied for state financial aid came to the center last week to withdraw her application, fearing it would impact her ability to update her status in the future.
"She qualified under the state guidelines for aid, and even her attorney was advising her not to take the aid in case it would affect her," said Barrick, who added that the college is working on bringing legal professionals to the center to counsel students.
"If a student comes in, we always refer them to attorneys," he said. "We don't have that training personally, so we want to make sure we link them with the experts that do."
California's higher education systems will continue to promote state aid programs, which aren't impacted by the rule change, for legal permanent residents, said Bryan Sapp, media relations manager for the California Student Aid Commission.
"The Commission urges immigrant students seeking California financial aid to understand that they have the legal right to pursue California financial aid," Marlene L. Garcia, the commission's executive director, wrote in a statement.
Xavier Becerra, the attorney general of California, along with attorneys general in Oregon, Maine, Washington, D.C. and Pennsylvania filed a lawsuit against DHS and U.S. Immigration and Citizenship Services on August 16 to block the rule change, arguing it violates the Fifth Amendment's Equal Protection Clause and "states' rights to protect their residents."
"Our families came here to give us a future, to give us a life and that's what a majority of students here are doing," Citlaly said. "Here at community college, there are nice people who help you if you need it."
That's what the federal government programs should do, too, she said.