You have /5 articles left.
Sign up for a free account or log in.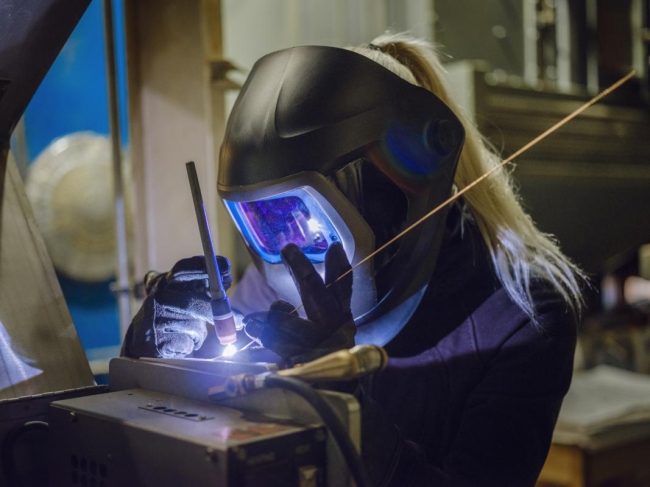 The National Science Board released a report Monday calling for, among other things, a cultural re-evaluation of America's "skilled technical workforce" -- people who use science and technology skills in their jobs, but don't possess a bachelor's degree.
While demand for professions like electricians, welders and autoworkers is projected to rapidly increase, the supply of labor for these jobs is estimated to fall short by nearly 3.4 million workers by 2022.
The federal report suggests that the shortage may be in part due to students lacking encouragement to pursue technical careers from parents and guidance counselors, and an overall culture that values bachelor's degrees.
Victor McCrary, vice president for research and graduate programs at the University of the District of Columbia and chair of the board's task force on the skilled technical workforce, cited stigma around technical jobs among parents and high school educators. "There are many opportunities for students coming out of high school," he said. "There's not just one path to the middle class which is a college education."
Matt Sigelman, CEO of Burning Glass Technologies, which analyzes job market trends, agreed that a lack of knowledge around technical roles could be to blame for the shortage.
"We know there is also certainly an awareness gap where a lot of students proceed to college by default when … technical roles can often give them the kind of lifestyle and career profile that they're aspiring to, perhaps more efficiently and effectively," he said.
Other factors may also be part of the problem. Mary Alice McCarthy, director of the Center on Education and Skills at New America, said that while these technical jobs can be highly paid, parents might be worried these jobs won't be around for very long. "Part of that concern around enrolling in these kinds of programs or having your children enroll in them is the rapid pace of automation," she said. "It is important to be thinking about what comes next for these students and these workers."
Sigelman and the report both noted that many students graduating high school have not been prepared by the K-12 system with the math and science skills technical programs and jobs require. "Our education system struggles to engage students' interests in STEM to deliver graduates with sufficiently strong STEM skills," he said.
McCrary said that specific requirements by certain industries were also crimping the labor supply pipeline. The national security industry, for example, which requires welders and programmers, only recruits U.S. citizens.
In addition to a cultural shift, the report called for an increase in partnerships -- such as those between community colleges, universities, and private industries -- and further analysis of current federal investments in the technical workforce.
While labor unions were little mentioned in the report, McCrary says they will play a "critical role" in attracting talent and could partner with schools and institutions. The report noted that many students say they cannot personally or financially afford to take a year or two out of the workforce to earn a degree, and might be better suited toward "earn while you learn" apprenticeships.
McCarthy, from New America, said that while leveraging current federal investments in STEM education would be useful to build the partnerships the report describes, the goal can't be accomplished without more money. "Just moving the money around right now of what we have isn't going to be enough," she said. "We need to better support and build the capacity of our institutions to build those partnerships and sustain those partnerships."
The NSB report's other recommendation called for further data collection on the skilled technical workforce, including information about which programs are most popular and most effective, which the authors say is now insufficient or silo-ed.
McCrary said the need for these science and technical skills is not only important for workers individually, but for overall national security and global competitiveness. "These skills are extremely important," he said. "The system needs to work together and this needs to be a robust pipeline."