You have /5 articles left.
Sign up for a free account or log in.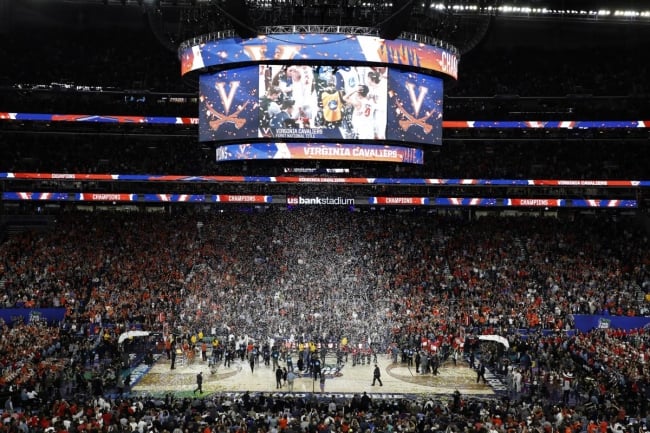 In one of the most significant strikes against the National Collegiate Athletic Association's system of amateur athletics, California lawmakers have approved a bill that would allow players in the state to profit off their name, image and likeness.
The adoption of the bill is likely to set up a battle between California lawmakers and the NCAA as the legislation heads to the desk of Governor Gavin Newsom for his anticipated signature.
The association fiercely opposed the measure. NCAA President Mark Emmert went so far this summer as to insinuate that California institutions would be excluded from championship games if the bill was approved. 
Traditionalists in the NCAA argue that allowing college athletes to earn money from endorsement deals or marketing promotions involving their name, image and likeness undermines the concept of collegiate sports being at the amateur level. The NCAA position is that players should focus on their education first and not participate in a pay-for-play system. The longstanding debate over whether colleges and the association take advantage of athletes who work hard and earn the institutions and the NCAA lots of money but receive none of the spoils has been subject to court challenges.
California lawmakers seemed unbothered by the NCAA's opposition to the legislation, the Fair Pay to Play Act, or SB 206. The measure was sponsored by Democratic State Senator Nancy Skinner and cleared the State Assembly, the Legislature's lower chamber, on Monday with 72 votes and no opposition. It also prevents athletes from being stripped of their scholarships if they earn money from the use of their name, image, and likeness.
"The NCAA Board of Governors has monitored SB 206 as it has moved through the California legislative process," the association said in a written statement Tuesday. "As we evaluate our next steps, we remain focused on providing opportunities and a level playing field for the nearly half a million student-athletes nationwide."
Although the California Legislature is overwhelmingly liberal, the bill garnered little resistance from Republicans, an indication that it is likely to become law. Newsom, a Democrat, has one month to sign the bill into law. If he does nothing, the bill will take effect in January 2023. A Senate version of the bill  already won approval in May, passing 31 to 5, also with bipartisan support
"The magnitude of support from the California Legislature ...  reflects the growing understanding that the college sports system is broken in its present form," said Ellen Staurowsky, a professor of sports management at Drexel University. "The NCAA had decade after decade of opportunity to fashion a business model, a college sports business model, that is appropriate for the 21st Century and at every turn, they've failed to do so."
A similar federal bill introduced by U.S. Rep. Mark Walker, a North Carolina Republican, earlier this year, would remove the NCAA's tax-exempt status if athletes were not allowed to profit off their name, image, and likeness. 
Representatives for Skinner and Newsom did not respond to requests for comment.
Emmert asked California officials in a letter in June to table the bill until an NCAA working group studying athlete compensation delivered its findings to the association next month. Association officials fear that allowing only athletes in California to be compensated would give colleges in the state a recruitment advantage, as players would be lured there by the prospect of marketing and endorsement deals, Emmert wrote in the letter. He also used the letter to suggest that the state's colleges and universities could be prohibited from taking part in championship games because of these unfair recruitment benefits. 
Officials took offense to the warning.
"I just want to say, 'NCAA, don't threaten California. Don't threaten us'," Democratic Assemblywoman Sydney Kamlager-Dove, said before a vote on the Assembly floor, according to USA Today. "Because we have formidable schools. We have formidable alumni. And we have formidable viewership. And we can leverage those things until 2023, when this bill takes effect. I'm sick of being leveraged by the NCAA on the backs of athletes who have the right to their own name and image."
The NCAA will likely have to allow the California bill to take effect without consequences, which would open the possibility for other states to pass similar legislation, said Erwin Chemerinsky, dean and professor of law at the UC Berkeley School of Law. The other option is for the NCAA to create a model allowing athletes in all states to be compensated, he said.
At least 23 California institutions participate in the highest NCAA division, Division I. Four universities are members of the high-ranking Pacific-12 Conference, one of the leagues in the Power 5 Conferences, which are the most affluent and powerful in the NCAA.
With some of the country's most prominent athletics programs located in California --  the University of Southern California, Stanford University, University of California, Los Angeles, are all Pac-12 members -- and lucrative television contracts on the line, many NCAA critics questioned whether Emmert would follow through with his threat to bar California colleges from championship games. 
Agreements with broadcasting companies such as ESPN and CBS to televise high-profile college sports generate a majority of the association's revenue. The NCAA rakes in more than a $1 billion annually, with $800 million of it from television rights agreements.
"You really think Emmert is going to tell ESPN, CBS and Turner to take a hit in one of their biggest media markets, that the tournaments and bowl championships they paid billions of dollars in rights fees for will have to be played without the heart of the Pac-12?" Washington Post columnist Sally Jenkins wrote in June. "'Sorry, CBS, but you can't have Stanford, Southern Cal, UCLA or Cal, because their kids might've made some cash from selling T-shirts with their own pictures on them.'"
Some California colleges, including both the California State University and University of California systems, are opposed to the legislation. Michael Uhlenkamp, spokesman for CSU's chancellor, told Inside Higher Ed earlier this year the legislation could lead to athletes some of whom may be on athletic scholarships, being ineligible to compete. Uhlenkamp said he had no further comment on Tuesday.
The bill ultimately "would do more harm than good and likely deny our students a chance to compete at the highest levels" because athletes risk losing eligibility, University of California spokeswoman Sarah McBride said in a statement. 
"We believe that any sweeping policy change around student-athlete compensation should first be addressed at the national level, to ensure consistency and a level playing field across all states and intercollegiate athletic conferences, she said. 
Stanford University spokesman E.J. Miranda provided a written statement on the university's behalf, stating that Stanford officials "support the goal of protecting and advancing the wellbeing of college student-athletes," but that the bill conflicts with the NCAA bylaws.
"As we await the NCAA recommendations, we oppose SB 206 because we believe there needs to be a rational and consistent national framework for addressing these issues," the statement reads in part. 
The controversy over whether amateurism is truly preserved in college sports intensified a decade ago when former UCLA basketball star Ed O'Bannon sued the association after he was featured in an NCAA video without his permission. He won the antitrust lawsuit and received a $40 million settlement from Electronic Arts, the video game's publisher. The settlement benefited tens of thousands of athletes who also appeared in video games without their permission. 
"I think the mythology of amateurism has to be extinguished and removed from our language," Staurowsky, the Drexel professor, said. "This pretense that college football players and men's basketball players performing in a multi-billion entertainment industry are amateurs -- those kinds of assertions simply prevent fruitful ways of dealing with these issues."
The NCAA could face another antitrust lawsuit if it attempted to enforce a post-season ban in California, Marc Edelman, a law professor at Baruch College and a sports law expert, wrote in an essay in Forbes.
Federal courts would likely disagree with a private association attempting to "usurp the power" of the California government, "a behavior that early Supreme Court antitrust opinions regularly condemned," Edelman wrote. 
"By way of analogy, under federal antitrust law, if a national association of retailers with market power were to decide to ban all members that chose to operate in California and thus complied with California's minimum wage laws, such conduct would fairly easily be recognized as an illegal restraint of trade," he wrote. "Any attempt by the NCAA to ban colleges that comply with the Fair Pay to Play Act would likely be viewed the same."