You have /5 articles left.
Sign up for a free account or log in.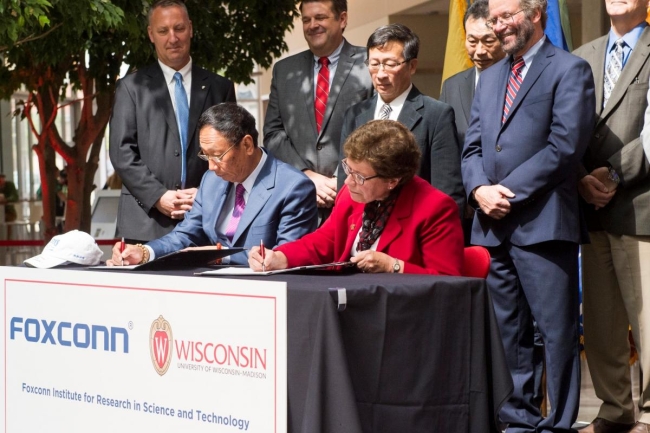 Last August, Taiwanese tech giant Foxconn pledged $100 million to the University of Wisconsin at Madison, promising to build a research campus by 2020 and a facility for the College of Engineering, where the company and UW faculty and students would collaborate on "trailblazing" interdisciplinary research in technology, engineering and the sciences.
But more than one year since the partnership to develop the Foxconn Institute of Research in Science and Technology (FIRST) was announced, the company and university's ambitious promise appears unrealistic. The university has only received $700,000, though the original timeline for the $100 million gift, plus a matching $100 million from UW Madison, was set at five years, John Lucas, assistant vice chancellor of UW Madison communications confirmed in an email.
"While UW Madison remains committed to fundraising for these critical areas, there is no formal matching initiative or fundraising sub-campaign because discussions around a Foxconn gift agreement are continuing," the university's statement said. It's unclear whether UW Madison has matched Foxconn's $700,000 insofar, and neither Foxconn nor Lucas would comment on the amount of the university's contributions.
The lack of "significant progress" on the project is due to Foxconn's recent executive leadership turnover, according to the university's statement. Foxconn founder Terry Gou stepped down as chairman earlier this year to run for political office in Taiwan.
Typically there are terms listed in corporate and university matching agreements such as these that say what milestones each party must hit to receive financial promises, said Brian Flahaven, senior director for advocacy for the Council for Advancement and Support of Education, an organization that counsels university advancement professionals. When those milestones aren't being reached, university officials would likely return to the donor to adjust terms, Flahaven said.
"If it's a massive donation, you're probably going to have lots of key people involved in negotiation, following up on it," Flahaven said.
However, current and former University of Wisconsin system faculty leaders said the original agreement doesn't lay out these milestones and was a "hail Mary" to align the system's flagship university with Foxconn's various projects within the state, which were touted by Republican former governor Scott Walker. The announcement of the UW Madison and Foxconn partnership was made just months before the 2018 midterm elections, where Walker faced current governor Tony Evers, a Democrat.
The signed agreement was publicized by UW Madison before the two parties had any concrete plans to make FIRST a reality, said Nicholas Fleisher, associate professor of linguistics at UW Milwaukee and president of the Wisconsin Conference of the American Association of University Professors.
"As far as their promise to Madison, which I never understood to be contractual, it seems to be Foxconn hype, rather than a commitment to the state," said Michael Rosen, a retired economics professor who taught at Milwaukee Area Technical College and led MATC's American Federation of Teachers faculty union, Local 212, for 17 years.
"It's disturbing that so-called educational leaders, such as UW Madison, were such cheerleaders," Rosen said. "That's not the job of leaders of educational institutions, to be the cheerleaders of hyped-up projects."
The extent of the UW system's partnership with Foxconn includes UW institutions participating in the company's three-year SmartCities SmartFutures competition, which began Sept. 9 and allows college students and faculty to submit inventions and innovative ideas for the chance to win $1 million from Foxconn, according to an emailed statement from the system. UW Health and the UW Madison Carbone Cancer Center also signed a non-legally-binding memorandum declaring a "cooperative relationship" with Foxconn to advance cancer treatments and standards of care in April 2018, according to documents from UW Madison.
"UW system institutions have had an ongoing dialogue with Foxconn to help the company and our universities realize opportunities that will grow Wisconsin's workforce and enhance our research infrastructure," the statement said.
Foxconn's investment in UW Madison has not been inhibited by the university's ability to fundraise, Lucas wrote in an email. He also said the $100 million matching agreement did not require the university to reach certain donation goals before Foxconn provided its gift. (Note: This paragraph was added to a previous version of the article to include additional comments from the university about its fundraising efforts.)
Foxconn has been criticized for not following through on other development promises to the state. In 2017, one year before Walker's re-election bid, Foxconn agreed to build a $10 billion manufacturing plant, which the company, Wisconsin state officials and even President Trump originally promised would bring 13,000 blue-collar jobs to the state. Ever since, the project has been a source of political turmoil -- it was anchored on $3 billion in tax subsidies, according to The New York Times, and development has slowed since Foxconn, which relies on cheap labor to build its tech products, said it's reconsidering the economic viability of setting up a plant in Wisconsin.
The plant is mentioned in UW Madison's agreement with Foxconn as well.
"The commitment of Foxconn to build the Wisconn Valley Science & Technology Park -- anchored by the first and only TFT-LCD fabrication plant in North America … will serve as the catalyst for extraordinary innovation and discovery and will stimulate similar economic growth," states the agreement, signed on Aug. 28, 2018, by UW Madison chancellor Rebecca M. Blank and Gou.
Flahaven suggested that the unusually loud politics surrounding the agreement are likely the reason that it's been slow moving, and not the university's failure to meet its own commitment to match donations.
But one can see in the agreement, Fleisher said, that the $100 million from Foxconn relies on UW Madison dedicating $100 million itself, and no specific benchmarks are set for when the company or university would meet financial goals.
"If you look at what the details are, there's actually nothing there," Fleisher said. "It's all kind of pie in the sky -- 'if UW is able to raise $100 million, we'll work out some deal.' The fundraising part aside, during the summer of 2018, Foxconn announced a bunch of research centers in various cities around the state, and for the most part, those are still empty and not doing anything."
FIRST was set to have 100 researchers at work by 2020, according to the agreement, though the university has now said it's still in the discussion phase with Foxconn.
"It's not surprising that Foxconn has invested very little," Rosen said. "Foxconn has a reputation and a history in making very bold promises and delivering very little when the rubber meets the road … Foxconn's promises or commitments were more politically motivated than they had any economic basis."
Foxconn did not reply to requests for comment.