You have /5 articles left.
Sign up for a free account or log in.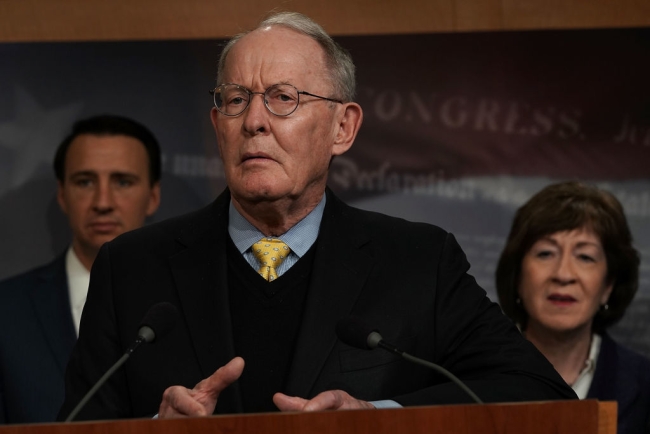 WASHINGTON -- GOP senator Lamar Alexander is expected to introduce legislation soon that would offer a path to piecemeal reauthorization of the Higher Education Act, after months of stalled talks over a bipartisan overhaul of the landmark law, which wasn't expected to move until at least next year.
Alexander, the chairman of the Senate education committee, has said he wants to pass an update to the HEA before he retires after next year. He's particularly eager to simplify the application for federal student aid known as the FAFSA and the myriad repayment options for student borrowers.
A scaled-back package of higher education bills -- which could be attached to a funding bill for historically black colleges that Congress is under pressure to pass by Sept. 30 -- could include a streamlined FAFSA application, the College Transparency Act, expanded Pell Grants for incarcerated students and the broadening of Pell eligibility to short-term programs, according to a wide range of individuals with knowledge of the discussions. Alexander's office didn't respond to questions about plans to introduce a broader HEA proposal.
But Senator Patty Murray, the Washington Democrat and ranking member on the committee, has repeatedly said she's not interested in passing legislation that falls short of a comprehensive reauthorization of the higher ed law. And discussions between Republicans and Democrats have hit numerous hurdles over issues like college affordability, oversight of for-profit colleges and campus sexual misconduct.
That a smaller bill is in the works -- rumors were circulating around Washington that it could be released as early as this week, a timeline refuted by Alexander's staff -- suggests the Tennessee Republican is tired of waiting for a deal with Democrats as his time runs out in Congress.
The proposal also would include a 10-year extension of Title III, Part F, funding for historically black colleges and other minority-serving institutions, which is set to expire at the end of the month. That element of the proposal would be significant, because the House just passed a two-year extension of the $255 million in annual funding as part of stand-alone legislation called the FUTURE Act.
"Chairman Alexander is working on a permanent solution to continue mandatory funding for historically black colleges and universities and other minority-serving institutions," said an Alexander spokesman. "He has been clear that his goal is to pass a higher education reauthorization this year and looks forward to working with his colleagues to pass a bill into law."
After the House of Representatives passed the FUTURE Act on Tuesday, HBCU leaders called for the Senate to quickly pass identical legislation introduced by Senator Tim Scott, a South Carolina Republican, and Senator Doug Jones, an Alabama Democrat.
"This critical funding stream helps eligible colleges and universities enhance their fiscal stability, improve their institutional management and strengthen their academic programming, with a particular focus on high-demand career areas, like careers in STEM fields," Harry L. Williams, president and CEO of the Thurgood Marshall College Fund, said in a statement Tuesday.
The Senate now should "follow the House's lead and take swift action to prevent this critical funding from [lapsing] at month's end, by voting to pass the FUTURE Act," he said.
Jones said in a statement that Senate Majority Leader Mitch McConnell should bring the bill up for a vote and "take the next step to give these schools the certainty they need to continue serving their students and fulfill their mission."
An alternative proposal from Alexander that attaches that funding to broader higher ed legislation could complicate efforts to renew the funding by Sept. 30. Some sources who are plugged in to the discussions of the proposal said having HBCU funds tied to an HEA bill may put pressure on Democrats to back it, but that a debate would likely take lawmakers past the funding deadline.
The items discussed as part of a scaled-back HEA update reflect priorities with at least some bipartisan support. Alexander is famous for using a printed copy of the FAFSA to illustrate the application's complexity during his congressional hearings or speeches. But student aid advocates and Democrats also want to make it easier for students to apply for federal grants and loans.
Democrats have introduced bills to overturn the 1994 ban on Pell Grants for incarcerated students in multiple congressional sessions. But this year they secured their first GOP co-sponsors. And the push to reinstate Pell Grants in prisons has gotten extra momentum from the Second Chance Pell pilot program and from the Trump administration, which has shown an interest in criminal justice reform and has backed reinstating Pell Grants for some incarcerated students.
There is also bipartisan energy behind repealing a ban on a federal student-level data system, thanks in part to demands from both Democratic and GOP lawmakers for more information on college outcomes. The College Transparency Act, which would remove the ban, has support from more than a quarter of Senate lawmakers.
Legislation to make higher ed programs as short as eight weeks eligible for Pell Grants has support from community college associations and business groups in Washington, although some consumer advocates and scholars have questioned the value of some short-term credentials and whether there will be substantial demand for such programs.
If Alexander moves forward with the plans for a scaled-back HEA bill, he's likely to get a chilly response from Democratic lawmakers. Both Murray and Representative Bobby Scott, the Democratic chairman of the House education committee, have said they're committed to a comprehensive update to the Higher Education Act.