You have /5 articles left.
Sign up for a free account or log in.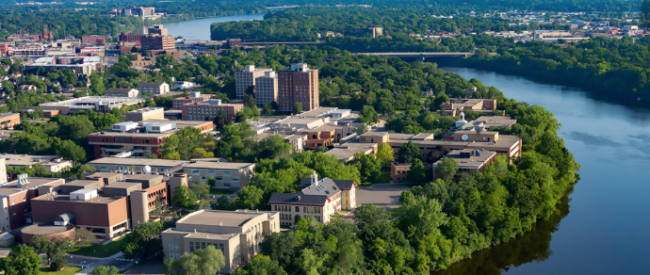 St. Cloud State University is laying off eight tenured faculty members in philosophy, theater and the university library and suspending admissions to the theater major.
At the same time, it plans to hire faculty members in "growth" areas.
"In making the hard decision of employee reduction, the university decided not to make cuts across the board and is actually hiring about 30 faculty positions in departments and programs with stable or growing enrollments," Adam Hammer, university spokesperson, said via email.
President Robbyn Wacker notified faculty members last month that despite ongoing efforts to manage the university's budget, "we have come to the conclusion that we need to retrench eight tenured and probationary faculty positions from three academic units."
Notices to the affected faculty members were delivered by the faculty union contract deadline last week. Three professors in philosophy will be let go, along with one professor of theater and four librarians.  The university has said that faculty members were selected for layoffs in inverse order of seniority, according to the contract. Beyond that, faculty members say it's unclear how or why the university came to its decision.
"I was completely shocked when I first got word [in August] that the administration was planning on retrenching in philosophy," said Paul Neiman, chair of philosophy -- and one of those who will be out of a job at the end of the year if the university does not reverse course. All of his affected colleagues have been at the university for 11 years or more, he said. "I did not at all see this coming." 
Both the university and the liberal education classes offered by the philosophy department have seen enrollment declines within the past decade, Neiman said. But those declines have been matched in part by faculty attrition -- some 23 percent over all since 2011, according to university data. Remaining faculty members also have created what Neiman called new high-demand classes. And philosophy would have four professors left after the layoffs, all of whom plan to retire within five years.
"I had assumed that the department would continue to shrink through attrition and that my position would be safe," Neiman said. "With these retrenchments, though, it puts the future of philosophy at SCSU in doubt, as it seems unlikely that they will hire new faculty when those who are left do decide to retire."
The American Philosophical Association voiced similar concerns in a recent letter to St. Cloud State's administration, saying that if retrenchment leads to a future in which St. Cloud has "has no philosophy major or, worse, no philosophy program at all," the university would be "betraying not only its current students but all of its constituents across the region, who rely on SCSU to provide the full complement of liberal arts and sciences that define an American university education."
The APA said that while it understands the impulse to act on metrics, they don't necessarily tell the whole story. The department has taken "active steps to increase enrollments, expand course offerings, partner with other programs (such as the new online professional communications program) and attract new majors and minors," the association wrote. Such efforts "have already begun to show results, but their success cannot continue without sufficient faculty" to support them. 
Moreover, the association said, the numbers on which the retrenchment proposal relies "significantly undervalue what philosophy offers" the university. "Philosophy plays a pivotal role not only for the department's own students but also in university core curricula and in interdisciplinary programs. Courses such as environmental ethics, philosophy of religion, philosophy and feminism, bioethics, ethics and professional communication, multicultural philosophy, and critical reasoning serve students across the university pursuing a wide variety of degrees and career paths."
A university spokesperson did not share enrollment data when asked. But figures presented to the faculty at an August meeting show that full-time-equivalent enrollment has declined by 31 percent since 2011, to about 10,000 students. The "significant" enrollment drop from 2011 to 2014 in particular resulted in a drop in cash reserves.
Budget reductions and strategic investments have since increased the university's reserves and its financial outlook, but enrollment has not steadied. As of mid-August, fall 2019 enrollment was tracking down by 11 percent, or 475 full-time-equivalent students. Budget modeling projected a $3.7 million to $6.1 million deficit. The current strategy is to pull funds from reserves, but next year's budget needs to be "resolved."
Retrenchments will account for about $840,000 in savings, according to the university's data. The university's rationale for targeting philosophy and theater for cuts is declines in numbers of majors.
In the case of theater, the university has said that the program will soon be out of compliance with National Association of Schools and Theater program guidelines about staffing. Currently theater has three full-time faculty members, with one planned retirement, while program accreditation standards dictate that it must have three professors. Further investment won't be possible in this fiscal climate, according to St. Cloud State.
As for the library, the university cited reduced demand in the form of lower enrollments and faculty attrition. The total number of reference inquires dropped 21 percent from 2018 to 2019, the university said, and circulation of print books has deceased 90 percent since 1993.
Still, the library's compensation budget has dropped by 16 percent since 2011 due to retirements, and its nonsalary budget already has been slashed by 45 percent since 2014, to about $272,000.
Hammer, the university spokesperson, said that retrenchment "is one of several strategies being deployed to manage our current budget situation. This was not a decision that the university leadership team came to lightly or without much deliberation."
The university is meeting individually with those affected. Layoffs take effect in May.
"This particular strategy implies the significant challenges ahead of our university. It is no secret that St. Cloud State is one of many universities -- regionally and across the country -- facing several years of declines in enrollment and retention," Hammer added. "Our intractable budget challenges during this same time [have] required us to consider and make hard decisions in service to the future of the university."
Unconvinced, the university's faculty union is challenging the decision and pushing the administration to do more on its end to stem the enrollment flow. In a lengthy response to the retrenchment plan, St. Cloud State's Faculty Association wrote that sudden faculty layoffs don't build student confidence in the institution. The union also said that its contract requires the administration to consider faculty attrition, retraining and reassignment and early separation incentives prior to layoffs. A genuine meet and confer would happen next, with the faculty, before any decisions about layoffs.
The union also is seeking clarification as to exactly how the administration decided to cut where it did and by how much, as the "decision to retrench these affected individuals across these three entities does not seem to fit within a larger strategic plan or vision for the university."
What "assurances do 'non-affected' faculty have that retrenchment will not become a routine financial management 'tool' used by administration to resolve future budget shortfalls given there is no certainty when enrollment numbers will stabilize?" the union also wants to know. And given that the pending retrenchment of eight professors addresses only a portion of the expected budget shortfall, what are the administration's plans for "resolving" the rest?