You have /5 articles left.
Sign up for a free account or log in.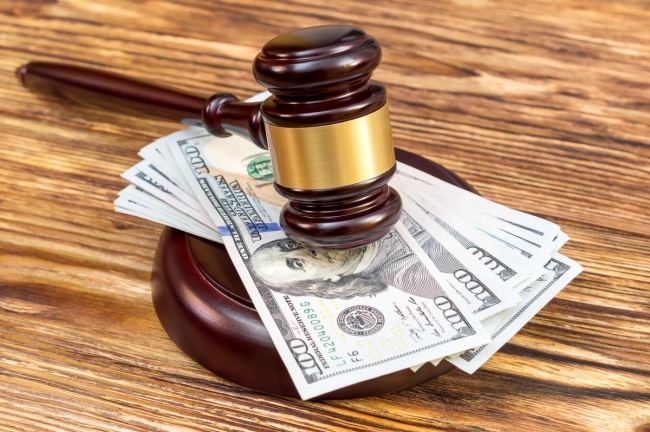 Universities and colleges are increasingly experiencing legal challenges to their institutions' Title IX enforcement processes, a trend that higher education law experts say is a natural reaction to proceedings that declare "winners" and "losers."
The societal pressures from the Me Too movement and repercussions from the Obama administration's 2011 guidance for how colleges should adjudicate sex assault cases have led to more civil complaints from both alleged victims and accused perpetrators of sexual misconduct who feel they were treated unfairly during Title IX hearing processes. Legal challenges in federal courts exploded following the guidance, which called on universities and colleges to vigorously root out campus sexual assault and harassment with a preponderance of evidence standard, leaving officials to determine if "it is more likely than not that sexual harassment or violence occurred."
More than one-fourth of 305 Title IX claims analyzed in a 2015 study by United Educators (UE) were challenged by students who either filed lawsuits in the federal courts or lodged complaints through the Department of Education's Office for Civil Rights (OCR). There's a consensus among higher education and legal experts that students are increasingly claiming flawed hearings or unfair disciplinary sanctions as a result of procedural failings at their universities, said Jake Sapp, Title IX coordinator and institutional compliance officer at Austin College in Sherman, Tex.
UE, one of the largest insurance providers for postsecondary institutions, also reported that sexual assault was the top liability for colleges and universities in 2018. Payouts resulting from Title IX procedural challenges, which went primarily to victims of sexual assault, surpassed the legal costs of large risks such as wrongful death or negligence and wrongful termination, according to the report.
"Across the board, you have to think that it's in the back of every administrator's mind," Sapp said. "It would be negligent to not be thinking, 'Am I following the law?' Especially in such a gray area … If they're not thinking about lawsuits, they ought to be."
Civil Claims
Accused students in particular are more frequently turning to federal courts to claim due process violations during Title IX proceedings at public institutions, Sapp said. He noted that while students at publicly funded universities have due process rights in Title IX proceedings and can sue the institutions for violations, students at private institutions don't have much chance of success at making such claims.
Other accused students have filed suit because of an "erroneous outcome" in their hearing because a disciplinary panel was allegedly biased against them. The students sometimes cite the Obama-era guidance itself, or societal pressures from the Me Too movement as the bases of the bias. Some students file what Laura Dunn, a renowned attorney for campus sexual assault survivors, called a "reverse Title IX" gender-discrimination claim, where male students will argue their university's process is biased against men. Nearly all accused students in the 2015 UE report were male.
Language in Education Secretary Betsy DeVos's proposed Title IX rule changes, which were published in November 2018 and are awaiting release, would allow for more of these types of civil lawsuits brought by accused students, said B. Ever Hanna, policy director for End Rape on Campus, an advocacy organization for survivors of sexual violence.
The proposed regulations say that Title IX administrators' "treatment of both complainant and respondent could constitute discrimination on the basis of sex" and "a respondent can be unjustifiably separated from his or her education on the basis of sex, in violation of Title IX, if the recipient does not investigate and adjudicate using fair procedures before imposing discipline."
Josh Richards, an attorney who represents colleges and universities in Title IX matters, said legal challenges are inevitable in such emotionally fraught proceedings.
"When you make a campus responsible for adjudicating a dispute between two students, you set up a system where there's a winner and loser … the loser seeks to vindicate the rights that they feel the school did not vindicate in court," he said.
In the wake of the shifting Title IX rhetoric of the Trump administration, which rescinded the Obama-era guidance in 2017, more students are aware of Title IX and the ways it can be enforced, said Michael Dolce, a Florida-based attorney who represents victims of sex crimes. With more accused students looking to turn to the courts, there's also been increased demand for attorneys to defend them, Dolce said.
"A lot of criminal defense lawyers are specifically advertising that they represent the accused in Title IX cases," he said. "Pick any university in the country and go five miles from there, and you will find lawyers who advertise defending the accused. That wasn't the case 10 years ago."
Settling complaints from alleged victims in court cost colleges and universities an average of $350,000 in the years following the Obama guidance, and some settlements reached $1 million, UE reported in an analysis of Title IX claims from 2011 to 2015 at 1,600 institutions. This does not include legal defense expenses, which can cost colleges and universities millions before settlements are even reached, according to UE's 2015 report.
Claims settled with a student accused of sexual misconduct cost universities less in damages on average -- around $20,000 to $30,000, Dunn said. These settlements typically cover the accused student's losses in tuition and housing from periods when they were suspended or expelled from the institution, whereas a sexual assault victim could claim more monetary relief for the loss of educational access and post-traumatic stress, she said.
The high cost of addressing sexual misconduct on campus has become a lose-lose situation for universities and can even possibly put some institutions out of business, said Peter Lake, director of Stetson University's Center for Excellence in Higher Education Law and Policy.
"If you don't deal with sexual violence, you're going to get sued. If you deal with sexual violence, you're going to be sued," Lake said.
Richards said most of these lawsuits are dismissed by federal judges early on in the process if a judge concludes that the university did follow Title IX procedures under its own written rules and Department of Education regulations, and they very rarely proceed to trial.
Some lawsuits challenging Title IX procedure result in a "redo" of the hearing process led by the university if a judge finds that there was gender discrimination against either student, Dunn said.
But fewer cases brought by the accused are being dismissed due to the "judicial activism" of some judges, Lake said.
"Federal courts are being very activist now in asserting themselves as the courts of appeal over the college court -- whether they want to admit it or not," he said.
Undisclosed Settlements
A consequence of this new legal landscape is that universities are settling civil lawsuits filed by students accused of sexual harassment. The settlements are not typically publicized. The identities of students involved in Title IX proceedings are protected by the Family Educational Rights and Privacy Act. The federal law, commonly known as FERPA, also prevents students' disciplinary records from being shared without their consent, but Title IX requires that the victims of sexual violence and harassment are made aware of sanctions against the perpetrators.
One lawsuit filed against Yale University by a student accused of sexual misconduct was dismissed by a judge in the U.S. District Court of Connecticut on April 25, 2018, after the two sides reached an undisclosed agreement. The student, who was identified in news reports as Daniel Tenreiro-Braschi, was suspended for two semesters after being accused of sexual assault. Yale's University-Wide Committee on Sexual Misconduct determined he groped two female students in 2016 and was "creating a hostile academic environment," according to the 53-page complaint.
Tenreiro-Braschi claimed an unfair hearing and bias on the part of the committee. He maintained that members of the committee had professional connections to the accusers' parents, who were Yale faculty and notable alumni. His suit also claimed the independent fact finder assigned to his case included "unrelated hearsay and derogatory character statements" in her investigation and that the two accusers had listened to each other's testimony and coordinated responses to the committees' questions.
Tenreiro-Braschi, a junior at the time, demanded to be "reinstated as a student in good standing and permitted to begin classes during the spring 2018 semester … [and his] disciplinary record be expunged; the record of expulsion be removed from his education file; and any record of the complaint be permanently destroyed," the complaint states.
Tenreiro-Braschi was listed in the Yale College 2019 graduation ceremony program, the New Haven Register reported.
"Yale doesn't comment on or acknowledge the existence of sexual misconduct cases," wrote Yale director of media relations Karen Peart in an email. "All decisions regarding discipline are based on the facts known at the time."
While the terms of any settlement Tenreiro-Braschi may have reached with Yale are unknown, lawsuits that end in private settlements do occur, Hanna said. And despite guilt or innocence, an accused student could be reinstated at the university without the knowledge of their accuser, Hanna said.
"When there are settlements, the hoarding and sealing of that information makes it hard for victims," Hanna said. "The community can't be informed about what happened. Anecdotally, we've heard from people who are survivors [that] the person who harmed them does go through this process and is permitted to come back on campus and permitted to graduate, and the survivor doesn't even know about it."
The Title IX procedures in place on campuses that attempt to provide victims an alternative to the often slow-moving and strenuous criminal justice system are leading to an even more strenuous process for all parties involved in the federal courts, Lake said.
"The pressure now is to avoid getting in situations where [institutions] go before the court," Lake said. "If colleges get into too many situations where they have to litigate, they'll go out of business."
Some institutions offer "alternative" or "early" resolution models for victims of harassment, which could entail the accused student and accuser mediating the issues or incident that caused the Title IX complaint, Sapp said. These are informal procedures for violations that fall short of sexual violence and could provide a "learning experience" rather than sanctions for the accused, he said. There is a consensus that resolution models should not be used in cases of sexual assault, Hanna said.
In some cases, restorative justice works with certain students, Dolce said.
"It could be immaturity or bad cultural upbringing that leads to harassment," he said. "There's a world of difference between that and the ability to lay hands on somebody."
RAINN's position is that "restorative justice" options are an easy out for universities and allow perpetrators to avoid actual consequences for their actions, said Camille Cooper, vice president of public policy for RAINN, the Rape, Abuse and Incest National Network and sexual assault hotline. End Rape on Campus argues that the process can work for students who were harassed but not assaulted, Hanna said. Both organizations agree that universities should tread carefully when offering alternative resolution methods so as not to coerce victims to accept a process they are not comfortable with, or that could retraumatize them.
"Resolutions are one thing that can work," Hanna said. "They don't always, and we have seen and heard many times about survivors feeling pushed into mediation or resolution. We've heard stories of Title IX coordinators or advocates saying, 'This is going to be the only way to get what you want.'"
These methods provide a way for colleges and universities to avoid civil litigation challenging Title IX proceedings and could end up being positive for all parties, Richards said.
"Many schools are setting up these models … because they've had the time to see how these adversarial models play out," he said. "They're agreed upon by the parties and don't result in these sorts of winners and losers scenarios."