You have /5 articles left.
Sign up for a free account or log in.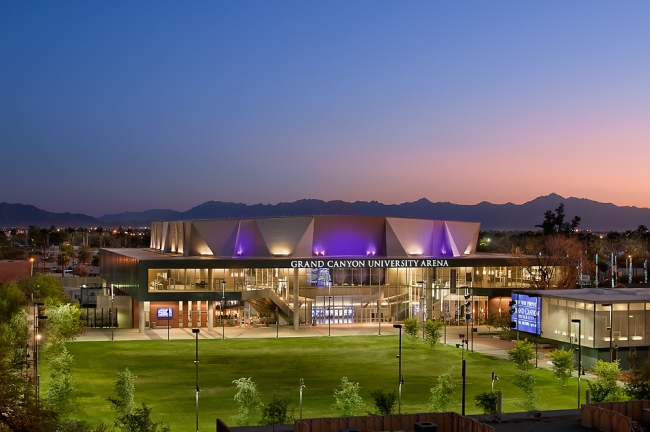 Grand Canyon University announced last year that it had succeeded in a second bid to convert from a for-profit to a nonprofit institution, winning almost all of the needed approvals. But the one exception -- the Trump administration's Education Department -- has ruled to the contrary.
The surprising decision by the department, announced Wednesday by the university's for-profit holding company and first reported by Education Dive, raises questions about ongoing efforts by other for-profit colleges to change their tax status.
Grand Canyon said Wednesday that it will challenge the department's move to treat it as a for-profit under federal aid laws.
"Holy shit," Trace Urdan, a managing director at Tyton Partners and an expert on the for-profit higher education sector, said of the news. He said numerous other for-profits are considering or working on converting, and that the department's decision may make those colleges reconsider the change.
The Phoenix-based Grand Canyon is one of the nation's largest universities, enrolling 105,000 students in its thriving online and campus-based programs. The Christian institution enrolls more than 20,000 students at its campus in Phoenix, where it has spent over $1 billion on capital improvements over the last decade.
Yet the university for at least five years has sought a "level playing field" with nonprofits and to drop the "stigma" of being a for-profit. The conversion has allowed Grand Canyon to bulk up its research capacity, receive philanthropic donations and participate in NCAA governance at the Division I level.
The Higher Learning Commission in 2016 rejected the university's first conversion bid.
Grand Canyon had proposed a structure where the nonprofit university would outsource many of its administrative functions to a separate for-profit services corporation. That arrangement was similar to several smaller for-profits that had made the conversion. It also in some ways looked like Purdue University Global, a boundary-testing nonprofit that later was created by the acquisition by Purdue of Kaplan University, a large for-profit chain.
HLC, however, decided that too much of Grand Canyon's academic operations would be operated by the for-profit division.
The accreditor later changed its guidelines on outsourcing, and Grand Canyon tried again.
The university has argued that both attempts were not about avoiding regulations that are specific to for-profits.
"GCU fully exceeds all of those regulatory measures," a university spokesman said Wednesday in a written statement, noting that none of the university's programs would have failed the Obama-era gainful-employment rule; that it gets 72 percent of its revenue from federal sources, well below the 90 percent federal threshold; and that its student loan default rate is 5.6 percent, which is also substantially lower than the national average.
Sixteen-Month Wait
In July 2018, Grand Canyon celebrated earning approval from the Higher Learning Commission and its state regulatory agency in Arizona. The IRS also signed off on the university arm operating as a nonprofit 501(c)(3) organization.
The resulting structure was like the one Grand Canyon previously proposed.
Its publicly traded owner, now dubbed Grand Canyon Education, sold the campus and academic operations for $870 million to the new, nonprofit Grand Canyon University. Under a 15-year contract, Grand Canyon Education provides a wide range of outsourced support services to the university in exchange for 60 percent of its tuition and revenue.
"The structure behind the scenes will change, but our goals and mission remain the same -- to provide high-quality Christian education that is affordable to all socioeconomic classes of Americans," Brian Mueller, Grand Canyon Education's CEO, said at the time.
However, some critics took issue with the new nonprofit and its relationship with the for-profit holding company. One reason is that Mueller presides over both entities, which critics call a conflict of interest.
The holding company later bought Orbis Education, an online program management company, to expand its online offerings with other university partners. Grand Canyon Education said Wednesday that the OPM division now works with 20 other colleges, providing support for online programs that enroll 3,100 students.
When Grand Canyon announced its successful conversion, however, it noted that the Education Department had not yet responded to a requested sign-off on the transaction, called a "pre-acquisition review."
Yet observers seemed to think that the deregulation-minded Trump administration would back the move, as it did with Purdue and others. Some said this administration was providing a window for nonprofit conversions, while the sector worries about what might happen under the next Democratic administration.
For example, Senator Elizabeth Warren, the Massachusetts Democrat who is seeking her party's presidential nomination, has called for all for-profits to lose federal aid eligibility.
Yet after waiting 16 months on the decision, Grand Canyon said it heard Wednesday from the department that it got a thumbs-down on the conversion.
Mueller made the announcement during a quarterly earnings call.
"While we have not yet had a full opportunity to review this letter and the department's reasoning, we do believe that Grand Canyon University meets all the requirements to be treated as a nonprofit entity for Title IV, HEA program purposes and we would expect that the university will initiate appropriate measures to challenge this decision," Mueller said, according to a transcript of the call with investors.
Grand Canyon said the department had approved the transaction to sell its academic operation to the entity created last year. And the provisional Program Participation Agreement from the feds did not include restrictions such as a letter of credit or limit on growth, the company said.
"Since we just received this information within the last hour, you can appreciate that we need further time to digest it and to discuss it with our client," Mueller said. "We expect to make a further statement once we have a chance to do so."
Urdan said Grand Canyon University is in a strong enough position to ride out the bad news, which is likely to hurt its share price today. "The whole reason for doing this was to the lift the weight of the brand," he said.
But the department's decision will keep higher education lawyers busy, both for the university and others looking at a nonprofit conversion.
"What do you make of Purdue? Why is that OK?" he said. "How is the department making that distinction?"