You have /5 articles left.
Sign up for a free account or log in.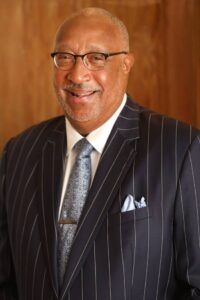 Courtesy of Saint Augustine's University
Irving McPhail, president of Saint Augustine's University, died last week due to COVID-19 complications, the university confirmed Friday.
McPhail quarantined several weeks ago after learning he'd been in contact with someone outside the university who tested positive for the virus. About 10 days ago, McPhail received a positive COVID-19 test result, said James Perry, chairman of the university's Board of Trustees.
After several symptom-free days, McPhail, who was 71, reported symptoms including headaches and a fever, Perry said. He was hospitalized soon after and later put on a ventilator. He died about two weeks after contracting the virus.
One of McPhail's staff members also tested positive for COVID-19 -- McPhail had met with his staff before learning of his exposure to the virus. The staff member, whom Perry did not name, has recovered and is back at work. Two students at Saint Augustine's tested positive for COVID-19 and have also recovered, Perry said. (Update: University officials say there is no evidence McPhail's infection is related to the student infections.)
McPhail is one of the most prominent higher education leaders who has died of COVID-19. Mark Ivester, president of North Georgia Technical College; David Gipp, president of United Tribes Technical College; and Donald Kennedy, former president of Stanford University, have also died after contracting the virus.
Saint Augustine's, a private historically Black university in Raleigh, N.C., enrolled about 900 students last fall. The university reopened to students for in-person instruction this fall.
McPhail came to Saint Augustine's in July as the university's 12th president. He is the founder and chief strategy officer at the McPhail Group LLC, a higher education consulting practice, and he previously served as founding chancellor of the Community College of Baltimore County. Before then, he was president at St. Louis Community College at Florissant Valley and president at Lemoyne-Owen College. He also served as secretary of the board of the American Council on Education in 2005.
On Friday morning, Saint Augustine's faculty members, staff members and students walked by the president's residence to pay their respects and lay flowers. In lieu of flowers, McPhail's family has asked that donations be made to their endowed scholarship fund.
North Carolina governor Roy Cooper shared his condolences on Twitter Friday.
"Today, we mourn the loss of Dr. Irving Pressley McPhail, a dedicated leader who made a positive impact on St. Augustine's University in the short time he was President. Our thoughts are with his loved ones and the St. Augustine's campus community," he wrote.
Surviving McPhail is his wife, Christine Johnson McPhail, a daughter, son and five grandsons.
"He was with us for a short period of time, about 100 days, but we all embraced him and his wife," Perry said. "We will continue his legacy and the vision that he laid in the short time that he was there. He left big footprints to follow."
Maria Lumpkin, vice president and chief of staff at Saint Augustine's, has stepped in as interim president. She also served as interim president before McPhail was appointed.
The university will hold a memorial service for McPhail Oct. 27. Details will be posted to the university's website. It will likely be part in-person and virtual, Perry said.