You have /5 articles left.
Sign up for a free account or log in.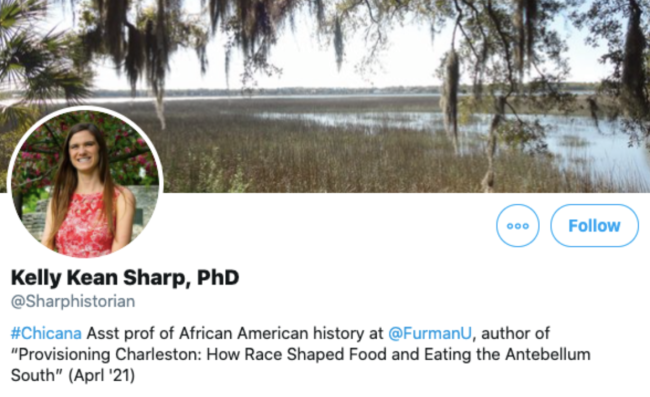 Another week, another unmasking of a white professor allegedly posing as a person of color: this time it's Kelly Kean Sharp, a scholar of African American history who resigned abruptly Tuesday from her assistant professorship at Furman University.
Like other apparent racial fraudsters before her, Sharp was outed by an anonymous post on Medium. The writer of the post identifies him or herself as having "distantly" known Sharp when she was graduate student at the University of California, Davis. Sharp had never publicly identified as Latinx back then, the writer said, so they were recently puzzled to learn that Sharp had since started referring to herself as Chicana, including on her now-private Twitter profile. According to screenshots included in the post, Sharp has tweeted about her abuela, or grandmother, from Mexico, and posted elsewhere about her "abuela who came to the U.S. during WWII who worked hard so I could become a teacher."
The writer said they started talking to others who knew Sharp, and these colleagues were similarly "confused." Some then allegedly asked Sharp about the "newfound identity," and Sharp allegedly said her grandmother was originally from Mexico. Yet when the scholars looked into that explanation, "we found that Kelly had no grandparents who were born outside of the U.S. or had Hispanic names."
In a cautionary twist against trying to dupe historians in particular, the scholars allegedly searched genealogical records and found that the grandmother Sharp said was from Mexico was actually born in Los Angeles "to white parents and was residing in the U.S. during all the census records of her upbringing." A servant was even employed and living at the home, according to census records, the post says. "This grandmother eventually married a wealthy, white lawyer from Iowa."
The Medium piece also fact-checks Sharp's now-deleted Furman faculty biography, which said her research on the antebellum South was inspired in part by her hometown, Encinitas, Calif., and its "majority-minority population." Encinitas has long been overwhelmingly white, "known to anyone from California for being a wealthy beach community," the post says.
Furman's history department, where Sharp began working in July, referred requests for comment to the university. Tom Evelyn, a Furman spokesperson, said the university was investigating the allegations against Sharp early Tuesday. He later said that Sharp had resigned, effective immediately. Sharp did not return a request for comment.
Prior to the resignation, Evelyn said Furman was "disappointed" to learn of Sharp's alleged actions, and that it expects "members of our community to be honest in the way they represent themselves to others."
As to whether Sharp presented herself as Chicana in the hiring process, Evelyn said Furman doesn't ask about candidates' ethnicity during on applications or during interviews. Sharp was hired "because of her demonstrated qualifications for the specific position."
Sharp was previously employed from 2018 to 2020 at Luther College, where she was an Associated Colleges of the Midwest Mellon Faculty Fellow.
The ACM describes these postgraduate-level fellowships as offering tenure-track appointments to junior scholars "whose backgrounds and life experiences will enhance diversity on the ACM campuses."
Noting the fellowship, the Medium post says, "Perhaps she won the job simply because she investigated the role of slave women in shaping consumption and markets in the antebellum South. But is it possible that the complex identity provided by her imagined Mexican immigrant grandmother helped her to secure this diversity hire?"
Laura Barlament, a spokesperson for Luther, said that it doesn't share details of personnel records about the hiring process of our employees, but that Sharp left Luther "in good standing." Luther submitted an application for the Mellon fellowship "for the support of and in collaboration with Kelly Kean Sharp, and we did receive the funding," Barlament said.
Barlament also confirmed that Sharp served as the faculty adviser for student group Latines Unides, as is noted in the Medium post. Sharp was a featured speaker at Luther College panel on Latinx faculty and student experiences during her time there.
The Medium post says that Sharp's mentees "deserve the truth so that they can make a decision whether or not to trust her." Going forward, the post says, "we also want to protect Latinx spaces from her deception and manipulative deployment of their identity. Overall, as someone who claims to be interested in racial justice and making disadvantaged students more comfortable on college campuses, she should have known better than to claim a Chicana identity in any way."
'You Owe Your Communities an Apology'
"Dr. Kelly Kean Sharp," the piece reads, "you owe your communities an apology."
Sharp received her Ph.D. from Davis in 2018. The director of the graduate program in history there declined comment as to whether she'd ever presented herself as Latinx.
Matthew Casey, a 2018 Ph.D. graduate of Davis's history department who is now an assistant clinical professor of history at Arizona State University, said that he wasn't close to Sharp during their studies but that he "never saw her claiming Chicana or Latina identity."
Casey said he did notice Sharp adding the Chicana hashtags to her Twitter bio somewhat recently, and thought, "Who knows? People come to embrace certain parts of their heritage at different stages in their lives."
"I suppose there is a slight chance that Kelly had misunderstood, perhaps willfully, some family stories that placed her grandmother in Mexico for parts of her life," Casey said. "But at the end of the day, my biggest concern is that Kelly may have taken opportunities away from scholars of color by misrepresenting herself on job and fellowship applications."
This year alone has seen the unmasking of a handful of white academics who have posed as nonwhite: BethAnn McLaughlin, Jessica Krug, C. V. Vitolo-Haddad and Craig Chapman.
Whereas Chapman and McLaughlin impersonated women of color online only, Krug and Vitolo-Haddad wove their false ethnicities into their personal and professional identities day in and day out. This kind of living a lie is perhaps most infamously exemplified by Rachel Dolezal, former head of the NAACP in Spokane, Wash., and part-time professor of African American studies at Eastern Washington University. Dolezal identified herself as Black but was revealed to be white in 2015.
Christine Folch, assistant professor of cultural anthropology at Duke University, previously wrote about the Krug case, saying Krug's "performance" as Afro-Latinx -- including her accent, attire and self-proclaimed "hood" backstory -- was suspect all along, especially in light of her lack of ties to the Latinx community.
As to why white women or nonbinary people (in the case of Vitolo-Haddad) keep assuming brownness or Blackness, Folch said Tuesday that "the first thought I have is the question, what does this do for them? What benefit do they get from a selective appropriation of a kind of ethnic otherness?"
The answer, Folch said, is lies in the "counterfactual" of why white men don't do this. "And at the root I think what we see is a competition for scarce resources on the part of those who are not the hegemonic ideal in academia, which remains white male."
In other words, she said, there's a competition for inclusion among the historically excluded in academe. And "strategic use and appropriation of brownness" becomes a way to "accumulate more power, more legitimacy, grants, coolness points."
This explanation doesn't let the Krugs of the world off the hook, however, Folch was quick to say. That's because white women posing as nonwhite are using their own white privilege to amass more power "by selectively appropriating brownness and Blackness, as suits them." It's a privilege to be able to "selectively choose which aspect and to what degree of brownness one takes on."
Tellingly, Folch said, these kinds of racial performances never entail the "real, messy stuff" of identity, such as "how do I pay for graduate school? Do I take out more loans? Will my family understand my life choices? How can I support my parents in their old age since I'm their retirement plan?"
Will I be judged for so-called me-search, or research involving marginalized populations that will subsequently be criticized as insufficiently representative? Folch continued. And why do people assume I'm a staff member here, instead of a professor?
Folch, whose parents are immigrants from Cuba and the Dominican Republic, said that for many nonwhite academics, the "constant cultural negotiations are much more subtle and complicated" than what fraudsters present. Yes, she said, "Grandma ate beans. But also? She worked in a factory in New Jersey and never really learned English."
If that's why and how these frauds happen in the first place, why are they allowed to keep happening? Folch said there simply aren't enough actual Latinx faculty members in academe to recognize fraudsters for what they are.
"We're so invisible that people like Kean can get minority scholarships and Krug can get tenure because to the scholarship committee and the [promotion and tenure] committee, they seem legitimate," she said.
Touching on these themes, the Medium post says academics "must ask ourselves how we can do better. Why are so many departments and hiring committees falling prey to this sort of manipulation?"
Why, the post concludes, "are privileged upper middle-class white women so successful in taking advantage of diversity programs? I call on the broader academic community to learn from these repeated stories instead of treating them as unusual peculiarities."