You have /5 articles left.
Sign up for a free account or log in.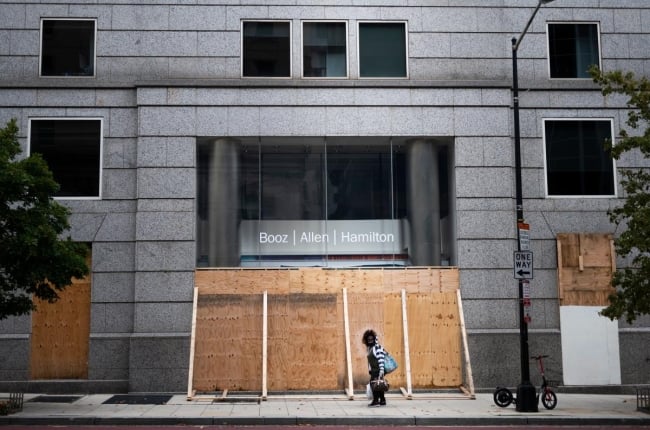 Andrew Caballero-Reynolds/Contributor, Getty Images
Ahead of tomorrow's highly contentious presidential election, George Washington University is urging students "to be prepared for possible election related disruptions" near the campus in Washington, D.C., and to stockpile a week's supply of food and medication.
The university's warning went out in an email to students on Thursday and Friday. GW student affairs and residential living officials suggested that students living on or off campus prepare for Election Day "as you normally would for a hurricane or a snowstorm" in case they are prevented from leaving their residences, according to the email. It included tips such as "pick foods that have a long shelf life," "stock up on over the counter medications" and "be aware of your physical surroundings" starting Tuesday.
"Some may want to celebrate while others may protest," the email said. It also noted that the results of the 2020 presidential election may not be determined on Nov. 3.
Crystal Nosal, a spokesperson for the university, said in a statement that the email to students followed the lead of city government officials, who are preparing for a "very active election season."
The email to students is not atypical; the university sends similar messages when massive crowds are expected in the Nation's Capital for events such as the Women's March and the annual Fourth of July celebration, Nosal wrote.
She noted that the ongoing protests for racial justice and unrest taking place in the city and across the country could increase the possibility of people gathering after the election near the campus, which is less than a mile from the National Mall and less than two miles from the White House.
"While we do not anticipate access restrictions around our campus, it is possible given the unrest that has been seen in D.C. and around the country in the past several months," Nosal wrote. "Our goal is to help our campus community plan ahead for any potential disruption that may happen during the election period."
The email caused concern among some students commenting on social media, who said it was an obvious indication that there will likely be protest activity and unrest in the city today. But campus safety experts say it's smart for colleges -- especially those in urban areas -- to tell students about possible disruptions and safety hazards that may stem from public response to the election outcome, or lack thereof.
The Metropolitan Police Department of the District of Columbia issued a traffic advisory last week that said "multiple First Amendment demonstrations are scheduled to occur" on Nov. 3 and 4. Peter Newsham, the city's police chief, has said "it is widely believed that there will be civil unrest after the November election regardless of who wins," The Washington Post reported.
Steven Healy, a nationally recognized campus safety expert and co-founder and CEO of Margolis Healy and Associates, a safety and emergency-preparedness consulting firm, said that college administrators across the country should be prepared for protest activity on and near their campuses around Election Day. Healy, who is the former director of public safety and chief of police at Princeton University, said campus safety officials are "on high alert" for protests and demonstrations this week.
"College students are college students no matter where they are," Healy said. "Your geographical setting doesn't have an impact on your willingness and desire to want to express your thoughts and feelings about the outcome of a particular process. If you're in an urban area, you have additional considerations than in a suburban or rural area, but I think it all applies."
It is important for colleges and universities to encourage participation in activism and civil discourse and provide information and "common sense" reminders to them about personal safety, Healy said. GW's email included tips for students who "choose to exercise your First Amendment rights," such as reporting suspicious activity, monitoring emergency notifications, staying with a group and having a backup plan for communication in case of limited cellphone service.
Healy also noted the current political landscape, the possibility of a contested election and the ongoing Black Lives Matter protests that have been "nonstop in some cities," all of which could lead to heightened safety challenges for campus officials, depending on how local residents living near the campuses, students, faculty and staff members respond to the election.
"Some turn from peaceful gatherings to violent uprisings," Healy said of the protests. "Clearly there's a possibility that if major demonstrations occur, normal life could be disrupted, and it's important to know about that and be prepared as one could be."
When President Barack Obama won the 2008 election, hundreds of GW, American University and Georgetown University students celebrated in front of the White House.
Another consideration for protest activity is of course the coronavirus pandemic, which makes large gatherings "not the best environment to be in," Healy said. Students should be reminded to wear masks and to socially distance, he said. Lara Schwartz, director of American University's Project on Civil Discourse and a Washington, D.C., resident, said colleges should reinforce the message that students should take those precautions seriously "regardless of the urgency of what else is going on."
GW's email included a reminder to students about health policy violations, which include gathering in a group of 10 or more people or not wearing a mask.
"GW will incorporate the considerations and guidelines that the District of Columbia government and public health officials provide over the next several days as we evaluate any policy violation reports," the email said.
Although American is also located in Washington, D.C., Schwartz said GW's location "in the heart of D.C." makes it more necessary for students that live near or on the campus to prepare for disruption compared to students at other colleges in the city. She said the message about stockpiling food could be "jarring" for students, but urging them to be careful over all is a good idea.
"People being caught unaware can be bad," Schwartz said. "Students in particular. If it really is tough out there, the question of being unsafe because you didn't have food in the house, I don't think anyone would want that to happen with our students. It's very hard to predict what happens."
Matt Bennett, American's vice president and chief communications officer, said in an email that American has resources online for students who want to participate in activism and is offering "2020 Post-Election Resources" such as community discussions and panels. Howard University and Georgetown University, both also in the District of Columbia, did not send email messages similar to the alert sent by GW. Georgetown student affairs officials did send an email to all students last week that reminded them to "be safe while participating in the democratic process."
"The COVID-19 pandemic has added new considerations for participating in demonstrations and protests that often take place around elections -- particularly in Washington, DC," the email said.
Schwartz, who participated in a Black Lives Matter protest in the city after the killing of George Floyd, said events over the summer -- including the use of tear gas by police officers on demonstrators, streets being blocked off and the presence of armed counterprotesters in some cities -- are all reasons for students to be cautious during and after Election Day. Schwartz encouraged students who are able and planning to participate in demonstrations to know their First Amendment rights.
"Everybody who is looking out for communities in D.C. understands this is where we're at now," she said. "You can't not acknowledge the facts on the ground when you're trying to advise your student body."