You have /5 articles left.
Sign up for a free account or log in.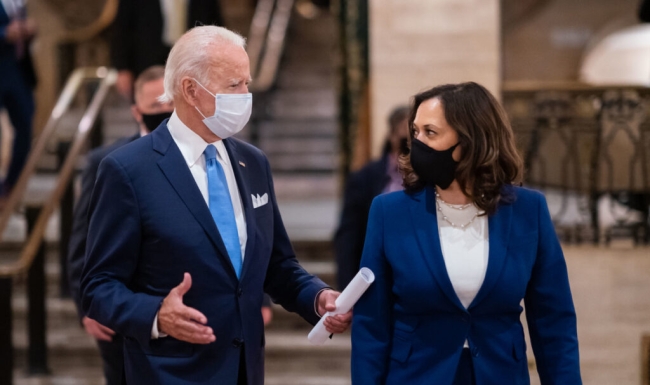 Joe Biden's apparent election as president could pave the way for a dramatic shift in higher education policies, possibly making tuition free for many seeking a college education and wiping away the debt of millions of people paying back student loans.
Biden's victory is also significant in its symbolism for higher education. Kamala Harris will be the nation's first African American and Asian American vice president and, as a Howard University alumna, the first graduate of a historically Black university in the White House.
The first lady will be Jill Biden, who until recently taught at a community college.
There will also be a shift on Inauguration Day away from a Trump administration that has criticized universities that admit to their past racism, replaced by a vice president who has been using the same auditorium at Howard University where she had her freshman orientation as her campaign headquarters.
Expected to be gone, too, is a Trump administration policy on Title IX of the Education Amendments of 1972 that women's advocates have warned would discourage victims of sexual assault and harassment on campuses from coming forward.
And an estimated 450,000 college students who were brought to the U.S. illegally as children are likely to no longer live under the threat of being deported and are likely to be breathing more freely in relief.
But likely experiencing angst are for-profit colleges, who are expected to face much tougher scrutiny and the return of Obama administration regulations that were wiped away by U.S. Education Secretary Betsy DeVos.
Likely ecstatic are officials at community colleges. Not only is Jill Biden, a former professor at North Virginia Community College, married to the president-elect, but Joe Biden has promised to make community colleges free, provide additional funding to help more students graduate and provide incentives to states to provide wraparound service, particularly for veterans, single parents, low-income students and students of color.
"Dr. Biden has been a positive force for community colleges by helping people understand better some of the essential work we do. Certainly it would be good to have someone who understands that in the White House," said David Baime, senior vice president for government relations and policy analysis for the American Association of Community Colleges.
"President-elect Biden has promised to make human capital investment a central part of his agenda and this will have widespread implications for higher education. Higher education institutions and student will welcome these efforts," said Terry Hartle, the American Council on Education's senior vice president for government relations and a top lobbyist for colleges and universities. "Some of his ideas, like doubling Pell Grants, are easily implemented and will enjoy universal popularity. Others -- like the free college proposal -- will be politically controversial and very complicated to design. Yet others -- like large-scale student loan forgiveness -- are potentially quite expensive.
"But we'll be looking at a once-in-a-generation effort to invest in America's students and workers," he said.
With it appearing that control of the Senate will be to be decided by two runoff electons in Georgia next month, though, how much of Biden's higher education agenda will come to pass remains to be seen, Hartle said..
"If the Republicans keep control, it will make it far harder for the Biden administration to advance successfully some of their major legislative initiatives like free college," Hartle said. "They will certainly advance these ideas, but whether they can get them enacted is a far more difficult task if the Republicans control the upper chamber." 
Even if Democrats are able to win both runoff races, there will likely be tension between the moderate and liberal wings of the party over how far to go on proposals like making not only community colleges, but public four-year institutions and HBCUs free -- an idea that could cost more than $1 trillion.
Most immediately the administration will have to deal with the coronavirus pandemic. Biden has said he will immediately begin work on a package to sign when he takes office in January, which could bring relief to colleges and universities through additional direct aid to institutions as well as federal help to states to soften cuts to higher education.
Biden's election gave Hartle hope that more help is coming, though control of Congress will be critical. "A Biden administration -- especially if it controls the Senate -- will move decisively to address these challenges. But the president-elect won't take office for another 10 weeks and we need action now, in the lame-duck Congress," he said.
Up in the air is who Biden will tap as the next education secretary, but whoever it is, higher education advocates are likely to see the choice as an improvement over DeVos, whom they have criticized for rolling back regulations on for-profits, as well as actions like unilaterally refusing to give undocumented students any of the aid Congress set aside in the CARES Act for college students struggling financially during the pandemic.
Higher education, however, not only took a back seat, but was buried under the luggage somewhere in the trunk during a campaign that focused on the adequacy of Trump's response to the pandemic and the polar-opposite demeanors of the candidates.
It's unclear where higher education fits in a laundry list of issues facing the administration trying to deal with a public health crisis and a struggling economy.
Lobbyists, however, say there could be a place for higher education in a mammoth economic stimulus plan, like the more than $800 million American Recovery and Reinvestment Act the Obama administration created to pull the nation out of the Great Recession.
A major emphasis for the administration is expected to be to reduce the cost of going to college, which includes canceling the debt graduates have been crippled with for decades as college tuition has risen.
And Debbie Cochrane, executive vice president of the left-leaning Institute for College Access and Success, said Biden's election couldn't come at a more critical time. "The Biden administration's plans to bring college costs within reach and hold for-profit colleges accountable couldn't be more urgently needed than they are right now," she said. "Coming on the heels of widespread federal higher education deregulation [of for-profits], the sudden onset of the pandemic has put students at heightened risk of leaving school with unaffordable debt. The incoming administration will need to act quickly to ensure that students are able to pay for college, even in a recession, and to curb the types of abuses we've seen in prior economic downturns."
In addition to making community colleges and HBCUs free, Biden has said he will eliminate tuition at public colleges and universities for those making $125,000 or less.
Biden has pledged to double the maximum amount of Pell Grants, which as a "first dollar" program would help pay the living expenses of students.
However, it remains to be seen if Congress will approve what the Wharton School at the University of Pennsylvania estimates to be the $1.38 trillion cost over the next decade of eliminating tuition. In addition, Biden's plan for eliminating tuition calls for state governments to pick up a third of the cost at a time when states are slashing budgets. Advocates have said the federal government might have to shoulder even more of the cost at the beginning.
Biden would also eliminate $10,000 from all borrowers' student debt during the pandemic. Then, for those making $125,000 or less, he would forgive debt accumulated to pay tuition, though not loans for living expenses. The Wall Street Journal estimates the plan, which also calls for fixing the Public Service Loan Forgiveness program, would cost another $1 trillion.
While Senate Democrats proposed widespread debt forgiveness in their proposals for more coronavirus relief, House Democrats have limited debt cancellation in their plan to only those under economic distress. Democratic Senate candidates running in swing states stayed away from talking about the proposal.
More certain is that the administration will bring back Obama-era regulations, particularly for for-profits. DeVos had reversed rules that made it easier for borrowers who had been misled by their colleges on the value of their degrees to have their debt forgiven, as well as rules that would bar mainly for-profit colleges whose graduates do not find jobs that pay well enough to be able to repay their student debt from being able to receive student aid dollars. Now the borrower-defense and gainful-employment rules are expected to come back.
Remaining to be seen is how aggressive a Biden Education Department will be. But progressive groups like the National Student Defense Network, led by top Education Department lawyers on higher education issues under the Obama administration, and progressive Democratic senators like Massachusetts' Elizabeth Warren, have pushed the department to use its powers under the law to take steps like holding the owners of for-profits personally financially responsible for costs to the federal government like forgiving the debt of students defrauded by their institutions.
In addition, Biden has promised to significantly increase spending on research, a proposal that has been hailed by the president of the American Association of Universities. The nation's scientists who marched to protest a president's skepticism about science, over climate change and now the pandemic, will have a president who believes in research, as Biden has said many times that he will listen to scientists.
It's far too early to know to whom a Biden administration is likely to turn for crafting his higher education policy. But given the stance of many left-leaning think tanks and policy groups, it's likely that whoever he listens to will embrace some of the views of the last Democratic administration in which Biden played a central role.
Unlike President Trump, President Obama embraced the idea that postsecondary education is a must for individuals and essential for the country's economic and societal well-being, and he invested heavily in it, to give students the means and opportunity to get postsecondary education or training.
But having accepted higher education as crucial, the Obama administration also pushed hard to improve its efficacy, from the belief that something so valuable should deliver on its promises. That belief led him to push hard on accountability measures that alienated many leaders of nonprofit colleges, and led college presidents in a 2016 Inside Higher Ed survey to give the Obama administration poor grades in assessing its impact on higher education. 
Despite Trump's questionable claims of having saved HBCUs, a Biden administration could also bring more aid to Black colleges, including investing $10 billion to improve enrollment, retention, completion and employment rates at minority-serving institutions. As he promised, he would spend billions more to improve research at HBCUs, and after HBCUs complained about being left out of government contracts, he would require federal agencies to explain and fix any disparities in federal dollars going to HBCUs or minority-serving institutions versus other kinds of colleges.
But beyond those policy changes, the vice president will be a Black woman who graduated from Howard University, a historically Black institution.
Speaking at Spelman College last month, Harris spoke of the importance of HBCUs for Black students, who have grown up under a racist belief that they will not succeed.
"When you leave that place, you will know how great you are and that you come from a great people and greatness is expected of you," she said. "And our job is to fulfill that mission."
Harris's election will bring immense pride to HBCUs.
"What she has done is not only good for Howard but the Black community," Howard University president Wayne A. I. Frederick said in a ceremony at the institution Tuesday morning congratulating Harris, win or lose, for being at the precipice of becoming vice president. "She has shown that Howard graduates are a force to be reckoned with, and she has demonstrated that those who have made their way to the mecca, to have successfully traversed the hilltop, can make it anywhere in the world. And she has shown that in all parts of society we belong and we deserve a seat at the table."