You have /5 articles left.
Sign up for a free account or log in.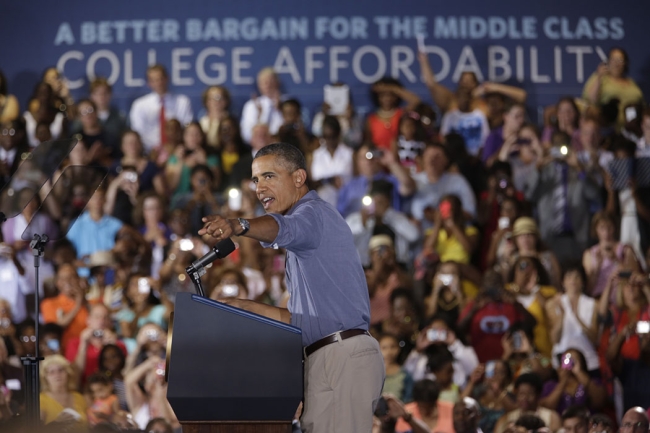 Lyndon Johnson oversaw the creation of the federal student aid system.
Bill Clinton's administration invested heavily in college preparation and created a multibillion-dollar program of college tax credits.
But as President Obama's eight years in office near an end, history is likely to remember him as the higher education president.
We can already hear the shouts of dissent from those who felt the brunt of the administration's all-out regulatory blitz against for-profit colleges. Expect demurrals, too, from higher education leaders who felt betrayed by their natural ally, believing that President Obama's rhetoric about rising college prices and questionable value battered their institutions and convinced some would-be students that college was unaffordable.
Surely the administration's record on higher education is a mixed one, where ambition was often undermined by flawed implementation and tactical errors. Obama and his aides sometimes took a know-it-all, combative approach (directed as never before from the White House) when cooperation might have proved more effective -- a failed plan to rate colleges is exhibit A -- and overreached with regulation they sometimes had to walk back.
But no president in history has, with his rhetoric, so clearly embraced the idea that postsecondary education is a must for individuals and essential for the country's economic and societal well-being.
No president has invested so heavily, with tens of billions of dollars of new spending (with billions more proposed and blocked by Republicans in Congress), to give students the means and opportunity to get postsecondary education or training.
And no president -- having accepted higher education as crucial -- has pushed as hard to improve its efficacy, from the belief that something so valuable should deliver on its promises. This last reality alienated some college leaders who view Obama as a disappointment. In retrospect they may miss him dearly.
What Came Before
Most higher education leaders couldn't wait for President George W. Bush and his education secretary, Margaret Spellings, to head back to Texas in 2009. Bush had talked up community colleges a good bit but largely shunned higher education issues in his first term. But when Spellings replaced Rod Paige at the Education Department in 2005, higher education became a focus with the appointment of a commission designed to explore issues of affordability, access, accountability and quality.
The panel arguably fell short of its grand goal -- producing a "comprehensive national strategy for postsecondary education" -- but it did focus attention in important ways on higher education, particularly on the difficulty of measuring what students learn in college.
Higher education leaders took great offense at the frequently critical rhetoric of the panel's leaders and what they perceived to be the presumption that the enterprise was more "broken" than sound. Led by private college presidents and lobbyists, they also bristled at the inclination of the Republican administration to try to extend its policy reach into curricular and other areas in which federal officials had historically trod lightly if at all.
A bipartisan group of U.S. senators ultimately blocked the Spellings-led department's most aggressive initiative -- producing a new set of rules to remake accreditation that would likely have required the quality-assurance agencies to set minimum standards for colleges' student learning outcomes. But the administration's creative use of the regulatory process to pursue its policy goals would seemingly inspire its successor's own efforts to crack down on for-profit colleges and alter the definition of the credit hour.
Funding for the Pell Grant more than doubled during President Bush's two terms in office (though most other college-related spending remained flat), but most advocates for higher education were ready to replace Bush with a Democratic administration that, based on political history, they hoped would be friendlier to and more financially supportive of colleges.
The Carrots
The change was evident immediately. Weeks after Obama took office, Congress passed an economic stimulus bill that, while less generous than originally conceived, still provided tens of billions of dollars for student financial aid, university research programs and colleges and schools. The administration and congressional Democrats insisted on provisions in the stimulus measure that required states to maintain their own education funding levels to qualify for the available federal aid.
If including higher education among his top priorities in the stimulus legislation was an early sign of Obama's view of its importance, his first major speech to Congress left no doubt.
In a matter of minutes, weeks into his administration, Obama did what Spellings had originally set out to do with her commission: give the United States arguably its clearest national higher education strategy since Sputnik.
"We will provide the support necessary for you to complete college and meet a new goal: by 2020, America will once again have the highest proportion of college graduates in the world," the president said. He cited the fact that the U.S. had slipped numerous notches on the list of countries in terms of postsecondary attainment and argued that reversing the decline was a matter of economic competitiveness.
Higher education's top lobbyist, Terry W. Hartle of the American Council on Education, that night called Obama's comments "the strongest statement we've ever heard about the importance of postsecondary education" from a president in such a high-profile speech.
The ambitious goal of increasing by about 50 percent the proportion of Americans with a college credential was what came to be known as the administration's North Star, a signal of the importance he considered it to have for individuals and for the country's economic well-being.
What most distinguished the president's message from many before his was the assertion not only that every American needed at least one year of post-high school education, but that many kinds of learning might qualify. "This can be community college or a four-year school, vocational training or an apprenticeship," Obama said.
The language was music to the ears of the many policy makers who believe that the country overemphasizes bachelor's degrees and that more attention needs to be paid to the nonelite institutions (community colleges, etc.) that educate the majority of students who are not wealthy and who commute to college and often have jobs. The language was also a notable political shift. Recent presidents of both parties have focused on helping make college affordable for those already going. Obama's message there -- and in subsequent policies -- was a focus on those who needed higher education but were not already seeking it out.
But even in laying out that vision, Obama used conflicting rhetoric that would foretell tension over the split focus that has impaired much federal (and state, for that matter) higher education policy making over the years.
First of all, by identifying as his big goal having the highest proportion of "college graduates" -- a phrase that in common parlance means those with four-year degrees who attended residential colleges -- the president gave fodder to critics who said he was elitist or would contribute to degree creep.
And some of the tools that Obama signaled he planned to use to achieve his goals -- notably a greatly expanded tax credit for college-going expenses -- tend to provide much more help to traditional-age students getting a bachelor's degree than the working mother seeking an associate degree or the unemployed former steel worker pursuing a certificate.
These tensions would crop up later in analysts' doubts about the wisdom of the White House's short-term flirtation with encouraging more low-income students to attend highly selective colleges, and debates about the administration's support for alternative forms of higher education. Some even blame the president's crackdown on for-profit colleges for decreasing college enrollment nationwide and limiting options for students.
But more than anything, the early days of the Obama administration sent an unmistakable signal that this president believed in the importance and transformative value of postsecondary education and training. College leaders cheered that stance -- but they wouldn't always like what flowed from it.
The Sticks
Obama's tough love for higher education began in earnest when he put colleges "on notice" during the 2012 State of the Union speech.
"If you can't stop tuition from going up, the funding you get from taxpayers will go down," the president said to applause.
That night the White House circulated a document saying it intended to shift federal aid dollars away from institutions that failed to keep their tuition down while providing good value for students.
For most of his first term, Obama had focused on his college completion goal, increasing financial aid for low-income students and curtailing the flow of those funds to for-profit colleges. (Perhaps his most ambitious higher education initiative was a complete revamping of the federal student loan program. The White House shifted the origination of all federal loans to the government itself, squeezing out financial institutions in ways that freed up tens of billions of dollars in new funds for Pell Grants and other purposes, including deficit reduction.)
Now, however, he was pushing performance funding for traditional colleges in the State of the Union.
Two years later, the sentiments of that speech had morphed into Obama's proposal for a sweeping college-ratings system, which sought to tie all federal financial aid to how colleges compare on affordability, student completion rates and the earnings of graduates.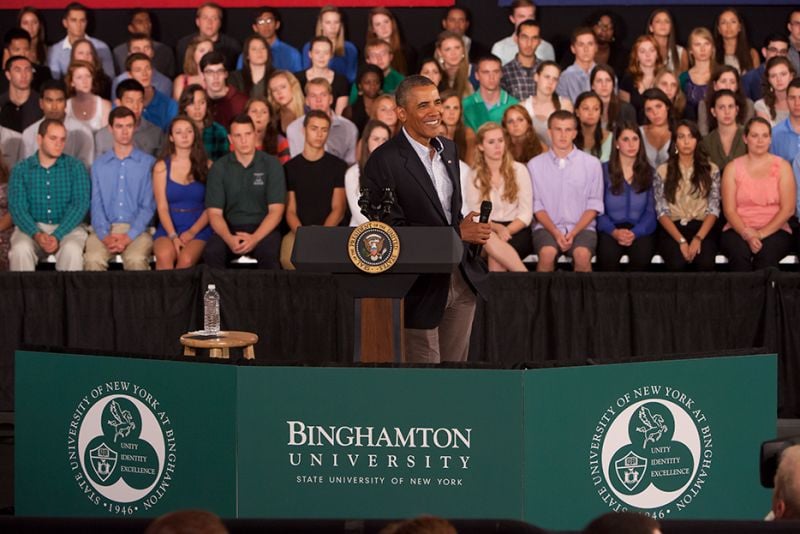 Obama's interest in college costs wasn't just political. Insiders often said the policy direction came directly from the White House -- that Obama was personally insistent that his administration go all in on tackling college prices. In meetings with college presidents, Obama pushed hard for enhanced productivity in higher education -- specifically how colleges could graduate more students while also becoming more affordable.
The backlash came swiftly. Some academics argued that Obama was echoing and even amplifying the Spellings Commission with neoliberal notions about delivering a college education on the cheap. The plan leaned heavily on buzzy innovations (championed by major grant makers like the Bill & Melinda Gates and Lumina Foundations) such as competency-based education and MOOCs, they said, without focusing on academic quality or how state budget cuts have contributed to the adjunctification of higher education.
Private college groups and the American Council on Education also criticized the idea of tying federal aid to performance metrics, despite the White House's attempt to woo college presidents to back the ratings system.
That disagreement soon morphed into a public spat.
A month after the plan was announced, Education Secretary Arne Duncan chided some higher education leaders for their opposition to the plan, calling their reaction "premature and more than a little silly." He said the challenge of creating a federal rating system shouldn't be an excuse for inaction, and urged higher education leaders to stop "propping up the status quo."
While the White House's second-term criticism of higher education seemed to come out of the blue, it's not hard to see it as a logical extension of the administration's toughened regulation of for-profit higher education, which began early in the president's first term with the introduction of what would eventually become the gainful-employment regulation.
Though gainful employment was part of a broader package of consumer protection rules designed to prevent financial aid abuses by all colleges -- including new guidelines governing state authorization of online programs and the definition of the credit hour -- the rules disproportionately affected for-profit colleges. The industry had ascended as the Bush administration weakened some oversight of the sector. And as the Pell Grant program ballooned in the early days of the Obama presidency, the funds flowed disproportionately to private-sector institutions, to the dismay of those who viewed them as predatory.
The colleges themselves argued that Obama and aides at the department with close ties to consumer advocates wanted to destroy the industry. They may have a point, as in recent years the administration's stance appears to have shifted from going after "bad actors" among for-profits to a more globalized enmity.
For its part, the for-profit sector urged the administration to apply gainful employment and other regulations to all of higher education, not just their industry.
As the for-profit wars raged, traditional-college advocates were content to keep their heads down and labor under the assumption that Obama's regulatory zeal wouldn't extend to them.
Even when the friendly dynamic changed, near the end of Obama's first term, White House accountability initiatives that extended to traditional colleges tended to eventually be dialed back or quietly scuttled -- although not usually by choice.
For example, the department softened its final attempt to define the credit hour, which was an attempt to curb subpar and fraudulent education offerings, often online ones. Likewise, its state authorization rule -- another "program integrity" regulation aimed at online education -- remains stuck in limbo today.
Yet it would be a misread to think the administration sacrificed its priorities to cater to traditional higher education. For good or bad, Obama stuck with his North Star, regardless of whom his higher education plans upset. And the desire to create more opportunities for nontraditional students to earn meaningful postsecondary credentials at times appeared to conflict with the administration's strong focus on consumer protection. That tension played out in kerfuffles within the department itself.
For example, the White House consistently pushed for emerging models of higher education, including competency-based programs, online course providers and skills boot camps. They used an obscure executive authority to open up federal financial aid to a handful of these of noncollege, nonaccredited providers, most of which are for-profit. The experiment drew criticism from both consumer advocates and traditional college leaders (some of whom argued it might be repeating mistakes that enabled the excesses of the for-profit colleges the department loathed), while also threatening accreditors.
But even critics would have to admit that it's an unusual attempt by an administration to prod innovation in a sector that's often dinged for moving too slowly.
Fractured Friendship
Many campus leaders and traditional higher education advocates feel a profound sense of betrayal about the Obama White House's approach to higher education policy. One reason the disagreements stung is because the professor in chief seemed like he was one of them -- he was supported and adored by most academics for his embrace of intellectualism and his excitement about science, as well as for his largely liberal views. This was a distinction his conservative critics didn't miss.
"We need a commander in chief, not a professor of law standing at the lectern," Sarah Palin, the former Republican governor of Alaska, said to a crowd of Tea Party activists in 2010.
While the ratings plan was the big fissure, Obama wasn't shy about taking on his natural allies in other ways.
He often framed his goals for making college more affordable as a personal mission, talking about the $120,000 in loans he and Michelle Obama racked up while earning undergraduate and law school degrees. Outlier student debt horror stories, particularly ones about gainfully employed U.S. presidents who attended elite institutions, tend to rankle higher education policy wonks.
Sometimes Obama's criticism of the academy veered toward the culture wars. In a 2015 speech he criticized the "coddling" of college students and said he didn't support preventing conservative or even offensive guest speakers from giving talks on campuses. "I don't believe you, when you become students at colleges, need to be coddled and protected," he said.
Likewise, the president in 2014 followed the lead of Republican governors when he took a swipe at liberal arts degrees, saying people can make more money in skilled manufacturing or the trades than with an art history degree. (He later sent a handwritten note to an art historian in which he apologized for the off-the-cuff remarks.)
For-profit officials also weren't the only ones in higher education to think Obama went too far with his "pen and phone" approach to policy making.
With the U.S. Congress deadlocked or actively blocking his legislative agenda, the White House got creative with its executive actions on higher education. And several higher education groups, including those that represent both public and private institutions, have complained about the administration's aggressive approach to policing campus crimes, including sexual assault. For example, the American Council on Education worked with Senator Lamar Alexander, the Tennessee Republican who leads the Senate's education committee, in creating a report that decried burdensome federal regulation of higher education. Campus safety reporting rules were cited in the report, the overall findings of which were backed by the Association of Public and Land-grant Universities and the Association of American Universities.
Advocates for victims of sexual assault, however, praise the administration for taking the issue so seriously that Obama and Vice President Joe Biden were personally involved, and for telling anyone who would listen that sexual assault was a crime and should not be tolerated. The administration also drew praise consistently from advocates for transgender students for taking a historic stance that they deserve protection from discrimination, and from advocates for students with disabilities for pressuring colleges to give them improved access.
The White House also went after college accreditors, with a long-running attempt to crack down on what the administration said was irresponsibly lax oversight of some for-profits.
Sometimes that criticism extended to accreditors' failure to hold colleges accountable for low graduation rates or other metrics that make nonprofit colleges nervous, too. And the department's unprecedented action last year to de-recognize a large national accreditor was the tipping point for what Judith S. Eaton, the president of the Council for Higher Education Accreditation, says is a federal takeover of quality assurance in higher education.
Obama's alleged overreaches didn't always hold up. The first version of gainful employment was thrown out by a federal judge in response to a lawsuit filed by the for-profit sector's primary trade group. And the plan to rate colleges, which many experts told the administration was impossible, collapsed of its own weight and was dropped quietly, instead becoming a souped-up consumer web tool -- the College Scorecard.
Last week, on the administration's final Friday, the department said it had made a 20-percentage-point mistake on the Scorecard's data set on student loan repayment rates, another example of what critics say is an attempt to regulate based on weak numbers.
Still, the president has remained undeterred, with the White House and department frantically working until its last days to finalize what it says are crucial consumer protections for students and taxpayers, like discharging loans last week for groups of students who were defrauded by for-profits.
And while Michelle Obama almost lovingly dedicated her final address to educators, the president's farewell speech Jan. 10 included one last gentle nudge at higher education, when he said people shouldn't "retreat into our own bubbles, whether in our neighborhoods or on college campuses."
Lasting Impact
The incoming Trump administration and congressional Republicans have pledged to roll back or eliminate many of Obama's executive actions on higher education, including gainful employment. The Obama administration's aggressive enforcement of campus sexual assault also is a likely target.
But this White House changed the discussion about the value of college in ways that will be impossible to wipe away.
The administration's embrace of free community college has spurred more state- and district-level experimentation with that and other funding models.
Its support for competency-based education has helped hundreds of colleges take the plunge.
While President-elect Trump has talked about injecting market forces back into the federal student loan programs, there is no going back to bank-based student lending.
Even if gainful employment is weakened or gutted, for-profit colleges are unlikely to come roaring back, with industry leaders themselves saying they can't risk returning to the days of rapid growth fueled by recruiting students who have little chance of completing. The sector's excesses and the economy probably have done as much permanent damage as the regulatory scrutiny.
And while it's possible that a Trump administration could question whether "too many people" are going to college (or at least getting bachelor's degrees), President Obama's lasting legacy in higher education is likely to be his insistent embrace of the idea that a high school degree is no longer sufficient for individual Americans or, collectively, for the country.