You have /5 articles left.
Sign up for a free account or log in.

More than half -- 52 percent -- of Americans say it is difficult for them to get a good job or that their opportunities to advance at work are limited, according to new survey data from the Strada Education Network, a research and advocacy organization focused on the link between education and employment.
The survey found that many Americans feel powerless in their ability to advance careerwise. Forty-six percent of Americans said they feel the system isn't fair or that there are not opportunities for people who look like them. Forty-six percent also said their employers do not provide training or education. Forty-four percent feel they don't have the right skills and credentials to advance at work or find a good job, and 32 percent say they do not know where to begin.
"In this crisis, we are looking to education as the solution to getting people back on their feet and back to work," Andrew Hanson, director of research and insights for Strada's Center for Consumer Insights, said, referring to the pandemic. "I think one barrier that we don't often talk about is people's beliefs and mind-sets about whether they actually want to go [pursue education or training], whether they see it as a solution themselves."
"The surprising thing, I think, for us is No. 1 just how widespread this feeling is of, 'I'm stuck. I don't know how to get a good job. I don't know how to advance my career,'" Hanson said. "The fact that 50 percent of people are feeling this way -- previously we've seen that two-thirds of Americans are worried about losing their job -- there's this general anxiety about not being able to move up and advance."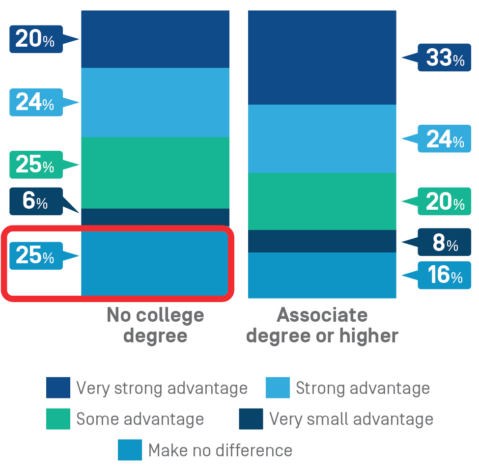 Survey respondents without a college degree were less likely than respondents with a degree to think that more education and training would give them an advantage in their ability to get a good job or advance in their career (see chart at left). A quarter of Americans without a college degree said that more education or training would make no difference for their career prospects, compared to 16 percent of Americans who hold at least an associate degree.
Respondents without college degrees were also far less likely than respondents with a college degree (44 versus 57 percent) to believe that more education and training would give them a "very strong" or "strong" advantage in terms of their ability to get a good job and advance at work.
"The folks that need education the most also have the least confidence that it's a solution that will really help them get where they want to go," Hanson said.
Asked to rank the No. 1 reasons why they personally believe more education would not be worth the cost, 32 percent identified the financial cost as the No. 1 reason, 17 percent said it would offer no real benefit at work and 15 percent cited time away from work.
Strada surveys have found a substantial increase in interest in work-based and online training programs over the course of the pandemic. Americans without college degrees rate partnerships between employers and education and training programs as the No. 1 factor that would increase their confidence that additional education or training would be worth the cost. They identify additional support to help them be successful in classes and the availability of work-based learning opportunities, such as apprenticeships and internships, as the second- and third-biggest factors, respectively.
A total of 1,593 people responded to the national online survey, which was conducted in October. Strada reports that it used quotas derived from U.S. Census data to create a sample that is nationally representative in terms of age, gender, race/ethnicity and region.
About the Strada Polling Data
Inside Higher Ed and Strada Education Network partner on Public Viewpoint. Strada provides funding to Inside Higher Ed to support its coverage of the polling data and related workforce issues. Inside Higher Ed maintains editorial independence and full discretion over its coverage.
Anthony Carnevale, a research professor and director of the Georgetown University Center on Education and the Workforce, said the Strada findings are not surprising and are reflective in part of what he described as a systemic lack of career counseling for American students and workers. He also pointed to the fact that members of the millennial generation keep facing economic headwinds -- the Great Recession of 2007-09 and now a COVID-impaired economy -- that have long-term "scarring" effects that have impeded their career advancement.
Carnevale said he was troubled, however, by the perception that education does not provide a benefit.
"The whole business of 'education isn't worth it' is nonsense," he said.