A Closer Look at Racial Disparities in Education
A supplemental report by the American Council on Education on previous research about disparities in higher education shows "striking" levels of inequities in the ability of Black college graduates to pay off student loan debt.
iStock.com/ericsphotography
The American Council on Education recently published a six-chapter supplement to its original February 2019 report on race and ethnicity in higher education, which provides additional analysis of federal data to examine how the education system in the United States is serving and failing students of color.
Among the new key findings is that K-12 systems and colleges are falling short of preparing students of color, especially Black students, for college classes and for economic success postgraduation.
The supplemental information and analysis was sought by ACE as a result discussions with faculty members, presidents and other education stakeholders and leaders who suggested topics that deserved a "deeper dive," said Jonathan Turk, director of research at ACE and co-author of the report.
Turk said the additional information also includes a closer look at students who attend tribal colleges and universities, or TCUs, and Native-serving institutions through data provided by the American Indian Higher Education Consortium. He said there was a lack of data on Native students in the original report.
The "most striking part" of the report was differences in how difficult it is for underrepresented students, particularly Black and Native students, to pay off their student loan debt compared to other students, said Morgan Taylor, senior research analyst for ACE and a co-author of the report. Black and Native students who received both associate's and bachelor's degrees borrowed a higher average amount per student in 2016 than all other racial and ethnic groups, the report said.
Black graduates who got their bachelor's degrees in 2003 still owed 105.5 percent of their original student loan by 2015, Taylor said. White 2003 graduates had paid back nearly half of their original loan by 2015, and Asians had paid back slightly more than half, according to the report.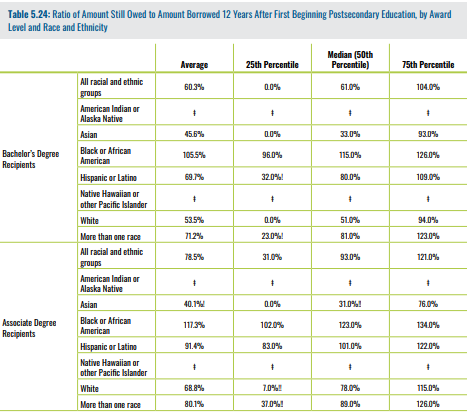 Black, Hispanic and Latino, and Native students are more likely than Asian and white students to enroll and complete their degrees at for-profit colleges, which is "problematic" because students at for-profits also tended to borrow more in student loans and had more debt and higher default rates after attending, Taylor said. The report found that in 2016, 91 percent of Black students who attended for-profit colleges borrowed an average of $42,046, whereas 84 percent of Black students who went to public four-year colleges borrowed an average of $30,613.
The report also identifies a lack of diversity among college personnel that does not match the growing diversity of student bodies at these institutions. Nearly 73 percent of full-time and 71 percent of part-time college faculty members in fall 2017 were white and in senior administrator positions, and the overall racial and ethnic composition did not reflect the diversity of students during the 2018-19 academic year, the report said. Representation varied by position; about one-fifth of chief student affairs officers were Black during the same academic year, while only 3.5 percent of chief development or advancement officers were Black.
"When we look across minorities and across positions, we're seeing that the folks in leadership positions are less diverse than the student body, and students of color are more likely to see people who look like them in support staff positions," Taylor said.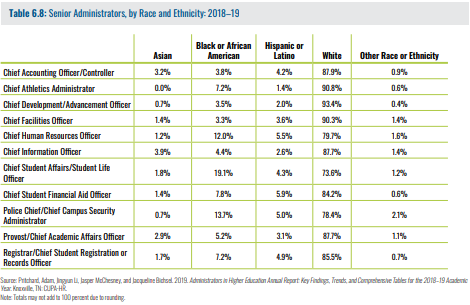 Inadequate K-12 education nationwide also has a disproportionate impact on Black students, which can restrict the higher education opportunities that are available to them, Taylor said. Black high school seniors had the poorest math and reading achievement levels among all other racial and ethnic groups in 2015, according to the report. Only 1.4 percent of Black high school seniors were at an "advanced" reading level, while the average for all racial and ethnic was 6.3 percent.