You have /5 articles left.
Sign up for a free account or log in.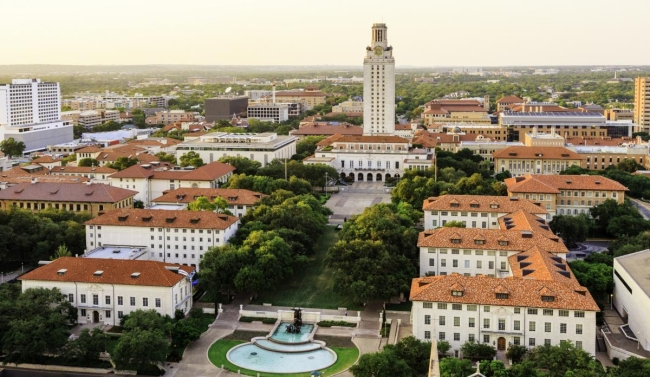 Most people in higher education have heard the bad news by now: enrollment is down, for pretty much everyone, across nearly all student demographics, as the COVID-19 pandemic rages on.
Much of the loss is concentrated among community colleges and students of color. Renewals of the Free Application for Federal Student Aid were down nearly 5 percent for students from the lowest-income backgrounds. The typical countercyclical nature of higher education enrollment -- when employment rates drop, enrollment rises -- isn't happening this time around, many experts say.
It may be surprising, then, that the University of Texas at Austin reports its enrollment of low-income students is actually up from last year's.
Enrollment for Pell Grant-eligible freshmen increased from 1,803 students to 2,361 students, accounting for more than one-quarter of the incoming class. Pell Grant enrollment rates for all undergraduates is up by about one percentage point. Pell enrollment rates for Black students are up from 9.8 percent to 10.5 percent, and rates for Latinx students from 46.2 percent to 48.2 percent.
These numbers are reassuring, said Mamie Voight, vice president of policy research at the Institute for Higher Education Policy.
"The increase certainly seems notable for a one-year change," she said. "It's really important to have these types of investments in students from low-income backgrounds, and then support them through to completion."​
Enrollment in Texas statewide is down 3.6 percent, with the majority of colleges reporting, according to data from the National Student Clearinghouse Research Center. UT Austin's undergraduate enrollment is about flat, with a drop of only 0.3 percent, led mainly by a decline in international student enrollment.
Jay Hartzell, president of UT Austin, credits several factors for the uptick in Pell Grant-recipient enrollment.
Texas is one of the states in the nation with genuinely positive population growth. The pandemic made more students think about staying in their home states for college and looking at public universities as a cheaper option.
But potentially one of the largest impacts is several relatively new scholarship programs at the university, Hartzell said.
"The word is getting out that we do have increased financial resources for students who qualify," he said. "You think of all these things, and it feels like they lined up in a way that attracted these students."
The newest scholarship is the UT for Me program, which is funded through a 10-year, $100 million commitment from the Michael & Susan Dell Foundation. The money goes to students eligible for Pell Grants. The university will cover their tuition costs, and the foundation's scholarship will fund wraparound supports. The Dell Scholar at UT Austin program, which is part of the partnership with the foundation, will provide $20,000 for up to six years for living costs to first-time students with an expected family contribution of less than $1,000.
The goal of the program is to increase the graduation rate for students who receive Pell, which is at 73 percent right now, up to 90 percent. UT Austin's overall graduation rate is 86 percent.
More than 2,300 students are in the first cohort of the UT for Me program, and about 1,500 of them are Dell Scholars, meaning they are receiving the extra scholarship. Admissions staff point to that program as perhaps the most important factor in the bump in freshman Pell-recipient enrollment. A new cohort will be added each year for the next four years.
Targeting low-income students and covering some nontuition costs, plus pairing the financial support with services like advising, are likely what led to the results UT Austin is seeing so far, Voight said.
But the program is meant for first-time students, which leaves out many who most need the help, she said. Adults with some credits, transfer students and people who had stopped out of college wouldn't be eligible for the program. Many of the students looking to enroll in colleges now, during a recession, are likely in those groups.
The foundation is also giving the money to a flagship university, a relatively well-resourced institution. While that's not a bad thing, Voight said it's important to remember other institutions, like community colleges or minority-serving institutions, would greatly benefit from similar investments.
​​"I would like to see these types of programs expanded to address the large number of students who are attending other institutions as well," she said.
John Fitzpatrick, executive director of Educate Texas, a nonprofit focused on policy and strategy for public and higher education in the Lone Star state, is excited about UT Austin's efforts to focus on vulnerable students.
"The [programs] are unbelievable opportunities for recruitment and retention for Texas students," he said. The extra resources offered in the Dell Scholars program, like laptops and funds for expenses, will likely help Pell students' retention rates, too, he said.
The personalized approach will also help, he predicts.
"UT Austin is a big institution, and at large public institution, Pell-eligible kids can get lost," Fitzpatrick said. The Dell Scholars program offers advising and case management-style help for students.
Shareea Woods, director of the Texas College Access Network at Educate Texas, is excited to learn from these programs and see what impact they have over a period of years.
The challenge, Fitzpatrick added, will be figuring out how to build these kinds of programs driven by philanthropy into institutions' budgets, and how to make them work at lower-resourced colleges.
Wil Del Pilar, vice president of higher education policy and practice at the Education Trust, thinks it's interesting that UT Austin has seen an increase, but he doesn't think it's enough.
"Given that 50 percent of students in Texas qualify for free and reduced lunch in the K-12 system, I don't think we should be applauding a one-percentage-point increase," he said.
Instead, this effort is indicative of what it takes for institutions to commit to this issue.
"It took UT Austin a $100 million gift to find their motivation to enroll more low-income students," Del Pilar said. "In my opinion, I'd like to see them do more. They should've been doing more all along."
That said, Del Pilar does think the scholarship programs are a great step forward, and crucial for students during this economic downturn. But he thinks the reason why more low-income students are enrolling at UT Austin is that they're being more actively recruited for the purpose of these scholarships, not just the scholarships themselves.
"There have to be other reasons, besides a gift, for institutions to find the will to increase enrollment," he said. "These are talented students who have the ability -- they just need resources."
The Texas Advance Commitment is potentially another draw for Pell recipients. The program is in its second year. Using money from the UT system, UT Austin is covering tuition gaps for students with family incomes of less than $65,000. Those from families with incomes between $65,000 and $120,000 also get some support.
The university is working with donors to contribute to the fund so it can cover room and board costs, or the full cost attendance, in the future, Hartzell said.
Prior to this fall, 5,000 students received support from the Texas Advance Commitment. This fall, more than 13,000 students are receiving support through the program.
Both programs are based on students' financial needs and don't require separate applications. Students who fill out the FAFSA and meet the Pell and income requirements automatically get the awards, Hartzell said.
"We all knew that it's been a challenge to recruit really smart students who may view finance as a burden," he said, adding that private colleges may offer better financial aid packages. "We wanted to be competitive and get students to stay in Texas."
This work has become more critical due to the pandemic, he said.
"In the age of COVID-19, when in general many low-income families have been disproportionately harder hit by the pandemic, I think it's arguably more important than ever for us to rally and support students from low-income families," Hartzell said. "We've all come to appreciate that being part of a university like ours could go toward leveling the playing field."