You have /5 articles left.
Sign up for a free account or log in.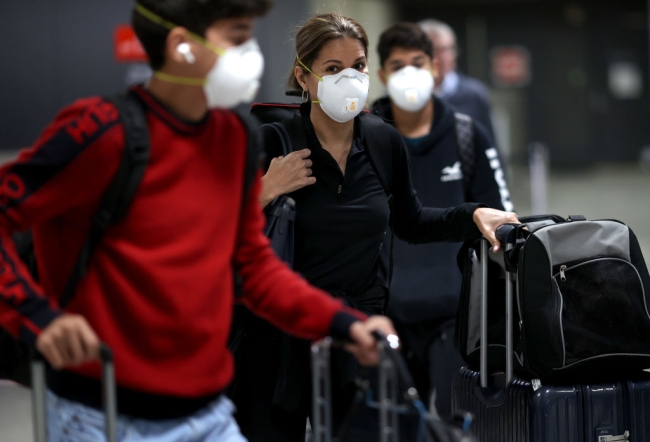 This week and next, college students across the country will be leaving campuses for Thanksgiving. Public health and medical experts have long warned that mass travel and family gatherings will lead to more outbreaks of COVID-19. The Centers for Disease Control and Prevention on Thursday advised Americans not to travel at all for the holiday, as the United States is entering its worst period for daily infections to date.
Several colleges and universities have responded by creating plans to test students for COVID-19 before they leave for the break. (In many cases, students who leave are discouraged from coming back until the next term.) But those plans vary widely, and what's more, many colleges and universities have none at all.
"When you consider the thousands of U.S. institutions that exist, really we've only found a handful [with exit plans]," said Emily Round, a senior at Davidson College and co-chief of operations at Davidson's College Crisis Initiative.
Of the institutions that have some kind of plan, many are encouraging students to get tested before they leave but stopping short of requiring the tests. The University of Maryland at College Park is among them.
Clemson University, which dealt with high case numbers early in the semester, has expanded hours for testing and encouraged students to take advantage of the offering, but it has not mandated them to do so. Pre-Thanksgiving tests will be saliva-based, rather than done with nasal swabs, to increase capacity.
The University of Georgia, which has had nearly 4,000 cumulative cases this semester, is also encouraging students to get tested. The university expanded capacity to 1,000 tests per day for the two-week period before Nov. 23. That means about 10,000 to 14,000 tests, though the university has nearly 30,000 students.
"Every student who wants a test will be able to get one," Greg Trevor, UGA spokesperson, said via email.
On Wednesday, a coalition of seven Northeastern governors said they will encourage residential institutions in their states to provide testing for students to the "maximum extent possible" before the break. But with that statement released only a week before the holiday, it's unclear how colleges and universities will respond.
Of the institutions that are mandating testing, the University of Notre Dame is issuing some of the most serious disciplinary measures for noncompliance, Rounds said. The university has already seen its share of negative publicity this year, from outbreaks and lockdowns early in the semester to the infection of the university president and a nationally broadcast mass gathering on the football field more recently.
"Students who fail to report for exit testing or fail to remain in the South Bend area until their negative test outcomes are delivered will receive a registration hold on their records and will be unable to matriculate or register for classes next semester or receive a transcript," the university said in an announcement.
So far, Notre Dame has had about 99 percent compliance, said Paul Brown, spokesperson for university. The testing plan was in part a result of requests from students, he said.
But many colleges and universities have no plan at all. At the College Crisis Initiative, a random sample of 100 institutions yielded only eight exit-testing plans, Rounds said. Some of those without a specific exit plan are already doing weekly or biweekly testing, but others are not.
"It definitely has a financial component," Rounds said. "Schools with larger endowments per student are able to provide more COVID testing or mandate it." Many of the institutions expanding testing for the holiday are well resourced.
The American College Health Association is currently not recommending that institutions test every student before departure. That level of testing is resource-intensive, officials there have said, and the association did not want to recommend something cash-strapped colleges could not carry out.
But even with a robust plan, experts say testing is not a foolproof way to prevent the spread of the virus. Because a test represents a moment in time, a negative result doesn't preclude a student catching COVID-19 shortly after taking the test, bringing it home anyway.
Similarly, because an infection can incubate for up to 14 days, a student could potentially get infected the Monday before Thanksgiving and still test negative on Tuesday.
Some colleges are attempting to mitigate those risks. At Saint Joseph's College of Maine, students do not have to enter quarantine after their tests, but they do have to leave immediately after getting their results. While that assuages some fears about getting infected between taking the test and leaving, it doesn't allay concerns about false negatives.
Colby College is addressing that issue by testing students twice the week before departure, as it has been doing for the whole semester.
In all cases, using a diagnostic test as a proxy for safety can be risky. Experts have said that the surest way to avoid transmitting the virus to loved ones on Thanksgiving is not to travel at all. The second-best option is to quarantine for 14 days directly before seeing family.
In line with some of those recommendations, Lincoln University, in Pennsylvania, has opted for a 14-day "quarantine" in the period before Thanksgiving instead of a testing mandate (the university tested all students and employees on Oct. 29, a process that yielded "few" positive diagnoses, officials said). The "quarantine," a bit less strict than a traditional quarantine, prohibits students from leaving campus.
"We've always been watching social distancing on campus, but it's that off-campus movement we really want to stop," said Shelley Mix, associate vice president for communications at Lincoln.
New York University has strongly encouraged students not to go home at all for Thanksgiving. If they do leave the New York region for more than 24 hours, they will be required to quarantine for 14 days upon return, in line with state advisories.
The University of Southern California is not offering in-person classes or housing this semester and discouraged students from coming to Los Angeles at all. But for the students who decided to move and live around campus anyway, the university offers campus testing and is strongly encouraging students to test before any Thanksgiving travel. USC also released a comprehensive document encouraging students to remain physically distant from family after arrival and get tested again once at home. When sitting down to a meal, students should avoid sharing serving utensils, using pitchers or eating indoors, the university advised.
Of course, some of the risk associated with students going home to families is out of the hands of colleges and universities. Administrations cannot control how students travel, what precautions they take on the journey or whether they quarantine once they arrive at home.
But for the little that is in their control, it's evident some colleges are unwilling or unable exercise their power.
More from Physical & Mental Health