You have /5 articles left.
Sign up for a free account or log in.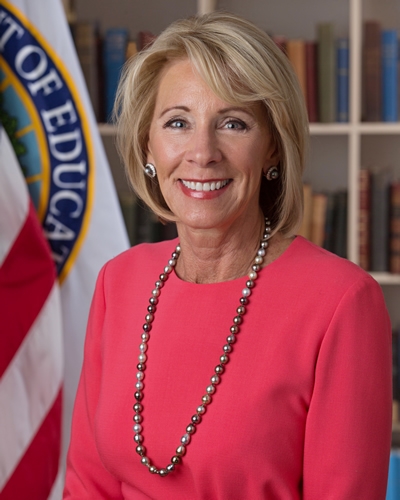 U.S. Department of Education
For days, higher education policy experts had been hoping that Education Secretary Betsy DeVos would use a speech Tuesday at a conference on student aid to stop what they see as a looming crisis for student loan borrowers. In less than a month, on Dec. 31, a moratorium President Trump had put in place excusing most borrowers from making payments on their loans will expire.
But speaking remotely to the Federal Student Aid Training Conference as she prepares to leave office this month, DeVos instead focused on having made it easier for borrowers to access their information online and through an app. She took a shot at free college plans, one of the top aims of the incoming Biden administration, as "socialist."
DeVos, though, didn't mention the coming loan crisis, much less announce, as advocates had hoped, that the administration will be extending the pause on making payments on student loans.
While the administration could still act, DeVos's silence left policy advocates warning that many could default on their loans when the moratorium runs out, and that confused and worried borrowers will overwhelm student loan services asking for help.
"While we have not given up hope that the administration will use its authority to do this, we are disappointed that they have not yet acted," said Terry Hartle, the American Council on Education's senior vice president for government relations, noting that the Trump administration could be hoping Congress will act so that it will not have to. "Still, it's not easy to turn huge federal programs on and off. Right now some 40 million Americans have no way of knowing what their student loan repayment obligations will be in 30 days. For many of them, this is understandably a matter of enormous concern."
Trump in August excused borrowers from making payments through the end of the year, as unemployment surged from business closures during the pandemic. It's unknown if Trump or Congress will extend the pause, even as a bipartisan group in Congress unveiled a new coronavirus relief package Tuesday, including an extension of the moratorium through March. However, the proposal faces hurdles and is much smaller than what Democrats have called for. Talks in Congress over another package are still stalled. In addition, spokespeople for the Education Department and the White House did not return inquiries asking if the administration plans to extend the pause. And DeVos gave no clues in her speech.
What worries those like Sarah Sattelmeyer, director of the Pew Charitable Trust's student borrower program, is whether borrowers will be able to resume making payments should the pause expire Jan. 1. A Pew poll in August and September found that nearly 60 percent of borrowers would find it somewhat or very difficult to begin paying back their student loans again.
In addition, there's still confusion among borrowers over whether the moratorium applies to them, Sattelmeyer said. The poll found that only 67 percent of those polled thought they were eligible for the help.
All that is a recipe, she said, for borrowers to inundate servicers with calls asking for help or to begin the complex process of signing up for income-driven loan repayment programs, or just to figure out whether or not they are supposed to start making payments again.
"There could be a really large volume of calls in a short amount of time," Sattelmeyer said. "The servicers are working remotely during the pandemic. So it's a perfect storm for confusion," she said, worrying that some borrowers will end up in default because they are not able to get help.
At the least, the department should create a grace period for making payments and reaching out to borrowers who might particularly be in distress to understand that they will have to make payments, she said.
"We're preparing the best as we can. But it's a massive undertaking," said Scott Buchanan, executive director of the Student Loan Servicing Alliance. He said the Education Department reduced how much servicers are paid per borrower, so they will not have more workers available than normal to take calls.
"It's going to be a strain on the system," he said. "This system is not designed to do a massive turning on and turning off."
Biden's Plans
DeVos's silence over the looming issue came as Biden on Tuesday called on Congress to immediately pass a robust relief bill, including help for those with student loans. "We need to act now. And we have to work together" to deal with "the most unequal economic and jobs crisis in modern history," he said in Wilmington, Del., as he introduced his administration's economic advisers. "For the millions of Americans who have lost their jobs -- or hours -- and have had to claim unemployment, we have to deliver them immediate relief," he said. That includes "relief from rent and student loans." But acknowledging Congress is unlikely to provide all the aid that's needed, he said, his transition team is working on the relief package he'll propose upon taking office Jan. 20.
Meanwhile, a bipartisan group of senators on Tuesday unveiled a $908 billion proposal for a coronavirus relief package to get the nation through March 31. Though the lawmakers didn't unveil the details, it includes $4 billion to extend the moratorium on student loan payments, confirmed an aide to Mark Warner, a Democratic senator from Virginia who is part of the bipartisan group. The proposal will also include $82 billion in additional help for education, but how that will be divided up between K-12 and higher education hasn't yet been determined.
"We can all go home to make sure we've worked diligently to make sure that [aid for] the unemployed, the small business, the state and local funding and the student loan forbearance -- everything that's going to come to a halt in December because of the timing -- is not going to happen," Senator Joe Manchin, a West Virginia Democrat who is also part of the group, said at a press conference.
It's unclear, though, whether the proposal will be allowed to come to a vote.
But action is needed now, Hartle said. He noted that there would be even more confusion if borrowers have to begin paying back their loans again in January, and then for the Biden administration to restore the moratorium a few weeks later.
"I think the worst outcome is for the current provision to expire and then to reinstate it," he said.
Meanwhile, DeVos, in what could be one of her last speeches as education secretary, said her administration had taken a number of steps to make it easier for borrowers to navigate their loans, for example, by consolidating dozens of websites into one, studentaid.gov, and creating a mobile app to access their loan information.
DeVos didn't explicitly mention Trump's attempts to fight his loss in the election. But she said the nation needs to address its $1.5 trillion in federal student loans, much of which is not being repaid. She urged the conversation to continue on ideas she has raised, like making the Office of Financial Aid a separate entity.
"Politicians in Washington thus far have chosen to ignore our proposals," she said. "They are not entitled to ignore the implications of continuing to do nothing."
DeVos did not mention Biden, but she assailed one of his top goals -- to make attendance free at public colleges and universities.
"Make no mistake, it would be a socialist takeover of higher education," she said. Reflecting the criticism from other conservatives, she said colleges relying solely on government funding instead of tuition would not be able to accept as many students and students will not be able to pursue the degree they want.
"You will no longer be counselors, but rationers," she said at the conference.
"Just watch -- colleges and universities will begin to resemble failing K-12 schools, with the customer service of the DMV to boot."