You have /5 articles left.
Sign up for a free account or log in.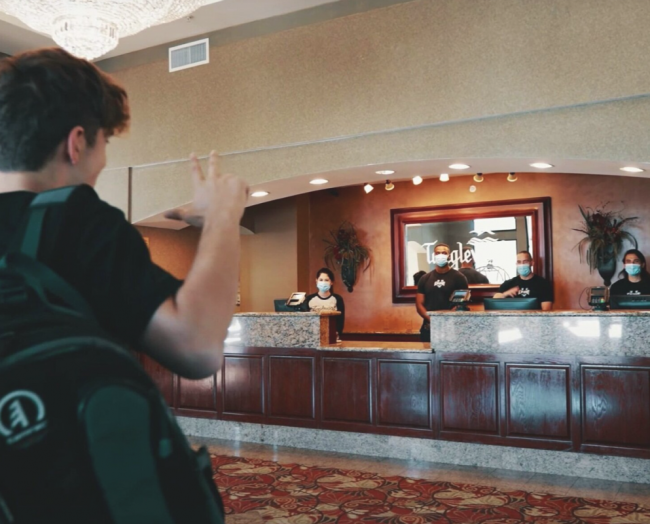 How much is the proverbial college experience worth during a pandemic? About $10,000, not including tuition, according to an experimental start-up that's been called just about everything from a utopia to an abomination.
The U Experience, as it's actually called, is slated to open to 150 students at a Pottsboro, Tex., lakeside resort next month. The concept? Students enrolled in different colleges and universities who would otherwise be studying remotely on their own will live, eat and take their online classes in a maskless, COVID-19-free bubble.
The start-up was founded by three recent Princeton University alumni who believe that higher education's future lies in its unbundling. While COVID-19 was the catalyst for their business model, they think academe's mass "tacit endorsement" of online education will outlive the pandemic, and that students and their families will start to think about college as three separate entities: an education, a credential and an experience.
Believing in this new reality requires many assumptions. Among them: professors will willingly give up their intellectual property in terms of course design and recorded lectures, so that universities can and will repackage them as courses at scale, at a lower cost. All that is far from certain. If anything, COVID-19 has increased instructional costs.
But the U Experience is banking on it happening. In the meantime, there are people willing to pay for a sense of normalcy.
"Before the pandemic struck, there were three million students learning online, and that number was growing at a pretty decent clip. Then 12 million more students went online" due to the coronavirus, said co-founder Lane Russell, a former equity derivatives trader who graduated from Princeton in 2018. "This has really changed the landscape for online education and made it more relevant to most people."
With colleges and universities still selling educations and credentials, Russell's outfit is selling the experience piece, for $9,900 per semester, with one meal a day included (fewer or more meals make it a bit less or more expensive). The site hotel's restaurants will serve as dining halls and the bars will sell smoothies by day and booze to students 21 and up at night. Socialization and nightlife are definitely part of the appeal. U Experience does plan on offering a mostly remote speaker series to enhance students' individual studies. Again, students are still enrolled in their home colleges and universities and taking online courses there.
In addition to hotel personnel, 10 U Experience staff members -- including one with medical expertise -- will oversee 150 students, all of whom will be on lockdown. Students will be tested for the coronavirus upon arrival and regularly tested thereafter. They won't even be allowed out to buy groceries (which will be delivered), but they'll have access to all the resort's grounds and amenities and, of course, each other.
"We want to show that online learning is liberating, that it's not dull, that you're not necessarily living at home with your parents," Russell said. "You can build those friendships and relationships and look back on college and feel good about it."
Russell said he and his colleagues haven't admitted students yet, but they did let applicants start to see and "like" each others' photos -- in part to help U Experience put together a dynamic, sociable class. Diversity is an aim, but it's unclear how much economic diversity can be achieved at the price of admission. Russell said $10,000 is roughly what students spend getting to and from college and on room and board on their home campuses per semester. There is a scholarship fund for students who are interested but not able to pay.
U Experience says it decided on capping the class at 150, what's known as Dunbar's number, to maximize a sense of community. Russell said community will loom large in how the group prevents and deals with issues such as sexual assault, although there is a no-tolerance policy against it. Students kicked out of the program won't get refunds.
Bad Taste
The U Experience bottle hasn't yet been opened: that happens Jan. 28. But to many critics, it already smells like the ill-fated Fyre Festival of 2017, whose (different) young organizers promised a premier concert experience on a Bahamian isle but delivered only desperation and dehydration to stranded guests. To some, the U Experience also has a soupçon of "The Masque of the Red Death," Edgar Allan Poe's version of what happens when an elite few cordon themselves off from the outside world during the plague (spoiler: death finds a way in).
Thousands of Hawaiians successfully petitioned against the U Experience's potential Hawaii site, originally planned for this fall.
"In the event that the students who arrive to enter these programs test positive for COVID-19, the already overcrowded medical facilities and the front-line workers on Oʻahu and Maui will be put at an even greater risk," reads the petition. "These bought out hotels could be repurposed into safe and stable havens for those in Hawaiʻi who desperately need housing and resources, yet these projects disregard these issues, and instead cater to students desperate for an in-person, on-campus vacation experience."
Taylor Lorenz, a New York Times journalist who has written about other entrepreneurs' entrees into the COVID-19 cottage "collab housing" industry, described the U Experience model as "particularly deranged."
Russell said publicity is still publicity, good or bad. U Experience prefers to compare itself to the National Basketball Association's successful season-long bubble at Walt Disney World. And interested students describe the U Experience as bold and palatable.
Summer Stroh, an Instagram influencer and senior at the University of Texas at Austin, for instance, decided to attend U Experience after it reached out to her about marketing the program. She told BuzzFeed that "I've been bored, to be completely honest. I've been sitting home with family. I was in need of that social life again."
She also said that at least she will be able to leave campus to pursue modeling and influencer gigs. "Committing to quarantining the entire time will be difficult," she reportedly said, so if "I do go to L.A., I would have to quarantine for two weeks after. They're more lenient with me."
Love it or hate it, will U Experience work? Some outside experts had strong, mostly negative opinions.
Laurence Steinberg, a Distinguished University Professor of psychology at Temple University who has written about why college students are primed to be coronavirus superspreaders, said, "Please. You think that will work? If it's such a good idea, don't you think universities would be doing it? There's no such thing as an impermeable lockdown, unless you are talking about prisons. And people escape from those, too."
He added, "I think it's a bad idea that some businesspeople came up with to make money. It's no different from a dorm, which, for all the reasons you know, isn't a good environment" during COVID-19.
Craig Roberts, epidemiologist emeritus at the University of Wisconsin at Madison, said that "bubbles sound good in concept but are difficult to pull off, especially at this scale."
The key, he said, "is the degree to which the community stays in the bubble, of course, and nobody violates the rules" -- sneaking into town, for example. But staff members could be potential problems if they're coming and going from the community. That makes it more like a long-term care facility, he said, where only residents are on lockdown.
While success is epidemiologically possible, Roberts said he remained "skeptical" about its feasibility.
"Cruise ships and prisons are effectively bubbles, too, and we all know how well that worked."