You have /5 articles left.
Sign up for a free account or log in.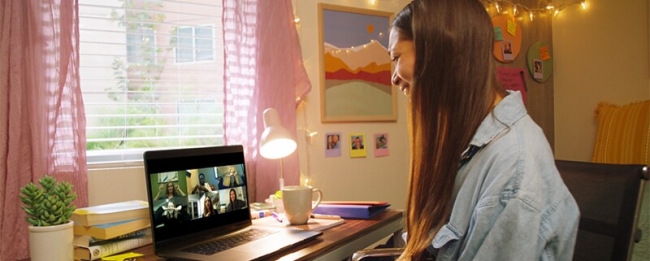 Courtesy of American Campus Communities
A new survey from American Campus Communities, one of the largest student housing developers and providers in the United States, found positive academic and social outcomes for students living on or near campus in college housing this fall and determined that students also closely followed coronavirus safety guidelines.
The answers of the nearly 42,600 undergraduate and a small number of graduate students who responded to the survey, all of them residents of properties owned or managed by ACC, paints a rosy picture of their living conditions and their effects on learning. Whether they were learning fully online or had some in-person classes, due to coronavirus pandemic restrictions, all the students surveyed during late October to early November were living with other college students in one of 84 living communities across the United States, rather than at home with family members, said Jason Wills, senior vice president of development for ACC. Students in two housing facilities in Canada were also surveyed, Wills said.
ACC officials have been supportive of colleges opening campus housing to students, regardless of whether classes are being held only online, especially as the company experienced a 7 percent drop in student leasing rates between 2019 and 2020 due to the pandemic. Wills noted some findings in the survey that pointed to the positive academic and social results for students who lived among peers during the fall semester.
He said, for instance, that some of the well-known issues faced by students living at home and learning online -- internet connectivity problems, negative home environments, difficulty finding an adequate or quiet place to do coursework or study -- were less pronounced for students who lived on or near campus.
About 85 percent of students who live in ACC residences said they could be successful academically during the pandemic, a finding that is only one percentage point lower than students' 2019 responses to the same survey question, Wills said. Before the pandemic, about 86 percent of students believed they could be successful in academics while living in an ACC residence.
"Anecdotally I can tell you that the students that are in that college environment, responding to the guidelines and rules, can be successful," Wills said. "I think there is value to the proximate experience of college education."
Other recent surveys that include students living at their family homes have shown that they are "not doing as well," he said. For example, a recent nationally representative survey by Strada Education Network found that "keeping up academically" was a challenge for 58 percent of students who lived either at home or on or near campus, and 56 percent said "having a space that is good for studying" has been challenging. ACC also received anecdotal comments from students that they were "dissatisfied with pursuing their academics from their parent's home" during the spring, when most campuses shut down and officials asked students to move out, Wills said.
Socializing with others has been one part of the college experience missed by students who are not on campus or have limited interaction with other students, according to a separate survey that ACC published in October with the Hi, How Are You Project, an organization that advocates for destigmatizing mental health issues. Eighty-four percent of students over all said that their social life was the No. 1 aspect of the college experience that they missed during the pandemic, according to the October survey report.
But students who lived on or near campus residences were able to have some semblance of that college experience this fall, even with public health restrictions in place, Wills said. Seventy-one percent of first-year students and 57 percent of students over all said they felt a "sense of community" while living in on-campus or near-campus residences, the ACC survey report said.
"They want to be here because they have their friends down the hall," Wills said. "Even while social distancing and wearing masks, they want to be with their peer group."
But students surveyed by ACC did show some dissatisfaction with aspects of their college experience this semester, including their ability to maintain "routine, motivation and focus," which about 56 percent said they were "very satisfied" or "satisfied" with and about 38 percent said they were "dissatisfied" or "very dissatisfied" with, according to survey results. Respondents were also mixed about their "peer group mentoring, tutoring and collaboration" experience, which nearly 57 percent were satisfied with and about 28 percent were dissatisfied, the survey showed.
"It's hard to really make a transition to full online learning," one student who responded to the survey wrote. "The classes don't seem to be fun anymore as there isn't much social interaction with peers."
Maurie McInnis, president of Stony Brook University, said she and other administrators decided to keep residence halls open -- even in March when the university shifted to remote learning -- because they knew students wanted to maintain their connections with one another. McInnis and other college presidents spoke about the importance of an on-campus experience for students' mental health and sense of "togetherness" during an online discussion with members of the media on Dec. 1.
"For most of our students, it was about that ability, even though altered, to still have that peer support, to still be able to build those peer networks and be able to study with friends," McInnis said. "Being in person was very important to them, even if they had no in-person classes … That's why they were so open to embracing the public health measures on our campus."
Stony Brook, which is in the State University of New York system, has had only 90 cases of COVID-19 among the nearly 26,800 enrolled this fall. About 4,550 students, or 17 percent of the student body, lived on campus during the fall semester, according to the university's COVID-19 dashboard. McInnis said students "owned their behaviors and made it possible to remain" on campus.
Wills said the ACC survey also found student compliance with public health guidelines. Nearly 96 percent of students surveyed said they strongly agreed or agreed that they were actively following their college's requirements, such as social distancing, limiting gatherings and wearing masks, according to the survey report. However, this strong result dropped when students were asked about their peers' behavior; about 62 percent of respondents strongly agreed or agreed that their peers were following COVID-19 guidelines and nearly 22 percent disagreed or strongly disagreed, the report said.
Wills believes the responses illustrate how seriously students living in ACC residences are taking following their college's coronavirus rules, and how concerned they are about others who may not be. But some students were also not satisfied with the policies and procedures that their colleges implemented for COVID-19 in the first place, according to the ACC survey report. Nearly half of students characterized their college's response as "effective," about 37 percent said it was "adequate" and about 7 percent described the procedures as "insufficient," survey results said.