You have /5 articles left.
Sign up for a free account or log in.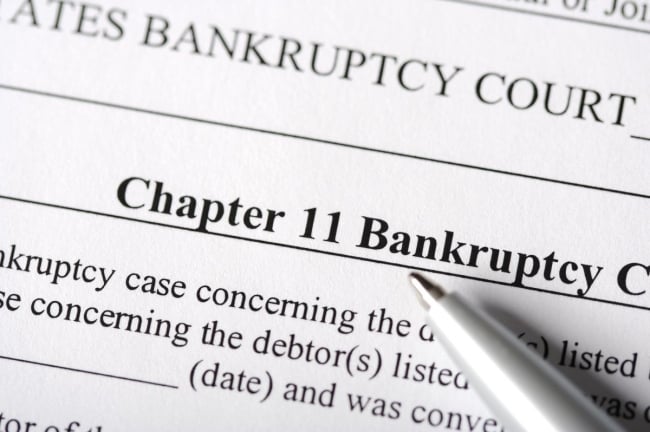 FuzzMartin via Getty Images
A former for-profit college operator settled with the U.S. Department of Education for $8 million as part of the company's bankruptcy case, attorneys announced last week. The settlement is the final step in a years-long case that began after FCC Holdings Inc. was accused of predrawing federal financial aid dollars based on enrollment projections that never materialized.
FCC Holdings used to operate 41 for-profit colleges under names including Florida Career Colleges and Anthem Education. It sold several of those colleges to another owner that continues to operate them. FCC Holdings closed other campuses when it filed for bankruptcy protection in 2014.
The newly announced $8 million settlement is much smaller than an initial $37 million claim from the U.S. Department of Education. The department's primary concern was that FCC Holdings pay back all of the money its colleges had received in Pell Grants for the 2013-14 academic year -- about $32 million, said Avery Samet. Samet is an attorney for the law firm Amini LLC and part of the legal team that represented Clingman & Hanger Management Associates during the legal proceedings. Clingman & Hanger is the liquidating trustee for FCC Holdings -- a group appointed by creditors to liquidate the company as part of the bankruptcy proceedings.
But the colleges did enroll some Pell Grant-eligible students, and to return all of the Pell Grant money would be unfair, Samet said.
"To pay the government back 100 percent all of the Pell Grants would give the government a windfall against all of the other creditors in the case, because the school really did operate and really did have these students," he said.
Clingman & Hanger also made technical arguments: that the department's claim violated bankruptcy code and that "regulations did not give rise to a right to payment as of the petition date of the amounts claimed" by the Department of Education, according to a summary of the case by Amini LLC.
On behalf of the Education Department, the U.S. Department of Justice worked with Clingman & Hanger to come to the $8 million settlement in early November. The Department of Education was an unsecured creditor in this case.
Prior to the department's settlement, Clingman & Hanger paid out the secured portion -- about $45 million -- of a claim to a consortium of banks, which were the only secured creditors. In addition to the secured portion of their claim, the banks have a deficiency claim that will be paid out alongside the unsecured creditors'. At this time, all secured claims have been paid.
The Department of Education declined to comment on the settlement.
Clingman & Hanger will make an estimated distribution of 8.2 percent to unsecured creditors, according to a press release. This means that unsecured creditors will receive 8.2 cents for every dollar of approved claims they initially filed.
After duplicate claims were expunged and baseless claims dismissed, about 1,000 claims remained from unsecured creditors, said Teresa Hanger, principal at Clingman & Hanger. The list of unsecured creditors includes landlords, employees and trade vendors. Very few students filed claims, Hanger said. In total, unsecured creditors will receive about 8 percent of a total claims pool of $87 million -- which amounts to about $7 million.
The Department of Education settlement upped the distribution rate to unsecured creditors by 160 percent, according to the press release. Without the settlement, unsecured creditors would be in line to receive less. The distribution rate to unsecured creditors would have likely been between 4 percent and 5 percent, Hanger said.
The distribution rate is unusually high for a bankruptcy case, Samet said.
"We are very pleased. I think it allows the creditors to get some sort of meaningful recovery after a long time," Samet said. "I'm sure they wanted to get more, and they were entitled to more, but we're happy to get them back something."
Prior to filing for bankruptcy protection, FCC Holdings Inc. sold 14 colleges to International Education Corporation, which continues to operate 11 campuses in Florida and Texas under the Florida Career Colleges name.
The Florida Career Colleges as they are now have no association with FCC Holdings, Joe Cockrell, a spokesperson for International Education Corporation, said in a statement.
"When International Education Corp (IEC) acquired Florida Career College (FCC) in August 2014, IEC immediately made the very significant financial, compliance, and human capital investments necessary to allow FCC students to continue their education in a safe, stable, and regulatory compliant campus environment," Cockrell said. "We are proud of more than six years of steadfast commitment to our students, resulting in countless positive changes at our FCC schools. We look forward to many more years of serving our students."
FCC Holdings filed for Chapter 11 bankruptcy protection in 2014 after the Department of Education cut off its colleges' access to federal financial aid funds. The department accused the colleges of predrawing financial aid money based on enrollment projections that the colleges never substantiated. In March 2014, the department demanded the company show proof it disbursed all of the financial aid money or else return the excess, which amounted to more than $15 million, according to a summary of the case by Amini LLC.
The colleges had for years struggled with enrollment. In 2006, Anthem Education enrolled 21,696 students, but that number fell to 12,792 by 2010. FCC Holdings tried to raise enough money to cover the discrepancies in financial aid dollars, but it had been relying on federal funding for 90 percent of its revenue. In the meantime, the Education Department cut off the colleges' ability to predraw funds.
As a result of the bankruptcy filing, students enrolled at FCC Holdings-owned colleges were no longer eligible for financial aid. In 2014, the company abruptly closed campuses in Minnesota, New Jersey and Wisconsin, among other states.
Representing Clingman & Hanger, Amini LLC sued several FCC Holdings executives, including the chief financial officer, the chief compliance officer and the individual in charge of the financial aid office, Samet said.
"We said they knew about this," he said. "We said they were pulling down from the government, sort of using it as a bank account to cover their own problems."
That suit wrapped up in 2018 and recovered about $15 million from the executives' insurance, Samet said. The settlement did not include an admission of wrongdoing.