You have /5 articles left.
Sign up for a free account or log in.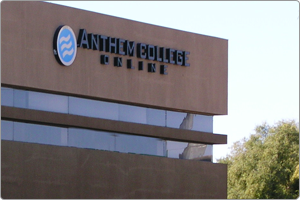 After years of enrollment losses, Anthem Education, a for-profit chain of colleges and career institutes, filed for bankruptcy Monday. The company has abruptly shut down a number of its campuses, leaving state agencies struggling to funnel displaced students into other institutions. Nine more campuses may close today, Anthem officials said.
Anthem had 41 campuses prior to declaring bankruptcy, according to its bankruptcy petition. Before it filed for bankruptcy the company sold 14 campuses to International Education Corporation, said an official involved in the acquisition. Anthem is in the process of selling an additional 14 campuses to IEC, but requires federal approval to do so. Unless the U.S. Department of Education approves the transaction by today, nine of those 14 campuses will close, Anthem officials said.
The Education Department, however, has not received an application to approve, a department spokeswoman said around 5:30 p.m. Thursday. At least one company is in talks with the department about acquiring former Anthem locations. But nothing beyond the pre-bankruptcy sale of 14 campuses has been formalized. And at the moment the company declared bankruptcy, all Anthem institutions became ineligible for federal student aid -- which accounts for nearly 90 percent of Anthem's revenues, according to the bankruptcy filing.
Anthem hopes to keep 28 campuses up and running, according to its bankruptcy petition. Those 28 campuses are presumably the ones IEC is acquiring, although multiple Anthem spokespeople declined to confirm this. If nine further campuses close, just 19 of 41 Anthem campuses will have survived the bankruptcy filing.
Anthem campuses have closed abruptly in Minnesota, New Jersey and several other states. Local media have reported that campuses in Reno, Sacramento and Las Vegas will close Friday unless the Education Department intervenes. Anthem lists 36 campuses on its website. The pages for 15 of those locations include a notice in all capital letters: "We are not currently accepting enrollments at this campus location."
The collapse of Anthem comes roughly four weeks after Corinthian Colleges and the Education Department announced a deal to sell or close Corinthian's 107 campuses.
In Wisconsin, a Hasty Exit
David Dies has seen the best and worst of Wisconsin's adult-education offerings. As executive secretary of the state's Educational Approval Board, Dies oversees more than 230 institutions, from publicly traded for-profits to mom-and-pop-owned programs for training private detectives. But in more than a decade on the job, he's only once before witnessed a closure of Anthem's magnitude, he said.
Dies learned in July that Anthem was being bought out and that the new owners would close the Anthem campus in Brookfield, Wis., near Milwaukee. Precise information about when the campus would fold was hard to come by.
The board asked Anthem to consider giving tuition refunds to students who were a third or less of the way into their programs. The company said no.
"The corporate folks didn't really respond to us that well," Dies said. "We oftentimes feel really outgunned as a state regulatory agency when we're dealing with these large corporate institutions."
As late as Aug. 19, Anthem representatives told the board the Brookfield campus would close Sept. 26. Later that day, Dies got an e-mail from Jarvis Racine, the director of Anthem-Brookfield. It was Tuesday, at 5:07 p.m. Racine had received a message from Anthem's corporate leadership moments before. The Sept. 26 date had been moved up. The Brookfield campus, Anthem officials said, would close that Friday.
Dies had thought he'd have more than a month to deal with the campus's closure, making sure all students midway through their programs could continue their studies elsewhere. He now had three days.
The administrator at the Brookfield campus had also been kept in the dark. "He was in just as much a state of panic as I was," Dies said of the campus director.
The campus closed Friday, leaving about 150 students stranded. On Sunday, Anthem's boards voted unanimously to declare bankruptcy.
"My guess was they were running out of money and the investors basically pulled the plug," Dies said. "We gotta stop the bleeding and we'll let states deal with the messes that ensue." Anthem declined to discuss issues other than how many campuses the company was trying to sell.
The Brookfield campus offers programs in medical billing and coding, massage therapy, surgical technology, and medical assisting. The Educational Approval Board has arranged "teach-outs," in which students from a defunct institution can continue their courses elsewhere. Students who were in Anthem's massage therapy and medical billing coding programs, as well as some in the medical assisting program, will be able to transfer to Herzing University in Brookfield. Milwaukee Career College will accept students in the surgical technology and medical assisting programs. Both institutions are for-profits.
Federal student loans can be discharged when a college closes, although students "have to take steps to get that benefit," said Robert Shireman, executive director of California Competes and a longtime critic of for-profits.
Milwaukee Career College enrolls between 200 and 300 students, said Jodi Denton, the college's vice president of operations. Roughly 65 Anthem students will join the college's ranks on Sept. 8. "They were basically begging us to take them because they're heartbroken because their school suddenly shut down," Denton said.
Milwaukee officials were unsure whether the college would benefit financially from the teach-out.
When it closed shop in Brookfield, Anthem left behind $250,000 worth of equipment – mostly clinic exam tables, curtains and other medical supplies.
Sudden Closures, But a Long Death
Anthem has fought bankruptcy for a while. In fall 2006 the company enrolled 21,969 students, according to a 2012 Senate report that summarized an investigation into for-profit higher education. (The report includes a 17-page section on Anthem.) By 2010, Anthem campuses enrolled 12,792 students. And now, according to the bankruptcy filing, Anthem serves roughly 10,000 – even though it added 11 campuses in 2012, when the company was acquired by Educational Training Corporation, which technically was the entity filing for bankruptcy and shuttering campuses.
In 2006 Anthem made $18 million in profit. In 2009 it lost $4 million – a bracing reminder of the market's brutality that accords with the company's Randian name, but not its long-term budgeting.
Anthem estimated its assets at between $1 million and $10 million, according to its bankruptcy filing. It has between $50 million and $100 million in debts, the filing reported, and between 1,000 and 5,000 creditors.
The Senate report described the company's aggressive recruiting tactics as among "the most troubling" behaviors the investigation of 30 for-profits had revealed. One Anthem admissions representative would not let an undercover applicant speak with a financial aid representative until after she enrolled. In another instance, an Anthem financial aid worker fraudulently removed $250,000 in listed savings from an undercover applicant's FAFSA in order to make the applicant eligible for federal loans. For-profit advocates said the Senate report cherry-picked data to cast for-profits in an unflattering light.
Anthem may have ceded federal funding even if it hadn't declared bankruptcy. Institutions must meet financial responsibility requirements in order to receive federal student aid funds. If an institution ends a fiscal year "in violation of any existing loan agreement," or if a college "fails to make a payment in accordance with existing debt obligations for more than 120 days, and at least one creditor has filed suit to recover those funds," the institution cannot receive federal aid.
The campus closures might work in the favor of some students, Shireman said. "If a school is of questionable quality in the first place, it can be better for students for the school to close … rather than be sold, because the students would be eligible for the discharge of federal student loans," he said. "Whereas if it's sold, they don't have any rights to claim, even if it's sold to a company that the students don't have confidence in, they don't have the ability to have their loans discharged or get a refund."
Years of financial strain underlie the closures. Yet to an outsider the closings seem abrupt. This abruptness is one of the hazards of doing business, Shireman said. "It's not unusual in business, generally, for a bankruptcy to be sudden. This has always been an issue with big manufacturers and plant closures," he said. "We want them to give workers 30 days' notice – but if they know today that 30 days from now they're going to shut down, they're going to shut down today."
Anthem's hasty exit from a number of communities may make fiscal sense for the company. But the exits have displaced students, sent state regulators scrambling and have obliged other institutions – such as Milwaukee Career College – to make room for transfer students.
"We're all frustrated," said Dick Dumaresq, president of the Pennsylvania Association of Private School Administrators, which represents for-profit colleges in Pennsylvania. (Anthem is pulling out of Springfield, Penn. as well.)
"From my vantage point, that's just not the way you do it," he said.