You have /5 articles left.
Sign up for a free account or log in.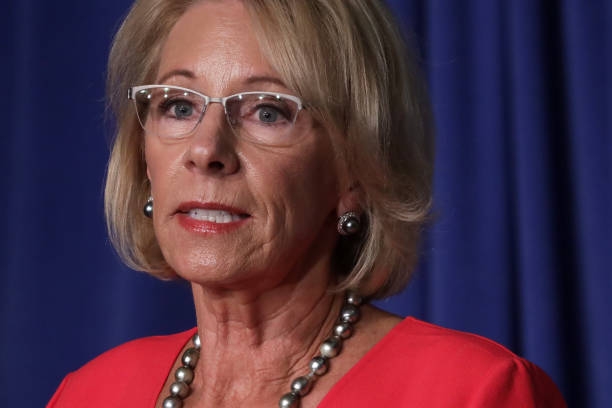 When student loan bills come due again, as early as Feb. 1, millions of confused borrowers with questions or needing help could find themselves stuck on hold trying to get through to overwhelmed loan servicers.
That's the warning from the companies that will be responsible for working with about 30 million student loan borrowers when a moratorium that's excused them from making payments since last March runs out at the end of January.
The Pew Charitable Trusts expects the change to cause so much confusion, it estimated that nine million borrowers could call loan servicing companies with questions or to say they can't afford to pay.
The companies say the possibility of being overwhelmed with calls is exacerbated by the Education Department's decision last summer to cut their funding, which led them to slightly reduce staff and left them unequipped to handle the large surge in calls they expect if all of the roughly 30 million borrowers who have been excused from making payments are told to begin paying again, at the same time.
Rather, the head of the association that represents the loan servicers said he's been telling the department and Congress to stagger making people begin payments again -- perhaps by giving those who had struggled with making payments even before the pandemic another three months to resume payments, even beyond the additional month's reprieve, until Feb. 1, Education Secretary Betsy DeVos gave borrowers last Friday.
The department's decision to restructure how much it pays the companies for each loan it handles was understandable in a sense, said Scott Buchanan, executive director of the Student Loan Servicing Alliance.
Congress, in the CARES Act passed in March, paused collecting most student loan payments until September, as well as barring any overdue balances from being taken out of wages or tax refunds. The Trump administration in August then excused most federal student loan borrowers, except those with private, federal Perkins and commercially held federal student loans, from making monthly payments through the rest of the year in the midst of the economic fallout of the COVID-19 pandemic. So, there weren't reminders to send out, or as much for the servicers to do. Calls to servicers dropped by more than a third between January and October compared to the same period last year.
The department, he said, essentially reduced the amount of money it pays the companies by reducing the amount they're paid for each borrower they handle who is current with their payments.
Though the impact has varied from company to company, the servicers have slightly reduced the number of workers they have to field borrowers' questions. And that's going to be a problem when roughly 30 million borrowers will suddenly have to start making payments again.
The surge in inquiries would be eased a bit by the fact that payments are not due on the same date, but borrowers' due dates are spread across each month. The rates paid to the companies will also be adjusted when payments resume, with the servicers getting an incentive payment afterwards if they can keep borrowers from becoming delinquent.
 In a statement Wednesday night, the Education Department said that "with payments now suspended for millions of borrowers, we understand that servicers have reduced their staffing numbers. However, when repayment begins and servicers must resume their normal servicing activities, we are confident that they will return to pre-COVID forbearance staffing levels." The department "will continue to hold servicers accountable for providing good service to borrowers.," the statement said. 
But Buchanan said that when repayments start back up, the workload for servicers will be beyond normal. Servicers are expecting to get as many calls that month as they do in an entire year.
Adding to the confusion, he said, is if President-elect Joe Biden, upon taking office Jan. 20, excuses borrowers from making their payments in February, if not longer. By then, 30 million borrowers will already have gotten bills saying they will have to begin making payments again on Feb. 1. "We'd have to go back to them and say, 'never mind.'"
What would help is if Congress extends the pause on making payments longer than DeVos already did. An outline for an additional COVID-19 relief funding proposal, released Wednesday by a bipartisan group in Congress, called for extending the moratorium through March.
Still, Buchanan said a flood of borrowers resuming payments at the same time would be a handful to handle regardless of when it happens. Studies say many borrowers are confused and concerned about being able to come up with the money.
A survey in September by Ascendium Education Solutions, released Tuesday, found that only a fifth of the nearly 10,000 borrowers they surveyed who'd attended two-year, four-year and graduate degree-granting institutions believe they're able to start repaying their loans again.
Half do not know how much their monthly payments will be when they start repayments again, and nearly two-thirds did not know how to change their repayment plans, say, to those that base their payments on their income, if switching to an alternative would help.
A separate poll by the Pew Charitable Trusts found that while 90 percent of federal student loan borrowers were eligible for the pause, only two-thirds knew about it. Only 61 percent knew when they were supposed to start making payments again, and this was before it was pushed back a month.
Twenty-two percent of those surveyed by Pew had reached out to their servicer with questions. If that happens again, Pew estimated nine million people will be calling the understaffed companies looking for help or information.
But servicers, Buchanan said, are staffed for normal times. "That's not going to provide the same level of service," Buchanan said. "Hold times are going to be much elevated."
"Instead of turning everyone back on," Buchanan believes Congress and the department should excuse those who'd likely struggle making payments for longer. Servicers, for example, should be allowed to automatically put those who had been late on their payments before the pandemic into an emergency forbearance status, giving them three more months before they have to make payments. "If they were in distress before the pandemic, they're probably not doing better now," he said.
Borrowers who graduated this spring or summer "are probably having a hard time finding a job," he said, and they could benefit from having longer to start repaying their loans.
Sarah Sattelmeyer, director of the Pew Charitable Trusts' student borrower program, is also calling for borrowers to get a grace period if they do not make their payments after repayments resume.
"Automatically allowing additional short-term periods of paused payments for those who miss payments immediately after the protections expire would give servicers more time," she said.
"Servicers have only so much bandwidth," said Beth Erickson, Ascendium's vice president for repayment solutions. Colleges and businesses also have a role to play in helping struggling borrowers, said Erickson, whose company offers debt counseling. For example, she said it is becoming more common for businesses to offer student loan repayment programs, in which they help pay down the student debt of their employees.
Consumer groups, meanwhile, worry the shift back to repaying loans would come on top of complaints against loan servicers during the pandemic, including continuing to garnish wages and tax refunds.
"The implementation of the borrower relief/payment pause relies on a student loan system that is fundamentally broken. Federal and state investigations have repeatedly shown how student loan servicing is rife with abuse and mismanagement. We've also seen this play out in recent months through borrower complaints around servicer communications, illegal wage garnishment, illegal credit reporting practices, illegal tax refund seizures and more," said Moira Vahey, a spokeswoman for the Student Borrower Protection Center, which was started by the student loan ombudsman for the Consumer Financial Protection Bureau during the Obama administration. "Student loan companies are ill equipped to turn these relief benefits on and off for tens of millions of borrowers," she said.