You have /5 articles left.
Sign up for a free account or log in.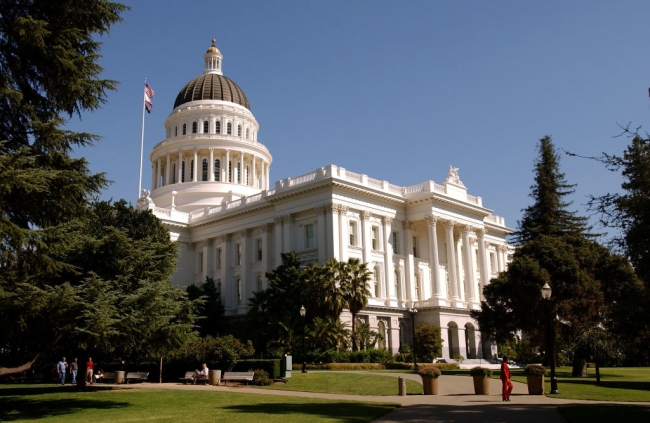 David Paul Morris/Stringer/Getty Images
Hundreds of thousands of additional California students, particularly older students, could become eligible for financial aid through a proposed overhaul to the state's grant program.
Two Democratic California assembly members -- Jose Medina of Riverside County and Kevin McCarty of Sacramento -- recently introduced a bill intended to simplify the Cal Grant program and expand eligibility to nearly 200,000 additional students.
"We really have been rationing access to this Cal Grant program for the past few years, and we created a very unique system here to slice and dice people out, and we should be focusing on bringing people in," McCarty said Thursday during a roundtable discussion on the proposal. "This is really good, not just for students and helping them graduate with less debt, but really for helping our economy."
The bill, AB 1456, would lower or remove GPA requirements for Cal Grant awards and expand the awards to cover older students who are more than a year out of high school. The new proposed framework also aims to shift the focus of the financial aid program from tuition and fee waivers to stipends that can help students pay for food, housing, transportation and other essentials while they attend college.
By design, tuition and fees at California's community colleges are low -- $46 per unit, said Audrey Dow, senior vice president at the Campaign for College Opportunity, an advocacy organization dedicated to expanding college access and increasing completion. Dow is also a member of a group that developed the proposed changes to the Cal Grant.
"What students don't have any aid for is their cost of living," she said. "There's no money entitled for housing, for food, for books, for any of those things."
The reform bill was introduced earlier this month and will need to be approved by the state Legislature and signed by Governor Gavin Newsom before any of the proposed changes are implemented. In January, Newsom introduced a budget proposal for the state that included a 3 percent increase in funding for higher education, and McCarty said working the new financial aid framework into the budget is possible.
"The drop last year in the budget for COVID-19 was a one-year issue. The economy, ironically, is booming right now with all of the high-wage earners in California," he said. "Funding this [costs] several hundred million dollars, depending how you look at it. But you can start. We think that this is something that we can do and we will do in our assembly version of the budget this year."
The Cal Grant Reform Work Group, led by the California Student Aid Commission, began crafting a new framework for the Cal Grant program several years ago -- well before the onset of the pandemic. The group presented an initial framework to the California Legislature in March. Looking ahead to a period of economic uncertainty, lawmakers asked the group to come back with a budget-neutral proposal, Dow said.
"While we have a budget windfall this particular budget cycle, we know that we are likely going to face some recession in the years to come," she said.
The proposed Cal Grant framework splits the program into two primary awards: Cal Grant 2, which covers community college students, and Cal Grant 4, which covers students at four-year institutions. Cal Grant 2 would guarantee awards to California Community College students with no dependents and an expected family contribution of zero. Expected family contribution is determined by the Free Application for Federal Student Aid, or FAFSA, and correlates with a median household income of about $11,000, according to the California Student Aid Commission.
Unlike the current eligibility model, students would not need to submit a GPA verification to receive an award through Cal Grant 2, and the program would be available to older students well out of high school. Assuming current funding levels, students would receive $1,250 each year for living expenses while they attend college, which is about $400 less than what students currently receive through the existing Cal Grant program. Students with dependents would be eligible for a larger grant.
Cal Grant 2 would not replace the California College Promise Grant, which waives tuition and fees for eligible community college students.
The proposed Cal Grant 4 would guarantee tuition and fee awards to students who are eligible for the federal Pell Grant and who attend a public four-year college. Cal Grant 4 would require a GPA of 2.0 or higher, and the award is also available to older students who are more than a year out of high school. Cal Grant 4 would also offer $9,084 awards to students at private, nonprofit institutions, according to reports.
The existing California High School Entitlement grant waives tuition and fees for community college students. Under the current Cal Grant program, students who are more than a year out of high school are no longer eligible for the state's entitlement grant, even if they meet the financial eligibility requirements.
Ineligible students are knocked into a separate eligibility pool for the Cal Grant Competitive Awards, of which there are only 41,000, according to the California Student Aid Commission.
Nearly 300,000 students would be eligible for the entitlement grant if it didn't lean on GPA requirements or exclude students who are more than one year out of high school, Dow said. Instead, those students vie for the limited number of competitive grants. The new Cal Grant framework would eliminate the competitive grant.
The pandemic shone a spotlight on why the current eligibility requirements fail to increase access to education for some California students. Community college enrollment in the state has slowed during the pandemic, particularly among Latinos and Black men, Dow said. Many students are sitting out the year to work or take care of family members. If they decide later to return to college, they will no longer be eligible for the entitlement grant.
"I think we could really be facing a looming crisis where we have a number of community college students who would have enrolled right out of high school, but because of the pandemic they didn't, and when they come back they have been cut out of that entitlement program," Dow said.
California's three college systems hesitated to comment directly on AB 1456 and instead issued statements of support for student financial aid initiatives. Paul Feist, vice chancellor for communications at the California Community Colleges, said the system did not have a formal position on the bill.
"For too long, the ability of California Community College students to access state financial aid to afford their total cost of college has been limited," Feist wrote in an email. "We look forward to continuing to fight for more funding so our low-income students can succeed and thrive in our colleges."
Spokespeople for the University of California system and the California State University system both said officials were still reviewing the bill.
"The university appreciates efforts by lawmakers to better meet the financial needs of CSU students," Toni Molle, director of strategic communications and public affairs at California State University, wrote in an email. "We are currently reviewing AB 1456 and will continue our work with lawmakers and the California Student Aid Commission to improve the Cal Grant Program."
Ryan King, associate director of media relations at the University of California Office of the President, issued a similar statement.
"The University of California continues to broadly support the California Student Aid Commission and various legislative proposals to modernize and expand the Cal Grant program," King wrote. "As AB 1456 was just introduced, we will continue to carefully review its specifics to see how it may help increase affordability for students."
The existing Cal Grant is for students attending University of California, California State University or California Community College institutions -- or qualifying independent and career colleges or technical schools in California, according to the California Student Aid Commission. Currently, there are three types of Cal Grants, known as A, B and C.