You have /5 articles left.
Sign up for a free account or log in.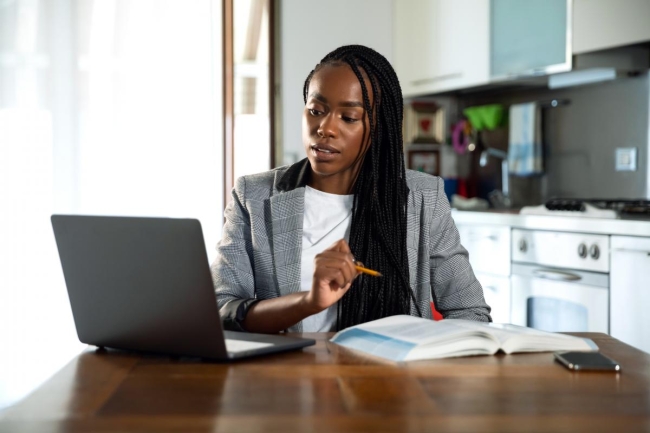 Calbright College, the first all-online community college in California, enrolled 904 students since it opened in October 2019, but only 12 students graduated in its first year, according to a highly critical state audit released Tuesday. The report found that the majority of students either dropped out or stopped progressing in their programs since the college was launched.
State lawmakers and faculty groups say the college is a failure and are calling for its closure. Calbright's administrators agree with the audit's assessment but insist the college can change for the better.
"We recognize and we agree with a series of the recommendations the auditor made," said Ajita Talwalker Menon, president and CEO of Calbright College. "In many cases, we're already taking a lot of the steps that are necessary to respond to these recommendations on the timeline the auditor suggested."
The report accuses Calbright's former leadership of laying the groundwork for a host of problems: inflated salaries, unethical hiring practices, too few supports for students. The report also flagged a lack of strategic planning by current leaders for approximately $175 million in state funding the college is slated to receive through June 2025.
"Because of these missteps, Calbright has struggled to adequately enroll the students it was intended to serve, took longer than it should have to develop a student support system, and did not adequately partner with employers in the development of its educational programs, thereby hindering its ability to assist its students in obtaining jobs," Elaine Howle, the California state auditor, said in her report.
The audit examines Calbright's progress through October 2020 and ultimately lays blame on the college's former executive team for early and rampant mismanagement. According to the report, nine out of the 14 hiring decisions at the college in 2019 lacked a sufficiently competitive and transparent search process or involved favoritism. Five of the "inappropriately hired" employees remain in their positions, while four left. Administrators received outsize salaries compared to other community college leaders, with the CEO making $398,000, which is $138,000 more than the median salary for the position at other community colleges in the state.
Calbright also neglected to develop a specific spending plan, despite receiving millions of dollars from the state, and it opened enrollment without a robust plan for student supports, according to the audit. The report also notes that the college paid the Foundation for California Community Colleges $4 million to help set up services, including payroll and accounting, but two years later, the foundation is still running key administrative functions.
The audit expressed concerns that the college isn't focused enough on students' job prospects and failed to consult with California employers in the design of its academic programs. For example, the audit noted that the college's cybersecurity program offers certificates in a field that often requires bachelor's degrees.
"The need remains for flexible educational opportunities for California adults who face barriers to attending traditional community colleges, and if successful, the competency‑based education model that Calbright offers could provide those opportunities," the report reads. "However, Calbright must make immediate, substantial progress in accomplishing the setup of the college and in enrolling, graduating, and securing jobs for the California adults it is intended to serve."
Calbright was established by the state Legislature under former governor Jerry Brown as a low-cost option for adult learners. While the state's community colleges already offered online courses, Calbright's certificate programs are self-paced instead of relying on a fixed academic schedule. Brown argued in a 2018 address to the State Assembly that the online institution would be a unique opportunity for 2.5 million Californians between the ages of 25 and 34 who were in the workforce but lacked a postsecondary degree.
The college underwent an abrupt leadership shift not long after its launch. Calbright's first president, Heather Hiles, resigned in January 2020, and the majority of the executive team left soon after. The college hired a new president in July 2020, Menon, who served in the Obama administration as special assistant to the president for higher education policy at the White House Domestic Policy Council.
The audit acknowledged that the leadership change has led to improvements at Calbright, such as reforms to the hiring process, but said the college "has yet to develop a clear and robust strategy for how it will accomplish its mission."
The auditor advised the state to give Calbright until the end of 2022 to reform itself before moving to disband the college. Originally, lawmakers gave Calbright a seven-year start-up period to meet certain milestones, such as setting goals for student outcomes and developing three academic programs in partnership with employers and industry groups. Last week, however, the State Assembly voted 71 to 0 to close the institution by the end of the 2022-23 academic year.
"The state auditor's findings have only furthered my resolve that the legislature must end the Calbright College experiment," Jose Medina, a California assembly member and one of the  co-sponsors of the proposal to close the college, said in a written statement. "Calbright has failed to achieve its original mission: it has failed to retain students, provide adequate support, and build paths to gainful employment."
The Faculty Association of California Community Colleges, which represents faculty members across the state's 115 community colleges, is also advocating for Calbright's closure.
Evan Hawkins, executive director of the association, said Calbright was a "bad idea and it was implemented badly." Even though the college is only two years old, he believes it had enough time to prove its value, and the audit shows Calbright "failed on that on all accounts."
"At some point, you have to identify some level of success even in a short amount of time to give legislators, to give stakeholders confidence that this was a good idea," he said. "It not only hasn't happened, it's been a failure. At some point you should pull the plug on something that's never going to work."
The faculty association opposed Calbright from the start because it threatened to compete with community colleges already providing online programs and struggling with enrollment declines and budgeting pressures. The audit concluded that Calbright doesn't duplicate offerings at other community colleges because of its self-paced model. Nonetheless, Hawkins believes that the college is redundant and siphons funding from the state's other institutions.
"To create this brand-new college when we are already so underfunded, you're taking limited funds away from places that could be more effective," he said. "Look, if we had all the money in the world, sure, start a new college, try it. But we don't. We have the opposite of that."
Some higher education leaders are hopeful that Calbright will grow into a worthwhile option for California's students.
Larry Galizio, president of the Community College League of California, agrees the audit's findings were "unacceptable" and raise "legitimate concerns," but he said Calbright's current leadership knows those issues exist and is seeking to address them. He believes the legislation to disband Calbright is "premature."
Galizio sees Calbright as an important alternative to predatory, privately run, for-profit colleges that charge students high rates for similarly flexible but low-quality programs.
"I do worry about that vacuum," he said. "Unfortunately, what we've seen is very sophisticated marketing from the for-profit entities that capitalize on dire situations that lower-income students, families, are experiencing. [Calbright] is a public option. The goal here is not to enrich shareholders or make profits. The goal here is to enrich Californians who either have some postsecondary education or no postsecondary education."
Eric Kaljumagi, president of the Community College Association, the higher education affiliate of the California Teachers Association, also believes Calbright is salvageable.
"Calbright faculty, from what I can tell, are doing everything they can to try to make Calbright successful," he said. "This is not a faculty problem. This is not an instructional problem. The problem that Calbright has is planning and leadership."
He wonders, however, if it's worth it to the state to keep the online college afloat if it's doing poorly.
"It is possible to do online, short-term vocational instruction," he said. "We have other places doing that. So, can it be saved? I'm fairly confident that it could be saved. There's also the piece, can it ever really be cost-effective?"
Menon, the president of Calbright, also noted that the college opened its doors only five months before the COVID-19 pandemic hit.
"Everyone was forced to navigate a once-in-a-century global pandemic that was disrupting the lives of economically vulnerable students, those who we were serving," she said. For example, she described a student who stopped out because five family members contracted COVID-19 but who has since returned to the college.
Menon acknowledged "poor management decisions made under previous executives," but she said the new team is already taking steps toward the auditor's suggestions. In April, Calbright released a strategic plan outlining the next three years, which includes three new programs intended to serve students working in industries hurt by the pandemic. One program, for example, is aimed at transitioning students from customer service jobs like restaurant work and retail to tech careers.
"We continue to keep our eye on the ball, focused on meeting our students where [they] are, as we implement a lot of the recommendations that have been outlined by the auditor," Menon said.