You have /5 articles left.
Sign up for a free account or log in.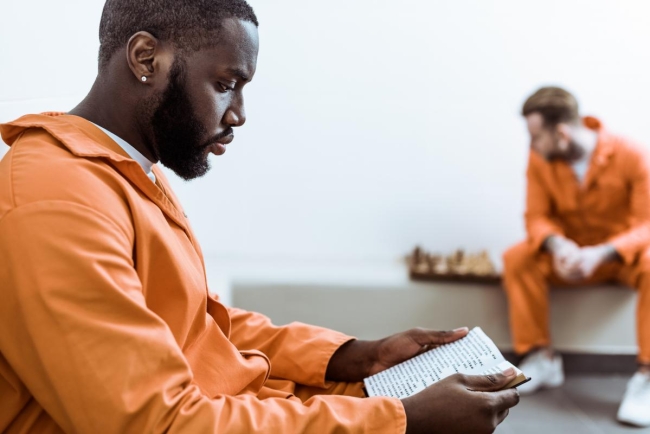 LightFieldStudios/iStock/Getty Images Plus
Colleges and universities, charitable and educational foundations, and various companies are investing in a spate of new courses or degree and certificate programs and services for incarcerated and formerly incarcerated students.
The growth in prison higher education and workforce training opportunities comes on the heels of a sea change this academic year for all students, including those in prison. The murder of George Floyd last summer and the protests that followed prompted higher education leaders to re-examine their criminal justice programs, campus policing practices and initiatives to recruit and retain students of color. The pandemic shut down in-person instruction at colleges, including at prison college programs, as coronavirus infections tore through overcrowded prisons and led to the early release of thousands of inmates.
Some advocates for higher education in prison see this national moment as a possible turning point for expanding the educational opportunities available to current and former inmates. In December, congressional lawmakers reallowed access to federal financial aid for incarcerated students after a 26-year ban. The decision was the result of bipartisan efforts to expand education opportunities for inmates and build on an earlier initiative that allowed incarcerated students at some college prison programs to receive federal financial aid. The initiative started under the Obama administration and expanded under the Trump administration.
"I think everything seems to be aligning both in terms of the national interest in prison reform and prison education, changing rules about Pell Grants, increased awareness of racial discrimination, and I guess just a widespread understanding that change needs to happen," said Emily Auerbach, founder and co-director of the Odyssey Project, which houses the University of Wisconsin at Madison's prison education initiative, Odyssey Beyond Bars.
Odyssey Beyond Bars recently received a $300,000 grant from the Oscar Rennebohm Foundation, which supports local organizations in Madison, Wis., that help community members access education, health and various social services. The new funding will allow the prison program to increase access to its introductory English course designed for incarcerated people interested in but not yet enrolled in a degree program. The course, which includes college credit, will be offered at three prisons in the state, with academic advising and tutoring for students.
The foundation grant coincides with an effort to expand prison education offerings throughout the University of Wisconsin system. Tommy Thompson, president of the university system and a former governor of the state, proposed a degree pathway for incarcerated students in his 2021-23 budget, complete with college prep courses, such as those offered in the Odyssey Beyond Bars program, and support for newly released prisoners re-entering society.
Other prison programs are also in the process of expanding. Yale University's Prison Education Initiative recently partnered with the University of New Haven to develop an associate degree program set to launch this fall. The institutions are also creating a fellowship program for graduates of college prison programs and a bachelor's degree pathway from the University of New Haven starting in fall 2022. Funding for these initiatives were provided by a $1.5 million grant from the Andrew W. Mellon Foundation.
When Zelda Roland founded the Yale Prison Education Initiative in 2016, the lead-up to the launch of the project felt like a "massive lobbying mission." She said administrators and faculty members had trouble visualizing what it would be like to teach in prison classrooms and questioned the need for adding incarcerated students to the student body. Now there aren't enough teaching opportunities to meet faculty demand.
Roland attributes the surge of enthusiasm partly to the passage of time -- faculty members who participated enjoyed the work and spread the word -- but she also credits "an internal moment of reflection" in academic departments after the killing of George Floyd and the mass antiracism protests that followed.
"A lot of the departments here at Yale in undergoing this internal reflection publicly said that one of the things they wanted to do was create better support for the Yale Prison Education Initiative and think more deeply about the obligation of a university as prominent as Yale to students who have been exposed to such systemic injustice," she said. "I think there's a direct connection. I think it really goes back to our universities' missions of thinking about the promise of extraordinary students from all over who are not actively brought into higher education opportunity and thinking about how we can extend access to students who have been systemically excluded from those opportunities."
The Bard Prison Initiative, founded in 1999 at Bard College in New York, is planning to open its third tuition-free microcollege at a branch of the New York Public Library in Harlem this fall. The initiative is in partnership with JustLeadershipUSA and the College & Community Fellowship, organizations focused on criminal justice reform. The microcollege program, which culminates in an associate degree, will recruit students who were previously incarcerated or who plan to work in fields connected to social justice or community organizing. The faculty will also include formerly incarcerated individuals.
Max Kenner, founder and executive director of the Bard Prison Initiative, doesn't believe the protests of last summer were the impetus for increased support for prison education.
"Fifteen years ago, if you worked in this space, you would get up in the morning, put your suit on and get ready for people to hate you because of what you did for a living," he said. "That dynamic has been completely reversed. I don't think that reversal has happened in the last 12 months. That reversal has happened gradually over the last 20 years."
He sees the current moment of national reflection as an opportunity for higher education leaders to look at these programs through a racial justice lens. For example, he said, tuition-free programs for incarcerated students could be one form of reparations.
"It's important for colleges to not step back from a social crisis but step into the fray," Kenner said. "Nothing creates the possibility of self-determination, nothing cultivates the tools among a community, or within a person, to identify, address and solve their own problems like an education that provides context for the problems and the challenges and the frustrations they've faced throughout their lives."
In that vein, Ruth Delaney, program manager at the Vera Institute for Justice, a policy and research organization focused on criminal justice, said she has noticed more directors of prison education programs proactively discussing ways to make their prison classrooms more equitable. Colleges and universities and corrections departments have reached out to the Vera Institute for guidance on recruiting incarcerated students from underrepresented backgrounds, offering prison curricula that feature authors of color and ensuring faculty diversity -- efforts similar to the reinvigorated diversity and inclusion conversations happening on college campuses. For example, college prison program leaders are asking themselves if they're too focused on outreach to students who already have a high school credential.
"In prison, that's more likely to be a white person," Delaney said. "Are you actually going into those adult basic education classes or those GED classes and starting that pipeline early and saying, 'This is a place for you. This is a program for you. We can't wait for you to apply and be part of this.'"
As prison education advocates ask themselves these questions, the Vera Institute plans to launch an initiative in July focused on researching inequities in prison education.
In addition to colleges and universities, major companies are also paying increased attention to the country's incarcerated population. Google recently announced the Grow With Google Career Readiness Reentry Program, a partnership with five organizations that work with formerly incarcerated individuals. The goal is train 10,000 people in a basic digital skills curriculum designed to prepare people formerly in prison for the workforce.
"You can't look for and apply and do a video interview and get a job today without having both the basic digital skills and access to an up-to-date device with internet," said Dane Worthington, director of economic opportunity at the Center for Employment Opportunities, one of the nonprofit partners working with Google. "If you can get access, if you have the device and the basic skills, it's a window to the world and lifelong learning, so there's also an empowerment element as well."
Worthington said the Center for Employment Opportunities definitely saw an uptick in support this year from donors. Since the pandemic hit, the organization received enough funding to dole out $30 million in emergency grants to over 10,000 people newly released from prisons. Donors included the Chan Zuckerberg Initiative, owned by Facebook founder Mark Zuckerberg and his wife, Priscilla Chan. Worthington believes the pandemic shined a spotlight on the need for workforce preparation as prisons sent home scores of people earlier than planned to prevent the spread of COVID-19. Formerly incarcerated individuals are now looking for jobs while much of the country has shifted to remote work.
"There's increased interest, there are more resources and I think it just focused us and everyone to be a little more thoughtful and innovative given these constraints and challenges," he said.
Peter Moreno, director of Odyssey Beyond Bars, noted that this increase in philanthropy, and even the restoration of Pell Grant benefits to prisoners, isn't necessarily enough to sustain programs like his, but it's enough to pilot new course offerings, collect data on student outcomes and make a case for long-term state appropriations.
"What we're shooting for, what we hope to get long term is our state Legislature embracing this as a valuable use of resources," he said.
The hope is also for college prison programs to become prolific and well organized enough for incarcerated students to be able to plan out their paths toward a degree, said Amy Kerwin, vice president of education philanthropy at Ascendium Education Group, a philanthropic organization focused on postsecondary education. These students are frequently moved from facility to facility, which can halt their education. She hopes to see greater collaboration between departments of corrections and institutions to make those pathways possible.
Ascendium Education Group is also currently investing in research on holistic benchmarks to assess the quality of prison higher education programs, the use of technology in prison classrooms and initiatives that center incarcerated students' experiences, including a fellowship for formerly incarcerated learners at the Education Trust, an education policy think tank.
This is "a unique moment in time for us to be rethinking nationally our approach to learning opportunities for incarcerated people," Kerwin said. "As with any unique opportunity in time, there's an opportunity to get it right, and there's an opportunity to get it wrong."