You have /5 articles left.
Sign up for a free account or log in.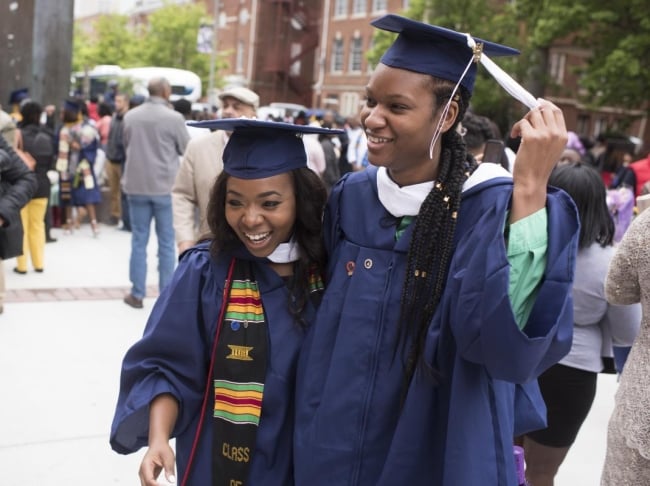 Marvin Joseph/The Washington Post/Getty Images
At Southern University at New Orleans, a public historically Black institution, faculty members are calling former students who left the university without completing their studies and encouraging them to come back and earn their degrees.
The central message of the calls is "Hey, you have an opportunity to return, we would love to have you here, SUNO is an institution of choice, you can thrive in this environment," said Adriel Hilton, the university's vice chancellor for student affairs and enrollment management.
The calls, which involve prepared scripts and talking points, are a part of the university's "recruit back" program, an effort to reach students who earned some college credit but never graduated and students who were enrolled last fall or this spring but haven't registered yet for the fall 2021 semester. University administrators hope the personal touch will motivate students to come back and complete their degrees.
Southern University is not the only HBCU doing such outreach. The United Negro College Fund, an organization representing 37 private historically Black colleges and universities, recently launched a new initiative to bring 4,000 students back to HBCUs across the country to earn their degrees, aided by one-on-one coaching. The move mirrors other efforts by historically Black institutions to reclaim students who left, particularly amid the COVID-19 pandemic, which affected Black Americans at disproportionate rates in terms of infections and deaths, and led to job losses and other negative financial outcomes for low-income students and their families.
More than five million Black Americans aged 25 and older have some college but no degree, according to Census Bureau data released in 2020.
"When we started to think about not only the immediate crisis response but the long-term effect of such a pandemic, we knew that we would experience some drop in enrollment," said Ed Smith-Lewis, executive director of UNCF's Institute for Capacity Building, which guides institutions in raising admission, enrollment and graduation rates. "We're really thinking long term about how do we minimize that to the best of our ability and ensure that our students feel comfortable and safe and continue their quest to get that first college credential."
The new initiative will target a cohort of students who stopped out of HBCUs in the last two years and provide them with free, personalized coaching for four months to ease their transition back into college. The UNCF kicked off its outreach to former students last week, and the recruits will ultimately re-enroll in a network of 10 HBCUs and predominantly Black institutions this fall.
"This initiative will empower returning HBCU students with high-impact resources and support to manage personal, financial and academic challenges of student life to the triumphant achievement of earning a degree," Michael Lomax, president and CEO of UNCF, said in a release.
The coaches will be provided by InsideTrack, a nonprofit organization that helps colleges and universities increase student enrollment, college completion and career readiness. Ruth White, president of the organization, said InsideTrack plans to take a "holistic" approach with the HBCU cohort. Coaches will guide students through the complexities of re-enrollment and financial aid and help them chart out academic plans to complete the remainder of the credits they need to graduate, she said. Coaches can also help students navigate a host of other issues, such as personal finances, health care and childcare -- "all the challenges that we face in daily life that could stop someone from returning to school," she said.
Smith-Lewis considers the initiative a pilot program and hopes to continue re-enrollment coaching in future years if the approach proves successful. But he also sees this move as a chance to gather qualitative data on why students stop out.
"It's sometimes hard to keep in touch with students who don't come back to campus, so this is also an opportunity for us as a field to learn what's keeping our students away from higher education, what things do they need to return and how they view their education in terms of priority with other life necessities," he said. "We're not exactly sure what to expect. We know for sure that students aren't necessarily expecting this call … The big question is, if you do this proactive outreach, really engage the student and their needs, what happens?"
Even before the pandemic, HBCUs historically suffered from low graduation rates relative to predominantly white universities. A U.S. News & World Report analysis found that, among 41 HBCUs surveyed, the average four-year graduation rate was about 22 percent for first-time, full-time students who started in fall 2013. Spelman College had the highest four-year graduation rate at 68 percent. The federal six-year graduation rate at public HBCUs is about 37 percent, according to the Thurgood Marshall College Fund, which supports and represents 47 public historically Black and predominantly Black institutions.
HBCUs on whole saw a 5 to 7 percent drop in enrollment this academic year compared to last, consistent with the average decrease for colleges and universities nationwide, said Smith-Lewis, but "the real impact of the current environment will really be seen in this fall enrollment and subsequent enrollments after that."
Robert Palmer, chair of educational leadership and policy studies at Howard University in Washington, D.C., emphasized that HBCU graduation rates reflect the high numbers of first-generation and low-income students these institutions serve, students vulnerable to stopping out if they can't afford the costs of college. Nearly 75 percent of HBCU students are eligible for the Pell Grant, a federal financial aid benefit for students from low-income households.
"Given the population that HBCUs serve … they do a very effective job of enrolling and graduating students from that demographic community," he said. "I do think that context is important to provide. We also have to be mindful that HBCUs are underfunded compared to their predominantly white institutional counterparts, so they have less resources, and when we talk about retention, most students tend to leave college because of not having the proper finances. That need-based aid is missing."
He believes the coaching program's wraparound approach to student support is consistent with the close mentorship that characterizes HBCUs.
"It falls in line with what HBCUs are known for -- providing this really supportive environment and really meeting students where they are, really understanding the cultural background of students," he said. "Most of all it says to those students who have stopped out, or even current students, that we as administrators see you. We recognize you and we're here for you."
HBCUs and their students were confronted with a complicated academic year as the COVID-19 pandemic and economic downturn stretched the budgets of already underresourced institutions.
Private HBCUs, the colleges and universities the UNCF serves, didn't have the advantage of state support, said Harry Williams, president and CEO of the TMCF. Public HBCUs struggled as well, but "when you're private, you got to raise your money for your resources on your own. It can be a little challenging just from a sheer financial perspective."
In response to the financial hardships, Congress funneled at least $5 billion in emergency aid to HBCUs in its three pandemic relief packages, including President Biden's American Rescue Plan passed in March, according to the U.S. Department of Education.
That money was "a game changer in the survival of all of our HBCUs," Williams said.
Antiracism protests also swept the country after the killing of George Floyd last summer, leading philanthropists to pay renewed attention to HBCUs. Institutions such as North Carolina A&T State University and Bethune-Cookman University in Florida had record years for alumni giving, and some HBCUs saw an uptick in enrollment as Black students sought a sense of community and safety in response to a spate of highly publicized police killings of unarmed Black people.
Smith-Lewis called this year a "renaissance" for HBCUs, and he believes bringing back the students who stopped out should be a part of that revival.
Other leaders of historically Black institutions seem to agree, and some are engaging in similar efforts to bring back students who left before graduating.
Morehouse College in Atlanta, for example, is launching a new online bachelor's degree completion program this August, targeting older individuals with some credits but no degree and former Morehouse students who left without a diploma. The goal of Morehouse Online is to bring back 500 of its former students in the next five years. The college received 7,000 inquiries since the program was announced, and so far, 4,000 people have started applications.
David A. Thomas, president of the college, told The Washington Post that the program was inspired by his conversations with students who never graduated but came to Morehouse alumni events.
"They had a desire to finish their degree, but didn't have the ability to stop what they were doing in the world and go back to school," Thomas told the Post. "We owe it to the world to amplify our impact and that means … impacting the world without the world having to come to us. This is us going to the world."
Similarly, Delaware State University partnered with TMCF to create the Near Completer program, an online program with academic advising for former students with 90 or more credits.
Fayetteville State University in North Carolina is offering students who re-enroll this summer a scholarship that covers the cost of two courses, plus room and board for eligible freshmen and sophomores, according to the university's website.
Although these re-enrollment efforts have picked up momentum during the pandemic, some HBCUs were already seeking ways to lure students back. Morgan State University in Baltimore, for example, introduced its Reclamation Initiative in 2016. The university sent emails and letters to students who stopped out detailing benefits they would receive if they returned to complete their degrees within six years, including one-on-one advising through the re-enrollment process and a scholarship of up to $2,500.
Still, Hilton, of Southern University, said he's seen a growth in initiatives like UNCF's since the pandemic began as HBCUs, and many other colleges and universities, look to re-enroll students hit hard by the pandemic, remote learning and a host of financial pressures related to the economic recession.
"Within the HBCU community, we know that enrollment is the lifeblood of the institution, that students present means the institution will go on to the future," Hilton said. "And hopefully they will send their children and then they will send their children, so the ripple effect of these storied institutions [continues] for the future."