You have /5 articles left.
Sign up for a free account or log in.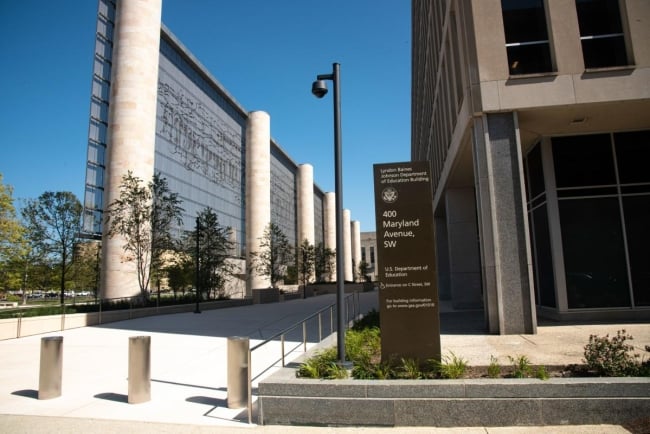 Education Images/Contributor/Getty Images
The U.S. Department of Education released guidance Tuesday for $36 billion in emergency funding that will be provided to higher education institutions, along with a final rule that expands access to emergency grants to undocumented and international students and those attending college under the Deferred Action for Childhood Arrivals, or DACA, policy.
The third round of funding from the Higher Education Emergency Relief Fund, which was authorized by the American Rescue Plan Act of 2021, passed in March, will give $10 billion to community colleges, $2.6 billion to historically Black colleges and universities, $190 million to tribal colleges, and $6 billion to other minority-serving institutions.
Colleges can use the funding to disburse emergency grants to students regardless of their citizenship status, whether they completed the Free Application for Federal Student Aid or are eligible for federal financial aid. However, the grants must go to students deemed by their institutions to have exceptional need.
"It shouldn't matter if you are undocumented or a DACA recipient -- every student struggling because of this pandemic deserves access to emergency aid that can make all the difference," said Senate Health, Education, Labor and Pensions Committee chair Patty Murray, a Democrat from Washington.
The aid can also be used for student retention efforts such as academic or mental health supports, or cancellation of debts that accrued during the pandemic and prevented students from continuing their education.
Public and private nonprofit institutions must also use part of their institutional funding on "evidence-based practices" for monitoring and suppressing the coronavirus and on direct outreach to financial aid applicants alerting them of the opportunity to receive a financial aid adjustment if they or a family member became unemployed during the pandemic, according to the guidance.
Nonprofit colleges may also use the aid to cover institutional costs, including lost revenue, technology costs for remote learning, faculty trainings and payroll. For-profit colleges must exclusively use their funding to provide financial aid grants to students. None of the funding can be used for marketing or recruitment, construction, endowments, or salaries and benefits for senior administrators.
The third round of funding is allocated to colleges based on a formula that includes their relative shares of Pell Grant recipients and non-Pell Grant recipients, along with Pell Grant recipients enrolled in distance learning prior to the pandemic.
The Department of Education published funding allocations for individual public, private nonprofit and for-profit institutions that are expected to be processed in the coming weeks. The allocations aren't comprehensive -- they don't include grants under parts of the American Rescue Plan targeted specifically for HBCUs, tribal colleges, minority-serving institutions and colleges and universities in the Strengthening Institutions Program, for example. Those grants will be awarded in the future. Still, the newly published totals include part of the funding such institutions can anticipate receiving.
Search the table below to see funding levels announced yesterday for specific institutions. You can also review allocations announced for colleges and universities in the first and second batches of federal pandemic relief.
Find an error or issue in the table? Email rick.seltzer@insidehighered.com.