You have /5 articles left.
Sign up for a free account or log in.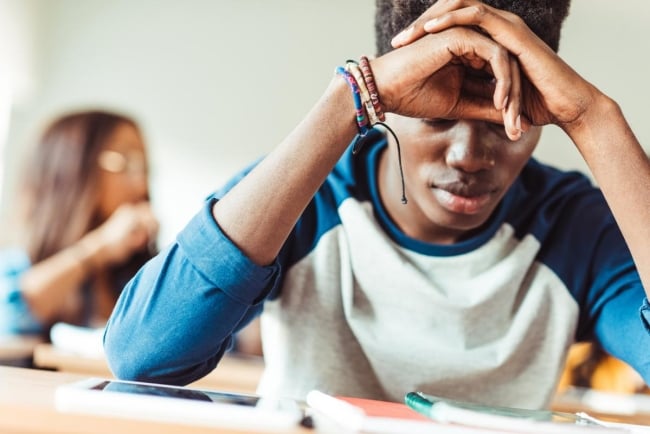 LightFieldStudios/iStock/Getty Images Plus
At the height of the coronavirus pandemic and movement for racial justice last year, education leaders, policy makers and heads of corporations based in Illinois were faced with a troubling statistic: Black student enrollment in the state's colleges and universities had dropped about 29 percent between 2013 and 2018, according to an August 2020 report by the Illinois Board of Higher Education.
"I was just blown away," said Zaldwaynaka Scott, president of Chicago State University, the only predominantly Black institution in the state. "The statistics are very much at a crisis level."
The release of the board's report came at a moment ripe for action and change, as colleges and corporations across the country were responding to the murder of George Floyd with promises to become more diverse and inclusive, alleviate systemic racism and barriers to economic mobility, and expand access to affordable and quality higher education.
Scott said she easily garnered support from other top administrators at higher education institutions, state and local lawmakers, community nonprofit organizations, and business leaders in Illinois to form a 45-person working group last year and begin exploring ways to address the enrollment drop-off. The group co-chaired by Scott published an equity report and plan for these state stakeholders this week outlining strategies for improving student pipelines and college preparation during and after high school, building more inclusive and supportive campus environments for Black students, and addressing the growing unaffordability of college and racial inequities in internship and job opportunities.
The plan is a starting point for reversing the sharp decline in Black student enrollment and will be followed by the creation of a new Center for Education Equity at Chicago State, where staff members will track the implementation of the working group's recommendations and analyze its impact on enrollment numbers, Scott said. The university is currently fundraising for the center, which will be housed in an existing research center on campus focused on urban community development. Scott hopes to have the new center up and running by December.
The equity plan also coincides with the development of the state higher education board's 10-year strategic plan, which has a top goal of closing racial equity gaps in college enrollment. The board will require state public institutions to implement their own plans to improve the academic outcomes of students of color, guided by the working group's recommendations, and private institutions will be encouraged to do the same, John Atkinson, chairman of the board, said during a virtual press conference Monday.
"There are a variety of ways where some of these recommendations will get operationalized," Atkinson said.
State lawmakers in the working group are also supporting legislation in the Illinois General Assembly related to the equity plan, including a bill that passed Tuesday in the Senate that would create a commission to evaluate state higher education allocations and ensure public institutions that serve low-income students and students of color are given adequate state funding. These institutions are the "most financially vulnerable" in the state and "receive a fraction of the state's annual appropriations," according to a fact sheet about the bill. Kimberly Lightford, a state senator and majority leader who represents a district that encompasses part of Chicago and nearby suburbs, was a primary sponsor of the bill. She said during Monday's press conference that an equitable formula for state higher education funding distribution is "long overdue."
College affordability was highlighted in the working group's report as a top barrier to Black students enrolling in college. Sixty-one percent of Black families in the state do not have enough savings to cover three months of basic expenses, compared to 28 percent of white families who live with such financial uncertainty, according to the report, which encouraged colleges to offer small grants to help students pay for textbooks or cover financial emergencies and keep them from dropping out.
Funding for the state's Monetary Award Program, or MAP, which offers need-based financial aid to Illinois residents attending public universities and community colleges, has also plateaued over the last two decades as the cost of college continues to rise, the report said. When the program began in 2001, it had enough funding to cover 100 percent of eligible students' tuition and fees; by 2020, the grants only covered 34 to 36 percent of those costs, according to the report.
Scott, the Chicago State president, said Illinois governor J. B. Pritzker proposed increased MAP funding for the state's 2022 budget, which is a positive step forward.
"People have come to appreciate that the way our Black students experience this country is so different. This is one additional segment where we ought to be able to get it right," Scott said. "This is a unique project. It shows you how the different sections of our ecosystem that work with one another can come to a common understanding about policy and how it can impact the experience of Black students."
For their part, college leaders should be focused on improving "the handoff from high school to college," Scott said. Incoming students at Chicago State, for example, can apply for a free five-week summer program that provides academic advising and skill-building workshops to help them become acclimated to college life. Black students and other underserved populations, such as low-income or first-generation students, tend to lack opportunities for dual enrollment in high school and adequate college counseling and preparation, which reduces their likelihood of attending college, she said.
Mae Matoka, an incoming senior in the honors program at the University of Illinois at Springfield who participated in a student panel for the equity working group, said the high school she attended in northeastern Illinois offered Advanced Placement classes and dual-enrollment programs for students to become certified in cosmetology and emergency medical services or get a head start on their college degree.
"Those were things I talked a lot about on the panel that I felt prepared me for school," said Matoka, who is biracial and attended a mostly white high school. She noted that the undergraduate population at her university is fairly diverse, with 64.5 percent white, 13.1 percent Black and 10.5 percent Hispanic or Latino students, according to the university's spring 2021 data. However, Black students are underrepresented in the university's honors program, Matoka said.
"If more students of color had the same opportunities as me, I feel like that percentage would be higher," she said.
Matoka said her biggest concern and recommendation as a participant on the panel was for colleges to increase Black students' access to quality mental health counseling, which she believes can make or break struggling students' decision to drop out. A portion of the equity report offered recommendations for improving the well-being of Black students on campuses, including providing "holistic student supports including trauma informed, antiracist mental health services for Black students on campus."
"Having access to good counselors and therapists and psychiatrists on campus is really, really important, because entering higher education as a student of color can be a triggering experience at times," Matoka said.
She sometimes has felt pressured in her mostly white classes to speak about and educate her white peers about diversity issues.
"For Black students to have to recount traumas to help their white peers learn is really difficult," she said. "They need to have access to mental health professionals that will really advocate for them."
Scott said the equity plan focused not just on helping usher more Black high school graduates to college and reversing the enrollment dip, but also on retaining Black students once they begin college, and that includes bolstering mental health services.
"If you look at the retention numbers, they're terrible, too," Scott said.
She noted that colleges in the state need to work on creating more inclusive environments for Black students by also offering culturally competent academic advisers and mending student relationships with campus police, steps that can increase students' sense of belonging and in turn improve retention.
"They're leaving in droves," she said. "We've got to get away from blaming the victim. There's something in the way that students are experiencing higher education that is pushing them out the door and they don't complete."