You have /5 articles left.
Sign up for a free account or log in.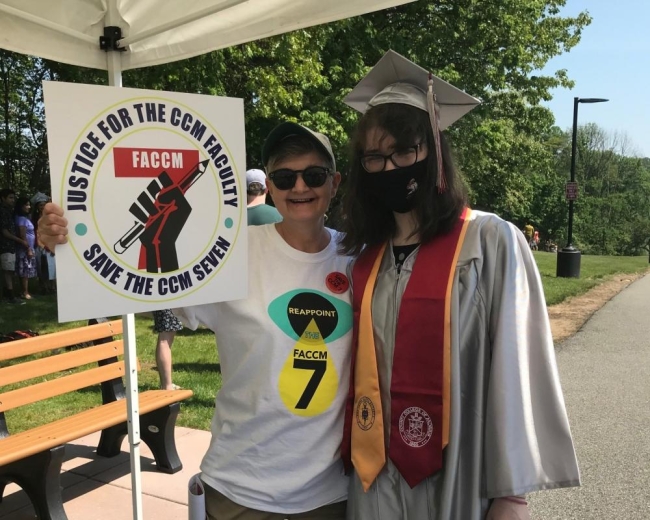 County College of Morris faculty members wore more than their usual graduation regalia during the socially distanced 2021 commencement ceremony last month. Many donned pins and T-shirts that read "save the CCM seven" as they greeted students exiting the gymnasium after the ceremony, simultaneously showing support for the students and sending a message to the administration about the dismissals of seven faculty colleagues.
The faculty union at the New Jersey community college is calling for the resignation of Anthony Iacono, the institution's president since 2016, after his administration unexpectedly laid off six tenure-track faculty members this April and one last December. The union members believe the terminations were unfair and politically motivated; all the people laid off were active members of the Faculty Association, and two of them led union committees.
The campus has been roiled by faculty anger and student distrust ever since. Professors describe widespread fear over job security, some senior faculty members are leaving the institution and almost 500 people have signed a student petition condemning the loss of the seven professors.
Faculty Association president James Capozzi, an assistant professor of English and philosophy and one of the seven people dismissed, said the union's call for Iacono's resignation comes after years of tensions over his leadership. The association plans to mail an approximately 100-page document to each member of the Board of Trustees this week detailing a series of frustrations with Iacono's handling of campus affairs extending back to summer 2017. Their complaints include the alleged intimidation of student journalists, contentious contract negotiations and, more recently, local police questioning five of the laid-off faculty members about a vandalism incident at the president's house, which Capozzi views as an intimidation tactic after the professors spoke out against their dismissals. Dismissed faculty members are scheduled to appeal their terminations at hearings before the Board of Trustees' personnel committee today.
Faculty Association members previously argued for the professors' reappointment at Board of Trustees meetings in April and May and also shared their concerns about the president in an April 28 meeting with the Morris County Board of County Commissioners.
"It's not something we've done rashly," said Capozzi. "This is a pattern of behavior that essentially goes back to the beginning of his tenure as president."
Jeffrey M. Advocate, vice chair for the Board of Trustees, said the president continues to have the board's full support.
"The County College of Morris has flourished and grown as an institution under President Iacono's leadership and direction," he said in a statement. "CCM's Board of Trustees stands behind the decision that we made. We support President Iacono 100 percent and look forward to working with him for many years to come."
Leaders of the Faculty Association claim the nonrenewal of the contracts is an effort to bust the union, given that all seven faculty members were active members. The push for Iacono's resignation follows separate votes of no confidence in him by the Faculty Association and by the union representing department heads, the Association of Academic Chairs and Assistant Chairs. The fired faculty members also filed an unfair labor practice charge against the institution shortly after the dismissals.
"Morale has obviously been torpedoed," said Capozzi. "It essentially spikes any expectation for job security that any faculty can expect to have."
The campus's English and philosophy department lost three faculty members in the layoffs, amid an impending rash of retirements, causing some of the department's long-standing members to worry their colleagues will be stretched thin.
Janet Eber has been at the college for 51 years, almost 40 years as head of the department. She said she heartily recommended all three of the laid-off professors in her department for reappointment and wasn't informed in advance that their contracts would not be renewed, which is "unprecedented." The untenured professors also were not the most junior members of the department, who are usually the first let go during faculty reductions.
"I was astonished beyond all expression," she said. "This was a shock to the gut."
College spokespeople did not make Iacono available for comment. However, Melissa Albright, executive director of marketing and public relations for the college, said there was nothing unorthodox about the process and the decision was "definitely not" related to union activity. She cited enrollment drops as a rationale for the dismissals. Undergraduate enrollment at the college fell by about 10 percent in fall 2020 compared to fall 2019 and by about 14 percent this spring compared to last spring. While the college's financial forecast for the next academic year is "stable," the recent reductions help the institution to "keep it that way," she said.
"Dr. Iacono definitely has felt the pain of this," she said, adding that he didn't take the decisions lightly. "It might not have been the popular response. It may not have been the one we wanted to have made. This is something that was imperative for the institution to keep moving forward."
Albright also noted that the Faculty Association previously sent a letter to the college's administrators praising their leadership and transparent communication during the COVID-19 pandemic and singling out Iacono in particular.
"We believe the collaborative and respectful spirit of this partnership represents a healthy development in our college's morale," the letter states. "To that end, the association would like to thank President Iacono specifically. Through his transparent, fair-minded, and inclusive leadership on the issue of our collective campus safety, Tony has affirmed the college's fundamental values during this difficult time."
Capozzi said the president's reopening plan did in fact make faculty members "very hopeful" for better relations with the administration before the layoffs.
Eber said she understands community colleges are challenged by financial pressures related to the pandemic, but she believes her department has been "decimated" by the faculty cuts and has lost some of its "best and brightest."
"Our students have been robbed," she said. "Let's just be honest for a moment about this. Who suffers the most? It's the students who come through our department. They won't be taught by these fine men. They won't have the opportunity to get to know them."
Emily Knapp, who took courses at County College of Morris this semester, said she immediately noticed the shift in faculty morale. Her professors seemed "stressed out" but told students they couldn't talk about it during class time. When she found out about the layoffs, she was upset, she said.
"It kind of changes the way you see the institution," she said. "You know you love your professors and they couldn't be more valuable to you. Then you find out they're being mistreated. It's really upsetting … I've never met an administrator. I've never met the president. I've never met any of the Board of Trustees, but I have met my teachers. And the teachers are CCM."
These tensions aren't necessarily unique to County College of Morris. The COVID-19 pandemic has led to faculty layoffs, furloughs and pay cuts at colleges and universities across the country at a time when faculty had to quickly and drastically change their teaching methods and help students cope with the pandemic after most institutions switched to remote instruction at the height of the public health emergency, said Gwendolyn Bradley, senior program officer at the American Association of University Professors, a national advocacy organization for faculty members.
"At a number of institutions, administrations and boards have used the crisis as an opportunity for a power grab, throwing out established decision making processes and making unilateral decisions to close programs or take other drastic actions," Bradley said in an email. These shifts are also a part of "a decades-long trend toward disinvestment in public higher ed and an increasingly corporate attitude towards management of higher ed."
She's seen an uptick in faculty organizing through the AAUP as a result -- the AAUP chartered 36 new campus chapters in 2019. It added 69 new chapters in 2020.
At County College of Morris, relations between the Faculty Association and the administration weren't always so fraught, said Laura Gabrielsen, a former president of the Faculty Association and assistant chair of the English and philosophy department. She noted that when the union negotiated with the Board of Trustees in the past, the former president was mostly uninvolved. In general, she found her discussions with him to be "incredibly professional" even when they strongly disagreed on various issues.
In contrast, she described the current climate as a "poisonous atmosphere."  She said multiple colleagues have told her Iacono yelled at co-workers in various meetings. Nontenured faculty are worried for their jobs and are "creeping around and hoping nobody notices them," she said.
Gabrielsen and two of her colleagues decided to retire. Gabrielsen said her retirement announcement came before the layoffs and was prompted by the brewing tensions between the president and faculty members.
"It is a horrible atmosphere," she said. "It is an atmosphere of terror, of fear. I handed in my retirement letter on the basis of what I had already seen, that I did not wish to work in this atmosphere. This is not higher ed to me. I just can't work under those conditions, and the point is, of course at my age and after the many years I put in, I don't have to."
Albright, the college spokesperson, said Iacono is in continuous and positive dialogue with faculty, staff and students at County College of Morris.
"I know that he meets with our faculty and our staff on a daily basis," she said. "He engages in conversation. The action steps are moving the college forward, and it's clear he's having success with that as we continue to look forward. We're seeing success. Success comes from positive interactions."