You have /5 articles left.
Sign up for a free account or log in.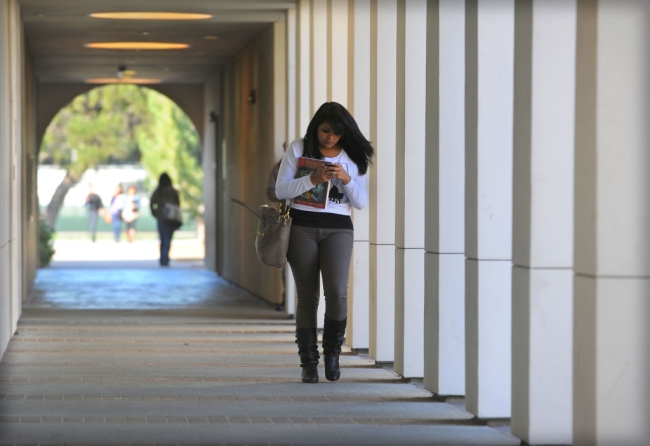 MediaNews Group/Orange County Register/Getty Images/Contributor
More than a year after the pandemic first disrupted higher education, transfer enrollment rates among community colleges have continued to decline, according to a new report from the National Student Clearinghouse Research Center.
Across the board, transfer enrollment declined by nearly 10 percent this spring when compared to the same time last year, the report said. This decline is concentrated in transfer pathways to and between two-year institutions. Transfer enrollment among two-year colleges -- called lateral transfer -- fell by 13.8 percent this spring.
Reverse transfer enrollment, defined as transfers from a four-year institution to a two-year institution, declined by 18 percent year over year, according to the report. Prior to the pandemic, reverse transfer rates had been on the rise, said Doug Shapiro, executive director of the clearinghouse.
The new report, released Wednesday, is the fourth installment in the National Student Clearinghouse Research Center's COVID-19 Transfer, Mobility, and Progress series. The report looks at year-over-year changes in transfer enrollment at private and public, two-year and four-year institutions as of April 22, 2021. Data from 94 percent of the institutions that participate in the clearinghouse were included in this report.
Upward transfer, which includes transfers from two-year institutions to four-year institutions, saw a slight increase this spring -- it increased by 1.5 percent this term when compared to the same time last year. This transfer pathway is the most popular -- about a third of all transfers this spring were upward transfers.
This slight bump could be due in part to four-year institutions increasing outreach to students at two-year colleges in an effort to boost their own overall enrollment, Shapiro said.
"I think they're reaching out to community college students," he said. "They are making it easier, and they're reducing some of the barriers to transfer."
Upward transfer to out-of-state institutions grew by 2.2 percent this spring compared to last, while upward transfer to in-state institutions increased by 1.2 percent.
While spring's numbers show big enrollment declines across several transfer pathways, the data should be taken with a grain of salt, Shapiro said. There are few transfer students compared with the total number of college students, and so small changes to the numbers can result in large percentage increases or decreases.
"It's harder to read into the spring term numbers because overall transfer is much less common in the middle of the academic year," Shapiro said. "There's a lot going on, but often you have to be careful because we're talking about much fewer students to begin with."
Demographic trends in transfer this spring mirrored overall enrollment trends this term. Transfer rates among men declined at double the rate of women, by 13.7 percent and 6.5 percent, respectively. The gender disparity was particularly evident within upward transfer pathways, where transfer enrollment among women increased by 7.3 percent and transfer enrollment among men fell by 5.1 percent, the report showed.
Transfer enrollment among Asian, Black, Latinx and white students fared better at public four-year colleges this spring when compared with last spring, the report showed. The number of Latinx and Asian transfer students to public four-year colleges increased by nearly 2 percent, while the number of white and Black transfer students declined by 6.2 percent and 2.8 percent, respectively.
At community colleges, transfer enrollment for all racial groups declined this spring. The number of Latinx transfer students at two-year colleges fell by 19 percent this spring. Black and white transfer student enrollment declined by about 15.4 percent, and Asian transfer student enrollment fell by 12.8 percent at community colleges.
Transfer enrollment at primarily online institutions declined by 7.7 percent this spring, the report said.
Traditional college-aged students -- typically defined as students who are 18 to 24 years old -- were less mobile this spring than older adult students, the report said. Transfer enrollment among traditional college-aged students fell by 13.6 percent this spring, compared to a 2.5 percent decline for adult students 30 or older.
In addition to looking at transfer enrollments, the clearinghouse report also found that quite a few students have returned to their previous institution after taking some time off, Shapiro said. Nonfreshman students who took time off from their education have begun to return to their previous four-year colleges and universities this term.
"We saw a small, significant uptick in the number of students returning from a stop," he said. "Not transfer students, not freshmen -- students who were enrolled, say, last spring, didn't enroll this fall, are now back enrolling this spring."
First-year students who decided to sit the year out have not yet returned to higher education, Shapiro said.
"There's really still no evidence that the freshmen who stayed out last fall took and took a gap year -- they're not coming back this spring," he said. "We're not seeing any signs of that."