You have /5 articles left.
Sign up for a free account or log in.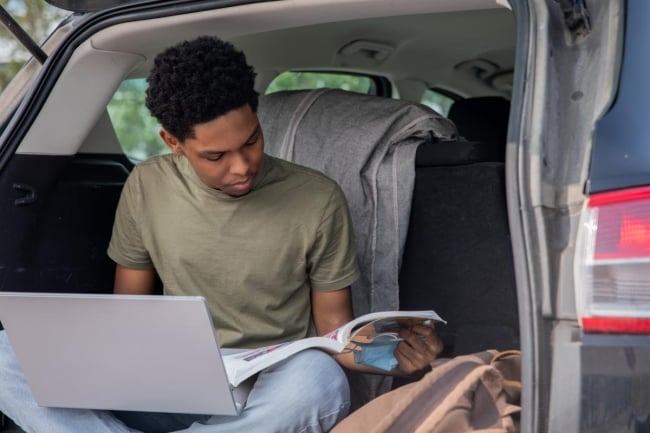 Courtney Hale/E+/Getty Images
Donald "Guy" Generals and his colleagues at the Community College of Philadelphia hear many stories about students struggling to pay for housing or living on the cusp of homelessness. He recalled a student who rented a car last summer so he could live in it and work for a food delivery service during the pandemic.
More than half of the student body lacked consistent housing in the last year, according to a March survey of the campus, conducted by Temple University's Hope Center for College, Community, and Justice, which researches food and housing insecurity among college students. While the Community College of Philadelphia tries to connect students with homeless shelters for youth, the facilities are packed, distracting environments for students, said Generals, president of the college.
Starting this fall, the college will offer permanent living accommodations to 16 housing-insecure students through a partnership with the Philadelphia Housing Authority, which will prioritize students who came out of foster care and may lack other support systems. The housing plan will hardly be enough to address, much less mitigate, the larger housing problem among low-income students and those attending college without financial support from family. But campus leaders believe it's a model that can be scaled to serve more students.
"This is not the end," Generals said. "This is the beginning. Our hope is to be able to demonstrate that not only is there a need, but that this particular response begins to satisfy and advance the prospects of people who would otherwise not have an opportunity to get an education. You can call it a pilot, you can call it an experimental educational housing model, but we're pretty confident it's going to garner the support, both public and private, to expand it."
The Community College of Philadelphia isn't the only public two-year institution investing in student housing.
Imperial Valley College in California opened a community of 26 tiny homes for housing-insecure students who will be moving in this summer and next fall. The funding partly comes from a $2.6 million grant from a state program that provides homes for people experiencing or at risk of homelessness. Students pay $200 in rent and are required to participate in 10 hours of community service monthly for their single-occupancy homes.
While public awareness of housing insecurity among community college students has grown over the years, there's now a "distinct uptick" in new pilot projects and plans to house them, said Sara Goldrick-Rab, president and founder of the Hope Center.
These renewed efforts to offer housing options come in the aftermath of a pandemic that closed campuses and left many students scrambling for affordable places to live. Colleges are also finding lawmakers, local housing authorities and four-year institutions to be increasingly willing partners in these initiatives at a time when already-underresourced institutions are beleaguered by plummeting enrollments and budget constraints that would prevent them from building housing on their own.
"I think this is one of the areas where the pandemic has genuinely helped," Goldrick-Rab said. "I think that people are just really waking up to how widespread the housing insecurity is. I think it brought a sense of urgency and … it brought real money. The federal government is pushing a lot of money to the public housing authorities and to the colleges, and that gives them the space to have the conversations" about how to help affected students.
Generals said the Community College of Philadelphia would not have been able to afford the new housing project if not for its partnership with the Philadelphia Housing Authority. The housing authority will renovate and maintain two homes near the campus. The college will select Pell-eligible students in good academic standing to live there and will provide support services such as counseling and academic advising. Rent and utilities will cost students 30 percent of their income, up to $125 a month, and the college will help students find permanent housing for after they graduate.
In Ohio, a state low-income housing tax credit will help fund the Cleveland Scholar House, a home intended for students who are single parents and attend Cuyahoga Community College or Cleveland State University. The idea is modeled after a similar effort piloted in Louisville, Ky., called Family Scholar House. The building in Ohio will have 33 two-bedroom units and seven three-bedroom units and will be within walking distance of Cuyahoga's Metropolitan Campus.
"With community colleges in particular, where we have a lot of commuter students and students are trying to work and take care of families while they're going to school, we suspect that a lot of the reasons students drop out is because they have a lot of issues with maintaining childcare or maintaining safe, affordable housing," said Denise McCory, president of the Metropolitan Campus of Cuyahoga Community College. "So it's really a retention tool for us."
Several organizations partnered to plan the design and construction of the building and its accompanying wraparound supports: the Cuyahoga Metropolitan Housing Authority is leasing the land for the building. CHN Housing Partners, an affordable housing developer, will build the Cleveland Scholar House. The United Way of Greater Cleveland will help provide services, such as mental health counseling and financial literacy training. The nonprofit Step Forward will provide on-site daycare, and the college and university will offer academic advising.
"We all support each other and complement each other's resources," McCory said.
Rashida Crutchfield, an associate professor of social work at California State University, Long Beach, whose research is focused on student housing and homelessness, said these kinds of partnerships are critical for the growth of community college housing.
"As institutions we have the responsibility to make sure that our students have their basic needs met … but we can't be experts in everything," she said. "So it really is those collaborative partnerships that ensure that the full experience of higher education is achieved."
State lawmakers are also putting more focus on the affordable housing needs of college students, especially those at community colleges. Illinois lawmakers passed a bill just last month that allows community colleges to develop affordable housing. The measure now awaits the governor's signature. A similar bill in the New Jersey Legislature was approved by the higher education committee in the General Assembly last month. None of the state's 18 county colleges have housing options for students, but a couple of community colleges in the state have signaled interest in providing student housing.
Michael McDonough, president of Raritan Valley Community College in North Branch, N.J., found lawmakers' support odd -- community colleges in New Jersey didn't push for the legislation -- but encouraging nonetheless. A market study by the college two years ago found that most of the students at his college wanted on-campus housing. He also sees housing as a potential opportunity to not only retain housing-insecure students but draw new student populations who might want a residential college experience, such as international students. Both outcomes would be welcomed at time when Raritan Valley and many other community colleges across the country are experiencing enrollment drops related to the pandemic and face an impending demographic cliff, a decline in traditional-age students. McDonough described "incredible competition" among higher education institutions for the "same shrinking pool of students."
"Housing is one response to the enrollment challenge," he said.
Raritan Valley administrators have met with architects and hired a financial specialist to explore opportunities for funding partnerships, McDonough said, but he believes it will be at least another two or three years before the college can offer housing to students.
There's also talk of state funding for community college housing in California. California governor Gavin Newsom included $4 billion in his latest budget proposal toward creating a grant program to expand affordable housing options for students.
"This historic investment in student housing will go a long way toward meeting students' basic needs and freeing up critical resources for college," Jessie Ryan, executive vice president of the Campaign for College Opportunity, a California-based advocacy organization focused on higher education equity, said in a press release.
For Compton College, south of downtown Los Angeles, those potential funds could make long-held plans for campus housing a reality, said Keith Curry, president and CEO of the college. A 2019 campus survey conducted by the Hope Center found that about 63 percent of the college's students experienced housing insecurity, and 23 percent had been homeless that year. The institution has a plan to set up prefab housing on its land by 2024, offering 100 beds to students in the first phase with a future expansion to 540 beds. The housing model includes three different living space designs for different kinds of students with different levels of responsibility to accommodate incoming students, returning students and older learners.
"It's not like a typical four-year university dormitory," said Deborah Shepley, global practice area leader for education at Gensler, an architecture, design, planning and consulting firm working with Compton College. "We looked into developing design modules that could be for a variety of students, a variety of ages, with different backgrounds and circumstances. They could be a traditional 18- to 24-year-old. They could be … a single parent with one to two children wanting to go back to school."
Other colleges across the state might also benefit from the model because the manufacturer could mass-produce these prefab student housing options with a set price, which could keep costs down, Curry said. The goal is to help not just his own institution but other community colleges looking for affordable housing options.
He noted that Compton College has been in dire need of housing for years. He described students couch surfing and sleeping in their cars. Campus surveys have shown student homelessness increasing in the last several years.
"Especially for our campus, which is a majority Latinx and also African American population, that type of support is needed," he said. "If students don't have a place to live or adequate housing, then how can you expect for them to study for their transfer-level math or English course and complete their first year if they're worried about where they're going to lay their head at night? If we're not talking about housing and food insecurity as long-term solutions, then the conversation will continue to be 'let's try to Band-Aid this.'"
More from Community Colleges