You have /5 articles left.
Sign up for a free account or log in.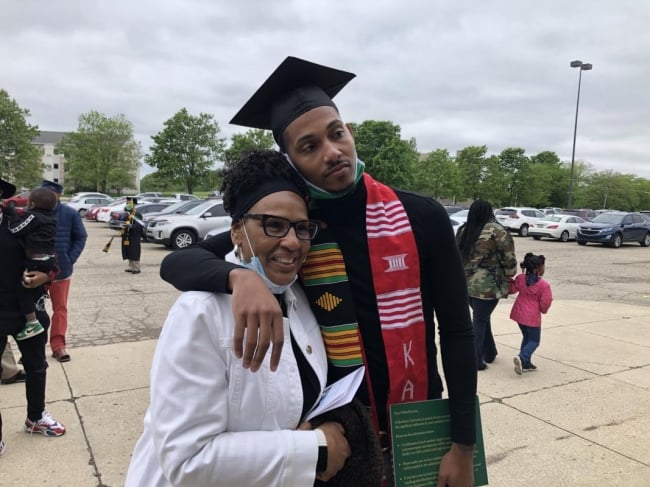 Historically Black colleges and universities across the country are making efforts to lighten the debt loads of their recent graduates after a tumultuous and financially difficult academic year. To the surprise of many graduating seniors, some HBCUs announced that they would clear part or all of the balances owed in tuition, fees and fines.
These moves came as a relief to the mostly Black students who attend HBCUs, who on average bear significantly heavier student loan debt burdens than their white classmates and whose communities suffered from high rates of infection and financial loss during the pandemic.
HBCU leaders are hoping the debt forgiveness will reduce financial strain on their students, many of whom are very likely to still have federal and personal student loans to pay back after graduation.
"These are students who have had some very difficult decisions to make, and this is a population that over all has been disproportionately impacted," said Lodriguez Murray, senior vice president of public policy and government affairs at the United Negro College Fund, a membership organization that represents private HBCUs. "These institutions are showing a great deal of compassion and a great deal of leadership during a time of tremendous uncertainty for their student populations."
At least 11 HBCUs are putting money toward reducing student debt.
For example, Wilberforce University, a private HBCU in Ohio, announced at a joint commencement ceremony in May for the Classes of 2020 and 2021 that it was clearing the debts of all those graduates who owed money to the institution. The $375,000 in debt relief was funded by scholarships from organizations including Jack and Jill Inc., which focuses on initiatives that benefit young people, and the UNCF.
Elfred Anthony Pinkard, president of Wilberforce, saw the debt relief as a reward to graduates for their resilience through an abrupt shift to online learning and an economic downturn, but also as a pragmatic gift. He said more than 90 percent of Wilberforce students are eligible for the Pell Grant, the federal financial aid program for low-income students.
"The pandemic has upended all of our lives," Pinkard said. "We've all lamented the impact that it's had on our psycho-social and emotional well-being. Just imagine that for a young person while they're in pursuit of a very important life goal … and yet these students persisted. They did not allow the uncertainty of the pandemic to derail them in pursuit of an undergraduate degree."
He hopes the debt forgiveness will act as a "financial runway" and a "leg up" for students as they start their career paths.
Black graduates have an average of $52,000 in student loan debt, about $25,000 more on average than the debt of their white counterparts, according to data from the National Center for Education Statistics. That larger debt burden has long-term effects on the financial well-being of Black students and graduates and their ability to accumulate wealth relative to their white peers, which contributes to a stubborn racial wealth gap. More than half of Black student borrowers report the amount they owe in student loan debt exceeds their net worth. Four years after completing their degrees, 48 percent of Black borrowers owe an average of 12.5 percent more than they borrowed. A 2018 analysis by the Brookings Institute found that Black graduates default at five times the rate of white graduates and are more likely to default than white students who stop out.
"There's not really much reason to think things would have radically improved since then," said Judith Scott-Clayton, author of the Brookings Institute study and associate professor of economics and education at Teachers College at Columbia University.
Students at Shaw University were similarly hard hit by the pandemic and its aftereffects, prompting the private HBCU in Raleigh, N.C., to relieve a total of $116,000 in debt for its graduates, said David H. Byrd, vice president for finance and administration and chief financial officer at Shaw. The money for the endeavor came from the second COVID-19 stimulus package, passed last December.
Byrd said he has grown accustomed to seniors coming to his office around commencement time, worried that their unpaid balances to the university will prevent them from graduating. The amount owed by graduating students this year was unprecedented. He noted that many students lost work-study or service industry jobs as restaurants and stores closed in response to COVID-19.
"The rent is still due," he said. "Car payments are still due."
Delaware State University also drew on federal relief funds to take some of the financial pressure off students. Administrators announced last month that the university will cancel up to $730,655 in student debt using money from the American Rescue Plan, the COVID-19 stimulus package passed in March. The average eligible student will qualify for about $3,276 in debt relief, estimated Antonio Boyle, vice president for strategic enrollment management.
"Too many graduates across the country will leave their schools burdened by debt, making it difficult for them to rent an apartment, cover moving costs, or otherwise prepare for their new careers or graduate school," Boyle said in a press release. "While we know our efforts won't help with all of their obligations, we all felt it was essential to do our part."
This flurry of debt cancellation initiatives at HBCUs is possible in large part because of the "once-in-a-century" influx of federal relief funding during the COVID-19 pandemic, said Murray. Through the three stimulus packages, Congress directed at least $5 billion to the institutions, according to the U.S. Department of Education.
Murray also credits the example set by billionaire Robert Smith, who cleared $34 million in student loan debt for Morehouse College graduates in 2019 as the institution's commencement speaker. That was a grander gesture than what most HBCUs can do with their philanthropic gifts and federal stimulus money, but he motivated alumni and university leaders to think about ways to lighten students' debt loads.
"He has showcased a model for how to do this," Murray said. "You add inspiration like Mr. Smith and others and then you add in opportunity, like Congress has made available, and now you have a perfect storm during what has been one of the most turbulent times for African American students and specifically students at historically Black colleges and universities."
HBCUs also saw an upsurge in philanthropy after the killing of George Floyd last summer sparked protests against racism across the country. Notable philanthropists such as MacKenzie Scott, the ex-wife of Amazon founder Jeff Bezos, and Reed Hastings, co-founder and CEO of Netflix, gave multimillion-dollar gifts to HBCUs.
Byrd noted that there hasn't been another gift comparable to Smith's to combat student debt for HBCU students, and often it's more financially stable and more well-known HBCUs such as Howard University, Morehouse College and Spelman College that are the beneficiaries of philanthropic largess.
"Those stories are far and few between in the HBCU world," he said. "It's just a different apple. You can't stick all HBCUs in one basket. That's what the outside community tries to do, and that's just not the case."
Pinkard, of Wilberforce, said while his university's debt relief efforts don't directly address federal student loans, he believes reducing what students owe will help them at least put more money toward paying off that larger debt sooner.
Roderick L. Smothers Sr., president of Philander Smith College in Little Rock, Ark., echoed that sentiment. The institution wiped out $80,000 in debt owed by graduates of the Classes of 2020 and 2021, which he announced during commencement last month. The funds came from alumni and private gifts, plus a grant from Jack and Jill Inc.
"Although this gesture may not entirely eliminate their student debt load, it will certainly allow them to receive their diplomas immediately," Smothers said in a release. "Armed with their credentials, they will be free to pursue a graduate education or take those first steps towards their chosen careers with one less burden to bear."
The stark disparities in student loan debt can be attributed in part to racial discrimination in the labor market and the racial wealth gap, which means Black students get less financial help from their families, said Scott-Clayton. She also noted that students who don't graduate can be saddled with small but stubborn amounts of student debt because it's harder to earn high enough wages to pay it back. Black students also disproportionately attend for-profit colleges, which tend to have high student loan default rates.
These differences in Black students' lived experiences can account for some of the student loan debt disparity, but it isn't a complete explanation for why the inequities are so large, she said. "There's still a big gap that's hard to explain."
Federal student loan payments are currently frozen through at least September in response to the pandemic, so no one is going into default. However, it's a "temporary Band-Aid" to the student loan debt crisis and does nothing long term to reduce the racial gap in student loan debt, she said.
That's partly why President Biden drew the ire of some activists for not including student loan debt cancellation when he announced his plan to narrow the racial wealth gap at an event marking the 100th anniversary of the Tulsa Race Massacre last week.
"You cannot begin to address the racial wealth gap without addressing the student loan debt crisis," Derrick Johnson, president of the NAACP, told The Washington Post.
Scott-Clayton admires the attempts by HBCUs to rid students of their debts, but she ultimately believes policy makers have the power and resources to make the most impactful difference. For example, lawmakers could enact widespread student loan debt cancellation targeting borrowers at high risk of defaulting.
"I think those are great efforts," she said of the HBCUs. "Certainly those are things that will make a real difference for students at those institutions. But I don't necessarily see there being a one-off, institution-by-institution solution to this problem."