You have /5 articles left.
Sign up for a free account or log in.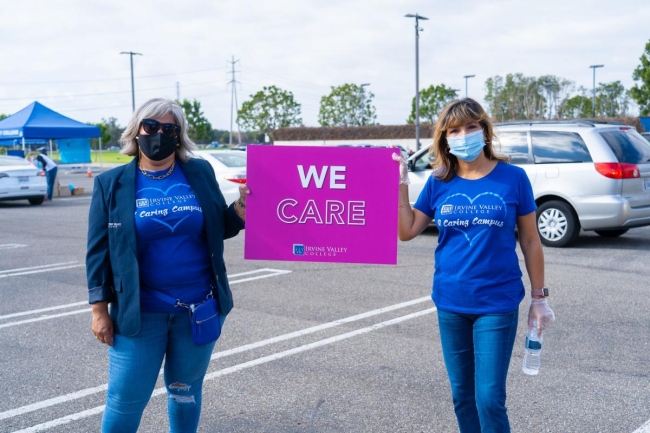 Leaders at Victor Valley College, a community college east of Los Angeles, are planning a series of changes: a program where students earn points for attending campus events, a new system that sends monthly data analytics to the college president on the number of calls and emails from students that resulted in them getting the information they needed, and staff adopting the "10-foot rule" to actively approach any student standing within 10 feet who may be in need of assistance.
The moves are a part of Victor Valley's effort to cultivate a culture of care on campus, both online and in person, as a participating college in the national Caring Campus Initiative.
The initiative, which involves 66 colleges, was first launched in spring 2018 by the Institute for Evidence-Based Change, a nonprofit that works with education stakeholders to improve student outcomes. The goal of the program is to increase positive interactions between faculty and staff and students so that students feel more connected to their campuses and are more likely to stay and graduate.
"We really are living, eating, breathing this thing," said Victor Valley College president Daniel Walden.
During the yearlong program, coaches from the organization help a group of staff or faculty members at a cohort of community colleges identify and introduce a set of small changes in behavior designed to make students feel more welcome. These "behavioral commitments" can range from staff wearing name tags so students can easily identify them to staff members meeting regularly across departments so they can better refer students to the resources they need in other offices.
Brad Phillips, president and CEO at the Institute for Evidence-Based Change, and Jordan Horowitz, its chief operating officer, are both former mental health professionals and argue that human connection between faculty, staff and students is the ultimate retention tool.
"What we're moving to is a relationship-based education experience," Phillips said.
His hope is to serve close to 100 institutions by this fall as the initiative expands with recent funding from philanthropic foundations focused on higher education, including Ascendium Education Group, the ECMC Foundation and the chancellor's office of the California Community College system, which supported the program's first cohort.
The institute has had to pivot this year to tackle the challenge of helping community colleges create a culture of care online as campuses closed in response to the COVID-19 pandemic. The initiative shifted to virtual meetings in spring 2020, and coaches are now working to guide staff and faculty on how to implement the same behavioral goals, tweaked for virtual offices and classrooms.
For example, one of the behaviors coaches suggest for staff members is a "warm referral." Instead of just telling a student to go to a different office for guidance, staff are encouraged to call ahead to other staff members, walk the student from one office to another and follow up to confirm that the student got the help needed. During the pandemic, coaches advised getting a student's call-back information when they reach out for help and following up with another phone call to ensure the student was assisted.
"Colleges were scrambling to move everything online: courses, student services, operations, everything," Phillips said. "What was really helpful was that the behaviors were really simple to implement. We weren't asking them to do these herculean efforts during this terrible time. The behaviors really don't change. They're just adjusted for a non-face-to-face environment."
Some faculty and staff members said the changes they'd already instituted for the program made serving students during the pandemic easier.
As a part of the initiative, faculty members at Oakton Community College in Illinois, for example, developed the Persistence Project, specific courses where faculty members are required to meet one on one with each student at the start of the term. Instructors also must learn students' names within the first two weeks of classes and give students an assignment early on in the course that provides an indication of which students need extra help.
Oakton faculty members said these small changes made a significant difference for students of color. The persistence rate for Black students who participated in these courses was 13 percentage points higher than for Black students over all, according to data collected in fall 2019.
When classes moved online, students felt "lost and frustrated," and those pre-established one-on-one meetings were critical for faculty members to check in with students about what they were going through, said Lisa Cherivtch, a business professor at the college.
"It reminds the people that are doing it that we're not dealing with robots," Cherivtch said. "We're dealing with real students, real people, who have real aspirations, real challenges to achieve what their goals are, and that we can be the connection that they need to achieve their goals. It changes not only the students but the instructors that participate."
Akia Marshall, who served as an outreach specialist at Riverside City College in Southern California until April, said Caring Campus Initiative coaching sessions, which ended in 2018, forced staff members across the campus to meet and spend time with each other. Before the program was instituted there, co-workers who referred students to each other's offices for years barely knew each other and sometimes lacked a full understanding of each other's roles, she said. When staff members started working remotely because of the pandemic, the relationships they had formed through the Caring Campus program helped get supports to students in a more streamlined way, she said.
"We were just so much more unified," Marshall said. "It wasn't, 'I'm talking to this department' or 'I'm talking to this office.' I'm talking to Steve. I'm talking to Natalie. I know they're going to help me out. We've talked about our kids. We've shown pictures of cats. I know that I can count on them for anything."
Marshall is now director of enrollment at Mt. San Jacinto College, also in Southern California, but she's still in touch with former colleagues at Riverside she met through the initiative.
San Antonio College, the winner of this year's Aspen Prize for Community College Excellence, joined the Caring Campus Initiative in fall 2020 in the thick of the pandemic. The program helped the college commit to some simple tasks that would make students' virtual experience easier: assigning point people to update directories so students could reach the staff members they needed, putting someone in charge of monitoring the college's inundated voice mail and responding to every student email so students knew their messages were seen and would be addressed within a specified time frame.
"For San Antonio College, we all have what I call an educator heart," said Robert Vela, president of the college. "There's no doubt. But oftentimes we're so overloaded with the volume of need that we get into a transactional mode when we're dealing with and working with our students … Every interaction needs to be intentional about building that relationship. These behavioral commitments that we agreed to, it's all to ensure that the verbals, the nonverbals, everything that we're doing is communicating, 'Come be a part of our community.'"
Small behavioral changes can deeply shift the way staff members see their roles, said Amy Hunter, senior administrative assistant for the Irvine Valley College business school and president of the Irvine Valley College Classified Senate, which represents employees at the Southern California campus. The college's staff members wear special T-shirts that read, "A Caring Campus" whenever they get on a Zoom call with students or run socially distanced drive-through events on campus.
She said wearing shirts with slogans and name tags might seem like small gestures, but they clearly mark staff members as people students can ask for help, and they send a message to staff that they're a critical part of the "guided pathways process" as students' "first line of contact" with the college.
Horowitz, of the Institute for Evidence-Based Change, said the initiative won't go back to purely guiding staff and faculty members on face-to-face interactions with students. He believes the need for a personal touch in virtual exchanges with students is here to stay. He noted that community colleges had online programs even before the pandemic, and staff often dealt with students over the phone.
These virtual interactions have always been valuable building blocks in creating a culture of care, but higher education leaders are just more "clued in" now, he said. "We'll continue to support that."