You have /5 articles left.
Sign up for a free account or log in.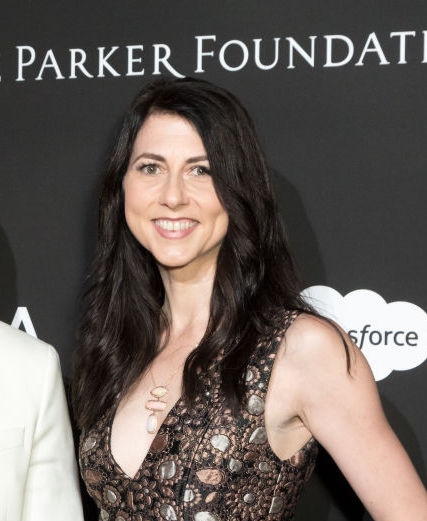 Greg Doherty/Contributor/Getty Images
Just six months after making headlines for giving away $4.1 billion in donations to nonprofits and higher education institutions, philanthropist and writer MacKenzie Scott announced Tuesday that she had gifted more than $2.73 billion to dozens of colleges that are broadening access to higher education for underrepresented students, as well as advocacy organizations focused on helping those students succeed.
This time around, the list of recipients for the unsolicited and unrestricted gifts included community colleges, regional colleges and higher education nonprofits. Experts say the donations will likely catalyze fundraising efforts and lend legitimacy to these institutions -- many of which don't have endowments and have never received lump-sum gifts of this size.
"Higher education is a proven pathway to opportunity, so we looked for 2- and 4-year institutions successfully educating students who come from communities that have been chronically underserved," Scott wrote in a short blog post on Medium about how she chose the 286 gift recipients.
Long Beach City College in California was among the many two-year colleges that received a multimillion-dollar donation. Mike Muñoz, interim superintendent-president at Long Beach, was shocked to hear that the college had been gifted $30 million by the world's richest woman.
"I'm like, 'Is this real? Is someone playing a trick on me?'" Muñoz said. "Because who calls you and says, 'I want to give you $30 million'?"
The college serves more than 24,000 students and maintains a small $15 million endowment. It was chosen as a recipient because of its work on equity and racial justice and plans to use the money to continue that work, Muñoz said.
As is the case for most colleges and universities on Scott's list, the recent donation is the largest single-donor gift Long Beach City College has ever received. Donations of that size can be life-changing for many institutions, said Amir Pasic, dean of the Indiana University Lilly Family School of Philanthropy.
"Usually gifts of that magnitude are the results of many years of cultivation and conversations" with potential donors, he said. Fundraisers usually "figure that these things will take years and maybe even a decade to bring to fruition," Pasic said. "Something like this coming out of the blue, especially to colleges and universities that are not among the most selective in our country, is really remarkable."
The money could spur other donors to give to community colleges, which have historically been overlooked in charitable giving, said Karen Stout, president and CEO of Achieving the Dream, a nonprofit dedicated to community college reform.
"One large gift from a donor with the presence and reach of MacKenzie Scott will create a ripple effect of confidence that will bring in other private gifts," Stout said. "That multiplier effect of that one big significant gift can mean everything for a community college."
Achieving the Dream received $20 million from Scott Tuesday. Excelencia in Education, a nonprofit dedicated to Latino student success in higher education, also received a $10 million gift.
Scott focused on colleges and nonprofits that are dedicated to equity and social change, she said in her blog post. All the gifts are unrestricted, meaning there are no strings attached and the recipients can spend the money how they choose.
"Because we believe that teams with experience on the front lines of challenges will know best how to put the money to good use, we encouraged them to spend it however they choose. Many reported that this trust significantly increased the impact of the gift," Scott wrote.
Amarillo College, a community college in Texas, received $15 million -- the largest gift in the college's history. The college may use the money to establish an endowment, said Russell Lowery-Hart, president of the college.
"This is overwhelming in every sense of the word," Lowery-Hart said in a statement. "We are equally elated, stunned and gratified by Ms. Scott's amazing philanthropy. We are not only grateful to Ms. Scott, we are in awe of her."
Four universities in the California State University System -- Cal Poly Pomona, and Cal State at Channel Islands, Fullerton and Northridge -- received gifts from Scott.
Northridge received $40 million -- the largest single-donor gift in the university's history. The university plans to use the funds to eliminate equity pay gaps, diversify the faculty, promote academic excellence and provide holistic student support, according to university president Erika Beck.
"While one-time dollars cannot be used to support long-term expenses in perpetuity, with a mix of focused spending and investment, we can, and will, use these dollars to transform our campus for generations to come," Beck said in a statement.
Channel Islands received $15 million and Fullerton got $40 million.
Philanthropic giving to education -- which includes higher education institutions -- increased by 7.7 percent last year after adjusting for inflation, according to the Lilly Family School of Philanthropy's annual Giving USA report. About three-quarters of annual giving comes from individuals, Pasic said. The uptick in individual giving during 2020 was almost entirely driven by Scott's donations.
"If you had taken out MacKenzie Scott's giving from last year, individual giving would actually have gone down," Pasic said.
While Scott's giving falls outside the norm, it reflects a change in philanthropy to colleges and universities. Institutions that have received more donations in recent years are also noticing the money is coming from a smaller number of donors, Pasic said.
For many institutions, the money will do more than fund programs and build endowments. Significant, news-making gifts lend legitimacy to the community colleges and regional institutions that don't have the star power that's usually required to draw in multimillion-dollar donations.
"It bestows a kind of symbolic recognition of the worth and the importance and the value of these institutions in our society," Pasic said.
Uduak-Joe Ntuk, president of Long Beach City College's board, said the money helps boost the confidence of the entire campus.
"It was a sense of reaffirmation of the work we've been doing," he said. "It's like validation -- 'you're going in the right direction even though you don't have a GPS on.'"
Colleges and Universities That Received Money From Scott Include:
Amarillo College
Brazosport College
Broward College
Cal Poly Pomona
California State University Channel Islands
California State University, Fullerton
California State University, Northridge
Chaffey Community College
College of the Desert
City University of New York Hostos Community College
El Paso Community College
Florida International University
Kennedy-King College
Lee College
Long Beach City College
Mississippi Gulf Coast Community College
Odessa College
Pasadena City College
Porterville College
Renton Technical College
San Antonio College
San Jacinto Community College
Santa Barbara City College
Southwest Texas Junior College
University of California, Merced
University of Central Florida
University of Illinois at Chicago
University of Texas at San Antonio
University of Texas Rio Grande Valley
West Hills College Lemoore
William Rainey Harper College
Higher Education Nonprofits That Received Money From Scott Include:
Achieving the Dream
American Indian College Fund
American Indian Higher Education Consortium
APIA Scholars
Excelencia in Education
Kepler
The Education Trust