You have /5 articles left.
Sign up for a free account or log in.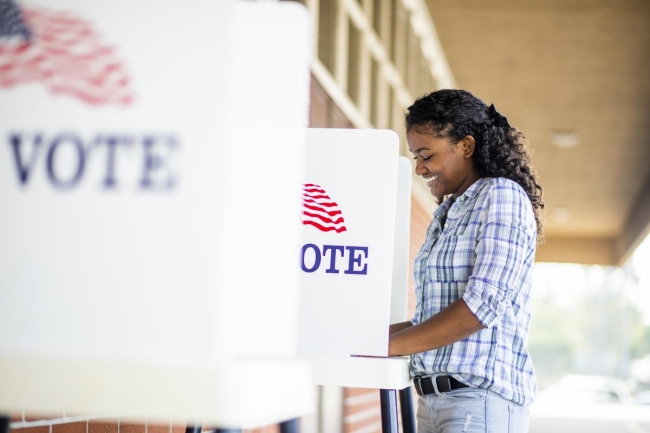 Sweeping changes to voting and federal election processes are on the agenda in the Senate, and if Congress is able to pass the Democratic-led voting rights package, it's almost certain to have an impact on college students and campuses across the country.
The Senate plans to vote Tuesday to move forward with the For the People Act, also known as HR 1, which passed the House on March 3. Its future looks bleak -- there are no Republicans who support the legislation, meaning it won't meet the 60-vote threshold needed to overcome the filibuster in the Senate. Democratic senator Joe Manchin of West Virginia has also said he would vote against the bill but has since offered up a compromise.
The 886-page bill has 10 titles centered around voter access, election integrity and security, campaign finance, and government ethics. It seeks to set national standards for modernizing voter registration and improving voter access in elections, which could be especially consequential for college students and young voters.
Those minimum standards are important because they would help students better understand how to vote, regardless of where they are, said Michael Burns, national director of the Campus Vote Project.
"One of the barriers that we see student voters encounter a lot is that they're highly mobile and newer to the process," Burns said. "Even if they're moving from California to Pennsylvania to go to school, there will still be some certain standards around online registration, same-day registration and the ability to vote by mail or early in person."
However, Hans von Spakovsky, former commissioner on the Federal Election Commission and senior legal fellow at the Heritage Foundation, disagreed that a national standard was necessary to make voting for students who move states easier.
"That's just not an issue," von Spakovsky said. "It's easier to register and vote today than at any time in our history."
The legislation specifically addresses the role of higher education institutions in the voting process, which includes designating colleges and universities as voter registration agencies and requiring them to have a "campus vote coordinator." The coordinator would be responsible for disseminating election information to students like voter registration, polling locations and how to find transportation to polling locations.
The Higher Education Act of 1965 already includes a requirement for colleges to provide voter registration forms to students and make a "good faith effort" to make voter registration widely available, said Burns. But many colleges don't know the requirement exists, and there's little enforcement of it.
"I think this would help bring a number of those institutions who aren't as focused on this to a minimum, and then the campuses that are already doing more can continue to be leaders and help develop these examples and programs that can be replicated in other places," Burns said.
The campuses that are already going above and beyond -- or that choose to do so in the future -- would be rewarded by the For the People Act. Institutions that demonstrate excellence in registering students to vote beyond the minimum requirements would be eligible to receive a grant. That could include sponsoring large on-campus voter mobilization efforts, providing transportation to the polls or inviting candidates to speak on campus.
The For the People Act includes other provisions that aren't specific to higher education but could be particularly helpful for college students and young voters, advocates say. For example, the legislation mandates that states provide online applications for voter registration, which would make registering more accessible for young people, said Clarissa Unger, project director of Students Learn Students Vote Coalition.
"Knowing that today's youngest generations are digital natives, having access to online registration versus the paper forms can make a big difference," Unger said. "Once you get young people registered, they are much more likely to turn out to vote."
The bill would require states to allow same-day voter registration, which would provide a "fail-safe" for students, likely leading to a higher rate of turnout, said Burns. And it would expand voting by mail, allowing no-excuse absentee voting.
Also included are provisions requiring that all states allow two weeks of early in-person voting -- including on weekends -- for at least 10 hours a day and that polling places be open for at least four hours outside of traditional 9 a.m. to 5 p.m. working hours. This has the potential to be particularly helpful for promoting turnout among college students, who often try to vote early in the mornings, later in the evenings or on weekends when their classes aren't in session, said Maxim Thorne, incoming CEO of the Campus Election Engagement Project.
"Truncating these times -- decreasing the number of early voting days and decreasing the hours within a voting day -- is a hurdle," Thorne said. "And every hurdle sees a measurable decrease in voting, particularly with young people."
And the bill would establish automatic voter registration in every state so that if an individual provides information to certain state agencies, including colleges and universities, they'll be automatically registered to vote unless they opt out. Sixteen- and 17-year-olds would also be eligible for automatic registration under this provision, though it wouldn't take effect until they turn 18.
That raises concerns for von Spakovsky, who said it could lead to students being double registered in different states if they're raised in one state but attend college in another.
"For students who aren't familiar with the law, they'll get notices telling them they're registered in two different states, they may think that it's OK for them to vote in two different states," von Spakovsky said. "And of course, it isn't. This could cause tremendous problems."
Von Spakovsky said he doesn't believe the federal government should be setting standards for states, given that they've always been in charge of administering elections. But advocates for the For the People Act say the legislation is necessary -- alongside local voter engagement efforts.
"Students really need the protections that are in the For the People Act," Unger said. "But just as important is having local folks who are a part of the community or embedded within the campuses who can welcome young people and student voters into the process."