You have /5 articles left.
Sign up for a free account or log in.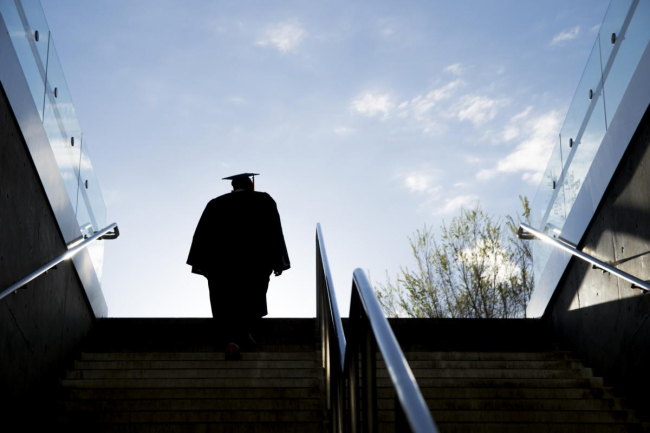 Aaron Hawkins/iStock/Getty Images Plus
Although higher ed leaders feel immense pride about how their teams pivoted to virtual everything practically overnight when the pandemic hit, students are in much less agreement on that point. "This last year in my opinion was a lot of money for almost no actual learning," wrote one respondent to the latest Student Voice survey of 2,000 college students, while others shared similar sentiments.
Conducted by Inside Higher Ed and College Pulse from May 23 to 27, and presented by Kaplan, the survey explored how students believe the pandemic affected their academic progress and overall success in college.  
Asked to rate the value of the education they received over the past year, 44 percent of students felt it was very good or good. But only 7 percent rated it as excellent, and nearly three times as many rated it as poor. Men and students who are nonbinary in gender were much more likely than women to slap down a poor rating (23 percent each, compared to 15 percent of women).
"We need to not disregard what students are telling us in this moment," says David Graham, assistant vice provost in the Office of Student Academic Success Transition and Academic Growth at Ohio State University. "Before the pandemic, there was a value proposition of higher education being questioned, and the pandemic only accelerated or amplified that question. We as administrators need to listen to our students about their perceptions and expectations."
Colleges "went 180 degrees in March" of last year, he adds, and moving forward must involve continuing to "redesign and reimagine higher education" to meet student needs.
In a National Association of College Stores student survey conducted a few months into the pandemic, less than half of students said they had been asked to provide feedback yet to their institutions about the switch to online, explains Brittany Conley, a research analyst with NACS's OnCampus Research division. "I don't think you can design something to work with students if you have not gotten input from them," she says.
The Student Voice survey asked about institutional services that helped with learning during COVID, and more than one-third of respondents said that none of the listed items did. One-third of students found academic advising useful, and one-quarter found tutoring helpful. Only 17 percent felt that career services had contributed to having a more successful academic year.
As administrators and faculty members look toward opening campuses up more fully this fall, the survey results point toward actions that could help get students back on track after three semesters impacted by COVID.
1. Support on-time graduation goals.
Nearly one-quarter of students surveyed believe (somewhat or strongly) that the pandemic will result in a later graduation date. Those at two-year colleges and those at public colleges are more likely than those at four-year and private institutions to indicate that delayed graduation is at least somewhat likely.
Officials at the University of Tennessee at Knoxville have asked academic departments to examine ways to be flexible about requirements, such as eliminating study abroad mandates for particular programs, says Chancellor Donde Plowman. Other institutions are examining course requirements. One survey respondent at a public university, noting that "time is money," made an argument for eliminating classes not crucial to one's major. "Being a 'well-rounded student' is not a valid reason to continue with this way of education," the student wrote.
The president of Complete College America, which has long called for states and institutions to examine policies that are impediments to graduation, says the pandemic has highlighted why such actions make sense. "We've been saying, 'Let's identify policies you abandoned in the temporary sense and think about how to hold on to [the changes] in the long term,'" says Yolanda Watson Spiva. "Thinking about campuses, I can imagine there being 20- to 50-year-old policies."
Changes made after a policy audit might, for example, allow staff to be more flexible about the ramifications of holds on student accounts, such as those that impede the ability to register for the next semester or get a transcript. "Everybody has been in fight-or-flight mode," says Watson Spiva, so colleges haven't prioritized policy change. But as the country comes back from the pandemic, she has seen more willingness.
[block:block=176]
She'd like to see more attention placed on remedial noncredit courses, with colleges moving toward co-requisite courses for students entering college who need more basic knowledge of a subject. "How do students maintain momentum while in college? It's by being in college-track courses," she says.
As Graham points out, "you can have as much empathy as you like, but if the policies don't support your empathy, it's hard." Ohio State is looking at how its systems can work with students in crisis, he adds. "Not that we can't chew gum and jump rope at the same time, but it's been an exhausting year, and everyone was operating outside of their element."
Watson Spiva would also like to see colleges offer more terms, such as during breaks, so that students can catch up on credits. And to manage challenges in offering required courses more frequently so students can take them, she suggests partnering with other colleges. A student might take a virtual class through that institution but earn credit at the home institution.
2. Anticipate new and more intense student needs.
Students' primary concerns for fall are centered around motivation and concentration, with mental health concerns also significant. Nearly one-quarter of students have lingering concerns about COVID-19.
"I think motivation is a bigger issue than we have faced in the past, and we're becoming more aware of how important that motivation and engagement is," says Barbara Means, executive director of the nonprofit education-focused organization Digital Promise. She anticipates motivational issues lessening in the fall for most students but not disappearing, especially if the teaching is not engaging or the content is difficult.
"I think there's an assumption that students will feel normal and more satisfied once they go back to in-person classes, but it's not something we should assume," says Conley, of NACS.
On the mental health front, Watson Spiva points out that even students doing well academically may be suffering from severe loneliness. Research after the 1918 pandemic found lingering mental health effects from that health crisis, she adds.
In addition, students who used to be able to get by with part-time or no paid employment could be working full-time jobs now. Students who may have had health care, or daycare for a dependent, before may not have it now, says Watson Spiva. "Circumstances have changed -- 2019 student data can't be utilized now. Who are the students we're serving and what challenges are they bringing to the table? Students are going to come back changed."
Which calls, of course, for data collection and analysis. "These are going to be the most surveyed students ever," she quips.
3. Prepare for a support-packed new academic year.
An overwhelming majority of Student Voice survey respondents -- even those who as of this spring were still learning completely from home -- do plan to re-enroll in their institutions for the fall term; only 5 percent said they would not be returning. (NACS research, however, found that 30 percent of students seriously considered dropping out during this academic year.)
Many institutions are thinking of sophomores as "the new freshmen" and including them in orientation events or creating separate orientations for this group of students.
UT Knoxville, where Plowman reports that enrollment is up for the fall, is launching the Vols Start Back initiative this year to reorient returning sophomores, juniors and seniors to in-person campus life. "In some ways, we're orientating three first-year classes: those coming from high school, sophomores who spent freshman year in a predominantly virtual environment and juniors who had only one semester fully in person. We're approaching this as if all of them are first-year students," says Amber Williams, vice provost for student success.
Upon completion of in-person programming over six weeks, each participating student will receive a $250 stipend. "Some of it involves academic support services and meeting with a coach. Some of it is leadership development and participating in career development activities, and there's an inclusion and diversity bucket, too, with a menu of activities," Williams says. "To get them on the right foot to finish off their college careers, we need them to connect with each other."
On the academic side, professors at Tennessee have made orientation content requests. One was to work with students on how to work as teams for group assignments. "And we'll be having intentional conversations around engagement in the classroom, what it looks like. When should they approach faculty if having a challenge in a course? When would they approach the academic chair?" Williams explains, adding that understanding hierarchy is necessary. "When students have had frustrations, they were either putting them on social media or emailing higher-ups in organizations."
No one wants to assume students know what it means to be successful in college.
The university launched a six-week orientation for freshmen this past year that will continue for 2021-22. The goals for helping students navigate campus are to create an environment where they feel confident and motivated, to set high expectations but help them be met, and to create structures to ensure students are successful, Williams says.
Math advising and coaching teams, for example, will explain what success looks like, and the study group or tutoring session participation will be incentivized. "They'll get prizes for showing up to study," says Williams. No one wants to assume students know what it means to be successful in college, Plowman adds.
Watson Spiva's hope is that colleges will keep the students at the center of their work. "Students, especially those from underrepresented, low-income, first-generation groups, need college -- they don't just want it," she says. "We must create an environment to help them meet their goals."
Read the initial article on the Inside Higher Ed/College Pulse student success survey, on tough lessons students learned about their academic progress during the pandemic, here.