You have /5 articles left.
Sign up for a free account or log in.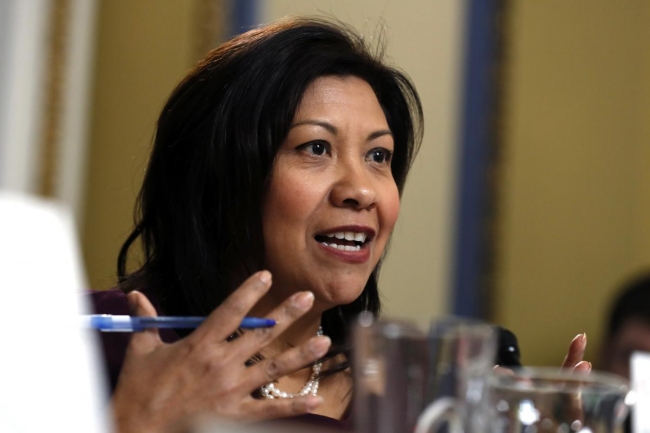 Jacquelyn Martin/Getty Images
One day during this past academic year, Byanca Moore realized she needed help. The rising junior at Le Moyne College, in Syracuse, N.Y., had medical expenses to pay and no food to eat. So, she turned to the college's Jesuit Fund, which provides students with up to $500 in emergency funding. Moore applied for the assistance and received what she needed.
"They do care for students, and they see which needs you need," Moore said. "It was helpful."
But the Jesuit Fund is only a quick fix, noted Moore. She and her classmates who face financial challenges need more of a long-term solution.
That's what Representative Norma Torres, a Democrat from California, realized when she saw one of her sons making four sandwiches for a two-hour class at the community college he was attending.
"I'm looking at him like, 'You're going to eat all of that?'" Torres told Inside Higher Ed. "And he said, 'No, not for me, Mom. There are so many kids that are there the entire day but don't have any money to eat, so I'm making them for them.'"
According to the Hope Center for College, Community and Justice's most recent basic needs survey, nearly three in five of the 195,000 students who responded said they had experienced basic needs insecurity, which is defined by the Hope Center as the lack of an ecosystem in place that ensures students' needs -- like access to sufficient food, secure housing, health care and affordable technology and transportation -- are met. Thirty-nine percent of students at two-year colleges and 29 percent at four-year colleges experienced food insecurity, and a total of 48 percent of students experienced housing insecurity.
Students of color were more likely to experience basic needs insecurity than their white peers. For students at both two- and four-year institutions, 75 percent of Indigenous students, 70 percent of Black students and 64 percent of Hispanic or Latino students experienced basic needs insecurity, compared with 54 percent of white students.
"Students can't choose between covering their tuition and nontuition costs," said Mamie Voight, interim president at the Institute for Higher Education Policy. "These nontuition expenses can serve as a real barrier for students when trying to succeed in college."
After talking with students and learning about how many of them struggle to meet their basic needs, Torres introduced the Basic Assistance for Students in College Act, or BASIC Act, in the House in 2019, with then senator Kamala Harris taking the lead on the bill in the Senate. An updated version of the legislation was introduced by Torres at the beginning of June, with Senator Elizabeth Warren, a Democrat from Massachusetts, and Senator Alex Padilla, a Democrat from California, picking up the bill in the Senate. So far, the bills are lacking support from any Republicans.
"The last thing a college student should have to worry about is where their next meal is going to come from," Torres said. "They should be worried about studying, their next class and getting their homework done."
The BASIC Act would establish a $1 billion grant program to help institutions of higher education identify and meet the needs of their students, including food, housing, transportation, childcare and technology. It authorizes $40 million for two-year planning grants to help colleges and universities research and plan to address their students' unmet basic needs and provides $960 million for five-year implementation grants for institutions to develop a basic needs infrastructure.
The legislation mandates several ways in which the funding must be used, such as by providing free or subsidized food, offering temporary housing, helping students apply for public assistance programs, or collaborating with community organizations. At least 25 percent of the planning and implementation grants would be required to go to community colleges, and priority would be given to minority-serving institutions and those that enroll 25 percent or more of their students as Pell Grant recipients.
The bill would also facilitate data sharing across federal agencies -- including the Departments of Education, Agriculture, Housing and Urban Development, and Health and Human Services -- to identify students who may be eligible for federal aid and assist them in accessing programs like the Supplemental Nutrition Assistance Program, Medicaid, Supplemental Security Income and federal housing assistance and childcare programs.
"That's why the programs exist -- to help people meet their basic needs," Voight said. "And we should make sure that students actually can access them. The data sharing would allow that to happen."
The BASIC Act is endorsed by over a dozen organizations, including the American Association of Community Colleges, the Hispanic Association of Colleges and Universities, IHEP, and the Hope Center.
Momentum has been building over the last five years for a federal-level solution to the challenges college students are facing, said Carrie Welton, director of advocacy and policy at the Hope Center. And it's important to see leaders within the federal government recognize and elevate the basic needs barriers that students face, said Voight.
"It has become increasingly recognized as an important issue, and it makes a lot of sense when you think about the needs of our economy," Welton said. "The vast majority of new jobs being created require some form of postsecondary credential."
This issue is largely related to completion and national competitiveness, said Voight. If students aren't able to complete their postsecondary credential or degree because they can't meet their basic needs, then the United States won't have an educated populace that can compete on a global stage.
"If we are to meet completion goals, if we are to meet our competitiveness goals and if we are to make sure that students can reap the returns from postsecondary education, then we need to address these nontuition costs for students," Voight said.
Any federal support that can go toward helping institutions establish a basic needs infrastructure would be welcomed by Marcheta Evans, the president of Bloomfield College in Bloomfield, N.J. Bloomfield College is a Hispanic-serving institution and New Jersey's only four-year predominantly Black institution. The median family income for the college's students in New Jersey is a little over $30,000.
"It's been a big struggle for them," Evans said. "A lot of my students, pre-pandemic, were dealing with food insecurity and housing insecurity."
During the pandemic, Bloomfield College decided not to completely shutter its campus, because many of the students needed to stay in campus housing. The college was able to use funding from the CARES Act to help meet students' technology needs, and it has two food pantries on campus that are maintained through donations. It's been helpful for students, but the college could always use more resources to do more for them, said Evans.
"If your body is not being fed, it's hard to feed your mind," Evans said. "Getting our students to make sure they have those basic needs taken care of -- that's got to be priority No. 1."
Padilla is pushing for the BASIC Act to be included in a reauthorization of the Higher Education Act, but it is unclear whether that will occur during the 117th Congress. In the meantime, Padilla is working to include a $20 million basic needs pilot program in appropriations language for fiscal year 2022.
"As the crisis of poverty among college and graduate students continues to grow, the BASIC Act is a critical step to expanding higher education access by ensuring that students do not go hungry or struggle to afford basic necessities," Padilla said in a statement to Inside Higher Ed.
And while students were able to receive additional federal support during the COVID-19 pandemic through the Higher Education Emergency Relief Fund, Moore stressed that the end of the pandemic won't mean the end of the affordability challenges that students are facing.
"It will still be challenging for us a couple of years from now," Moore said. "There are a lot of Black and brown students like myself that need the attention and the help. If I need to reach out, I'm going to reach out, and I would want there to be something for us to reach out to, because it's needed."