Delaware State University finalizes acquisition of Wesley College, taking over a 50-acre campus in the downtown section of the capital city of Dover and 14 new academic programs.
(Elizabeth Redden/Inside Higher Ed)
Delaware State University finalized the acquisition of a private college located across town Thursday in what the university says is the first case of a historically Black college or university acquiring another higher education institution.
With the acquisition of Wesley College, Delaware State, a public institution, will take over Wesley's 50-acre campus in downtown Dover, Del., and capital assets appraised at about $32 million. Delaware State will also gain 14 new academic programs, including a master's program in occupational therapy.
What was Wesley College, a 148-year-old private institution affiliated with the United Methodist Church, is now the Wesley College of Health & Behavioral Sciences within Delaware State. The college will offer programs in allied/public health, kinesiology, nursing, occupational therapy, psychology and social work.
No money changed hands in the acquisition. In lieu of a purchase price, Delaware State agreed to take on Wesley's liabilities. The university also agreed to accept all Wesley students in good standing.
To date, 387 former Wesley students have registered to continue their studies at Delaware State, and another 85 students are in the process of registering, according to Delaware State. Together, they make up 77 percent of former Wesley students.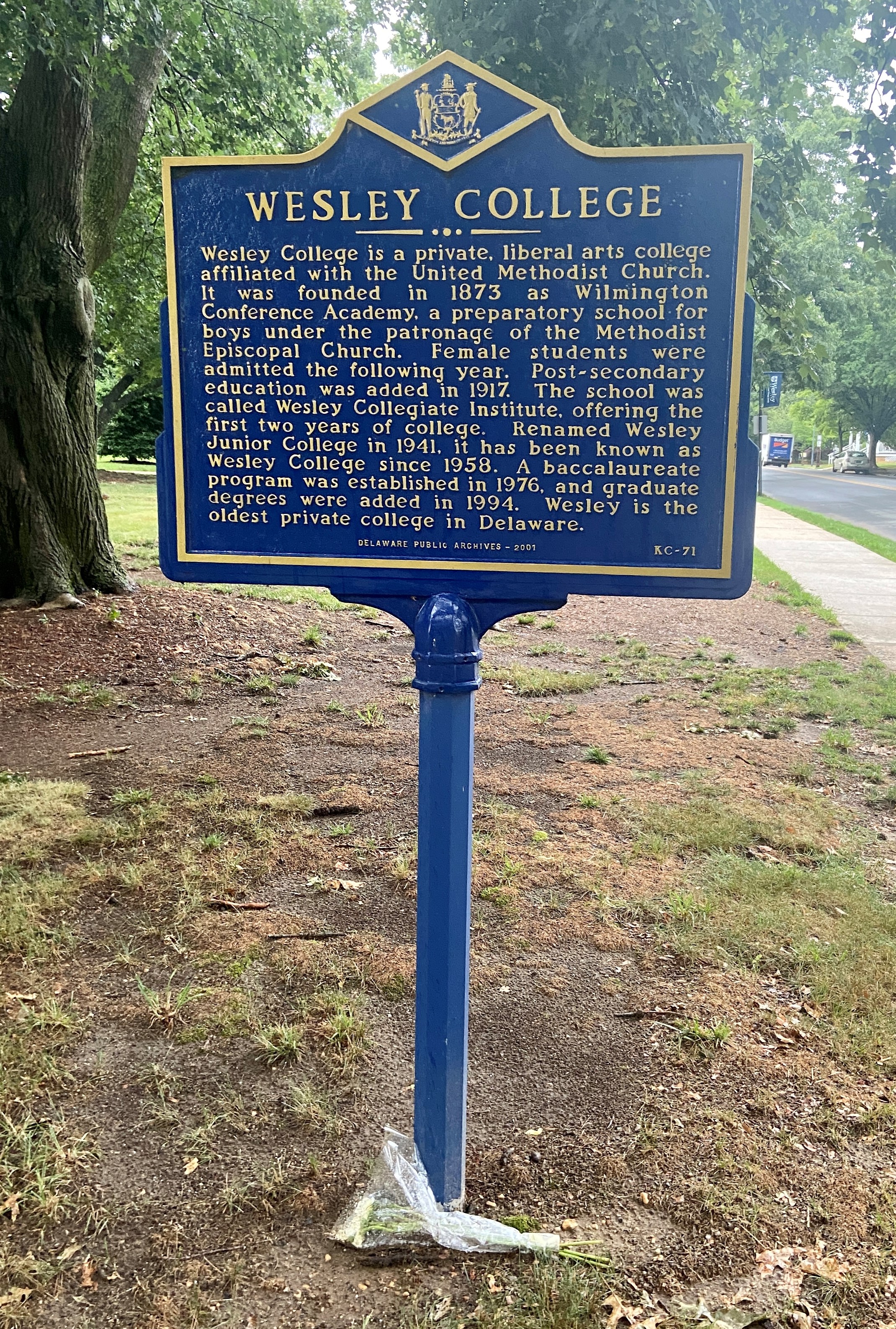 Wesley was a majority-minority institution: in fall 2019, 39 percent of its approximately 1,000 undergraduate students were Black, and 8 percent were Hispanic or Latino, according to the U.S. Department of Education. Thirty-seven percent were white.
A small private liberal arts college, Wesley had struggled in recent years with enrollment losses and finances and was placed on the Department of Education's heightened cash monitoring list in 2019 over concerns about financial responsibility. The college received several infusions of funding from the state of Delaware, which in total contributed about $6.375 million to help keep its doors open, and was in talks with a Florida college about a possible merger before beginning talks with its neighbor, Delaware State.
Delaware State's main campus is located about a five-minute drive from Wesley's campus. The acquisition has involved job losses, as some, but not all, Wesley faculty and staff members made the move to DSU. Delaware State president Tony Allen said more than 60 percent of Wesley faculty and staff -- 71 in total -- had been offered positions at DSU.
Fourteen Wesley professors sued the college in May seeking to block the acquisition, arguing that the college had breached its obligations to tenured faculty members by failing to give them adequate notice of the discontinuance of their programs and by failing to provide proof of financial exigency as required by their contracts.
The local television station WBOC also reported in recent days on concerns that Delaware State will not honor Wesley institutional scholarships. A DSU spokesman confirmed the scholarships will not continue but said students will pay a lower tuition rate at DSU and can apply for financial aid. Wesley's undergraduate tuition rate in the 2020-21 academic year was $26,934, while Delaware State's was $7,038 for in-state students and $16,960 for out-of-state students.
"Let me be clear: 100 percent of the Wesley students will pay less than they would pay at Wesley," Allen said during a press conference Thursday. "One hundred percent."
Victoria Albanese, who just completed her junior year as a multimedia communications major with an art minor at Wesley, criticized the failure to honor Wesley institutional scholarships and the treatment of Wesley faculty who lost their positions.
"I feel like this was the worst transition from one school to the next in history," she said via email. "No information was given out in a timely manner.
"This is my final college year, and I pretty much had no choice but to go to DSU," Albanese said. "I went to Wesley for three years, and I can assure you that I will fight to get that school's name on my diploma, because I did not willingly go to DSU, I went as a last resort … This is the only school that was guaranteed to take all my current credits."
While the acquisition marks an end for Wesley -- and for its cherished Division III sports program -- for Delaware State it represents new possibilities. The acquisition gives Delaware State greatly expanded health-care programs and a new downtown campus in a historic section of Dover.
"We've had some space needs over the past 10 years," said Allen, who added that enrollment has grown by about 40 percent during that time. "We're bursting at the seams."
Delaware State officials said they will be evaluating how best to use the new downtown Dover campus and its 21 buildings. Among the first priorities are expanding the nursing facilities and moving an early-college high school to the downtown campus in fall 2022.
Two legislators said while the acquisition was not pain-free, the outcome was far better than it could have been.
Trey Paradee, a Democratic state senator, referred to numerous efforts he and other state lawmakers made in recent years "to try to keep Wesley afloat, quite honestly."
"As the senator for downtown Dover, my greatest concern is always the students, was always the kids that were affected, or could be potentially affected, and then secondarily I was concerned about what would happen to the Wesley College campus if Wesley was allowed to go under," Paradee said. "It would have radically changed the character of downtown Dover, and not necessarily for the better."
Paradee described the acquisition as "a great opportunity" for Wesley students "to get a quality education at a lower price than they would have had at Wesley."
He added, "If there's any part that has given me a little pause, or has created a little bit of angst, is the fact that not every Wesley staff member and professor can come over … there's been a little heartache and a little pain in this, but ultimately this is a historic opportunity for Delaware State University and a historic opportunity for downtown Dover, and I just cannot wait to see what happens."
Colin Bonini, a Republican state senator and a Wesley alumnus who is married to a DSU administrator, described the acquisition as "a little bit bittersweet, but I think it's going to have a happy ending."
"Wesley changed the lives of hundreds if not thousands of graduates over the years, and obviously [there's] some heartache my alma mater is not going to be officially there," Bonini said. "But it's very exciting. I think about the fact those buildings are still going to have bright young eager minds walking those halls and producing the nurses, producing the coaches, the teachers, I hate to say it, the occasional lawyer … It's very exciting that that's going to happen."
"If you look at what's happening to small private liberal arts colleges all across the country," Bonini continued, "this is a happy ending."
You may also be interested in...
Today's News from Inside Higher Ed
Inside Higher Ed's Quick Takes