You have /5 articles left.
Sign up for a free account or log in.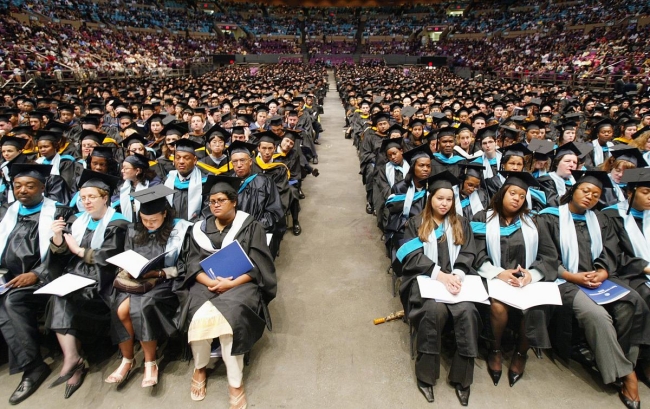 Mario Tama/Staff/Getty Images News
Few people were surprised by a recent report highlighting how heavy nontuition costs were driving low graduation rates among community college students attending City University of New York institutions. The financial burden of paying for such things as transportation and textbooks are well-known by many people at CUNY.
"It just confirmed what I've been hearing over and over," said Alexandra Logue, research professor at the Center for Advanced Study in Education at the CUNY Graduate Center. She said the findings were a valuable and stark reminder of what CUNY community college students go through but also "terrible, old news."
The report released earlier this week by the Center for an Urban Future, a policy research organization focused on economic mobility in New York City, noted that 27 percent of first-time, full-time CUNY community college students graduate within three years, and more than half drop out within that time.
"That means that the vast majority of students that enroll aren't getting the full benefit of CUNY," said Jonathan Bowles, director of the Center for an Urban Future. "CUNY really is the most reliable springboard into the middle class today in this economy, but with more than half of students dropping out before they actually get a credential, you know, we're not fully harnessing this incredible power of CUNY. Too many low-income New Yorkers are seeing their dream of a good job and a better life derailed because they're not finishing."
The report is based on an analysis of data from CUNY and other sources and interviews with more than 50 experts on college persistence and basic needs access, including CUNY staff, faculty and administrators, and about 70 students representing all seven CUNY community colleges.
Two-thirds of CUNY community college students receive federal Pell Grants, and 35 percent receive aid from the state's Tuition Assistance Program, the report notes. Between the two programs, more than 58 percent of all full-time CUNY undergraduates go to college tuition-free. Last year, the average full-time CUNY community college student received about $7,503 in aid. Tuition for full-time CUNY community college students is $4,800 per year, according to the CUNY website.
The report shows how expenses outside tuition nonetheless add up to an extent that many students cannot afford them: textbooks and other required supplies cost $1,364 a year for a community college student, CUNY estimates. A laptop costs about $300, and relatively affordable internet service costs about $500 to $600 a year. Student parents pay about $600 per month for private childcare, according to parents interviewed for the report. A MetroCard -- more than $1,000 a year for full-time students on average -- was the most pervasive nontuition expense that students described as an obstacle, the report found.
Logue, who served as the chief academic officer for the CUNY system for six years prior to her current role, noted the increased national focus on the idea of tuition-free community college, which she supports, but CUNY community college graduation rates prove that covering tuition isn't enough to help students stay in college and earn their degrees.
More than 70 percent of community college students in New York City have a household income of less than $30,000 a year. The average community college student living at home with parents or other relatives needs $10,368 per year to cover the full costs of college, and the average student living independently needs $24,446 per year, according to estimates on CUNY's website.
"You have a lot of students working a lot of hours," Logue said. "You have a lot of students commuting very long distances … With all of this going on, and the food and the housing insecurity and everything else, they have a lot of challenges. Free tuition is great, but they need all these other things, too, all these other supports."
CUNY system leaders have long been aware of the problem posed by nontuition costs and have tried to combat it by launching the CUNY Accelerated Study in Associate Programs, or ASAP, which gives low-income students free textbooks, a MetroCard and extensive advising, said Kingsborough Community College president Claudia Schrader. She described the program as "very innovative" and "highly successful" on her campus.
In the 2019-20 academic year, Kingsborough Community College achieved a 34.3 percent three-year graduation rate, higher than the average for CUNY community colleges. Schrader credits the college's schedule, which is structured to allow students to pack more credits into each year, a "very high-touch" approach to student supports among faculty members and the services provided by ASAP.
ASAP, launched in 2007, now serves 25,000 students, which represents about a third of all full-time associate degree-seeking students across the system. Students in CUNY ASAP had a graduation rate 18 percentage points higher than students not in the program, according to a 2015 study by MDRC, a nonprofit education research organization. The model has since spread to other community colleges across the country, including three in Ohio.
"By providing a comprehensive matrix of financial, academic and personal supports, the program reduces impediments to full time study and helps ensure timely graduation: ASAP students graduated within three years at more than double the rates of non-ASAP students," Frank Sobrino, a CUNY spokesperson, said in an email.
The three-year associate degree graduation rate rose from 17.5 percent in fall 2013 to 35 percent in fall 2019, which Sobrino attributed to the program.
The pandemic has highlighted the need for these kinds of student supports but has also led to concerns about budget cuts to these services. The city budget proposed by Mayor Bill de Blasio for the fiscal year beginning July 1 would cut $10 million from CUNY ASAP, a move criticized by faculty members and students.
"All students should have access to this level of support in order to achieve the dreams they want for themselves and their families," Nathan Lloyd, a CUNY ASAP student at Queensborough Community College, said in a press release from the Professional Staff Congress, the union representing CUNY faculty and staff members.
Bowles, of the Center for an Urban Future, said he was taken aback by students' stories about how they manage their nontuition costs.
"What surprised me was how many CUNY community college students are making daily trade-offs about going to school or jumping a turnstile or deciding to go without a textbook for a couple months because they can't afford it at the start of school or how many students are trying to work almost a full-time job while taking on a full course load. It's no wonder that some of these students drop out," Bowles said.
The report recommends expanding the ASAP program to all CUNY students, which would cost an estimated $86 million in additional annual funding. It also calls on lawmakers to fund more childcare centers, sustain laptop and hotspot loan programs, and expand the state's Tuition Assistance Program to part-time students, among other policy suggestions.
Logue said lawmakers need to prioritize helping students with nontuition costs and getting them through college as quickly as possible so there's less time for a crisis, like a lost job or unexpected responsibilities at home, that heightens their financial strains and puts their education in jeopardy. She noted that the pandemic caused those crisis points for many students.
"I just hope we continue to collect good data so that we can see the problems," she said. "We have to face the data and face our problems if we're going to fix this."