You have /5 articles left.
Sign up for a free account or log in.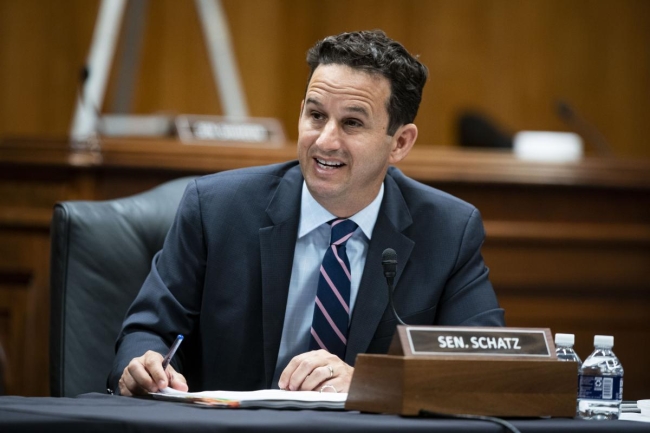 As momentum grows around providing students with supports that foster retention and completion, a bill seeking to address one of the biggest hindrances in bringing these types of programs to community colleges has been reintroduced in the Senate, with a path forward appearing to be clearer than in years past.
The Community College Student Success Act was reintroduced last week by Democratic senators Brian Schatz of Hawaii and Sherrod Brown of Ohio to provide what many community colleges need most to develop robust student support services: funding.
The bill has been introduced in previous sessions, and the latest version doesn't have any substantial changes. It would authorize $10 billion in grant funding over a decade for planning and executing comprehensive wraparound services -- like free tutoring, textbooks and transportation -- for full-time students at community colleges. Meanwhile, $5 billion would be authorized to provide the same services to part-time students.
David Baime, senior vice president for government relations and policy analysis at the American Association of Community Colleges, said the authorized amounts would be a "substantial investment" and could go a long way in addressing student and institutional resource gaps.
"The wraparound services -- academic counseling, financial and other supports that students require -- are not inexpensive," Baime said. "A designated federal role in helping our colleges meet these students' needs is a wise investment that we think complements the federal investment in student financial aid."
The legislation mandates that colleges provide eligible students with personalized academic, career and personal advising, as well as additional financial aid to cover need that's been unmet by other sources.
"When we provide targeted support services to community college students, it helps them graduate on time," Schatz said in a release. "We know this works because some schools are already successfully doing this."
As the bill looks to advance, President Biden's American Families Plan may offer the best vehicle, since it proposes funding for college retention and completion programs that align with what the Community College Student Success Act does, according to a person familiar with the bill's possible trajectory. Biden is currently looking to push his plan through Congress using budget reconciliation, a procedural measure in the Senate that would allow the legislation to pass with only Democratic votes.
It would be a good first step to helping community colleges that have faced enrollment declines as a result of the pandemic not only get students back into the classroom but also back on track to earning their degree or credential, said Emily Bouck West, deputy executive director at Higher Learning Advocates, which has indicated its support for the bill.
"These basic needs have risen to the top in our conversations around higher education in the last couple of years, and I think that's for a great benefit," West said.
The types of programs the legislation would fund would take a comprehensive approach to supporting students throughout their academic career instead of only in their first semester or first year. Those highly robust programs have been found to double students' likelihood of graduating with a two-year degree, said Alyssa Ratledge, a research associate at MDRC, a nonpartisan education and social policy research organization that has studied evidence-based comprehensive student success programs.
One program stood out as a model when policy makers were initially developing the legislation several years ago, with Representative Grace Meng, a Democrat from New York, taking the lead on it in the House: the City University of New York's Accelerated Study in Associate Programs, or ASAP. And that's still true -- a press release for the legislation states the grant program would be established for community colleges "to replicate the CUNY ASAP-style completion programs" or others similar to it.
CUNY's ASAP offers a number of supports to the community college students it serves, including free public transportation, assistance with the cost of textbooks, a dedicated adviser from enrollment to graduation and special class registration options, among others. It began in fall 2007 and has served over 70,000 students across 14 cohorts with great success -- recent data show that students in ASAP are twice as likely to graduate in three years, compared to those who aren't in the program.
"It's changed what students think, see and realize is possible, and I think it's also changed what institutions and systems see is possible when following a very specific, evidence-based set of practices," said Donna Linderman, associate vice chancellor for academic affairs at CUNY.
Outside of how ASAP has improved student outcomes, what's notable about the program is that it provides a clear model that can be adapted and replicated at other community colleges, said Linderman. So far, 10 colleges in five states have adapted the ASAP model.
"We have a very specific set of benchmarks we work towards, clear definitions of all of the services we deliver, a very rigorous data management and tracking system -- so that everyone is clear on what they're doing, when, for whom and how -- and robust training and professional development for everyone involved," Linderman said. "It is comprehensive, but with a clear road map and the right supports, many colleges are indeed replicating it."
But even with a clear road map, it's not always easy for community colleges to replicate ASAP or other programs similar to it. As MDRC has found in its research, institutional leaders are grappling with how to best adapt particular programs for their specific student population and how to identify and serve the students who would most benefit from the services, said Ratledge. However, most often, the biggest barrier is the cost.
"Even if the program reduces the cost per graduate -- so more students are graduating -- there's still a really large up-front investment," Ratledge said. "And it can be really challenging for two-year colleges who are already underfunded to find the money to create these new programs."
And that's where the federal government has a role to play, said Baime.
"It's a very high priority for our institutions, and we're hoping Congress passes something in this area and the president signs it into law," he said.