You have /5 articles left.
Sign up for a free account or log in.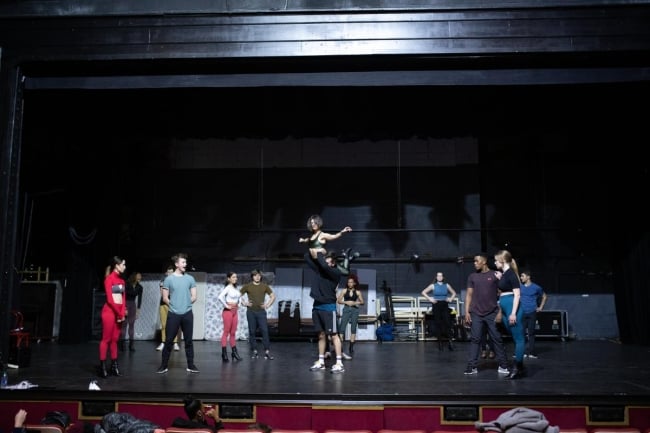 Courtesy of Norwalk College Conservatory
A brand-new performing arts college is preparing to open in Norwalk, Conn. -- just a ninety-minute train ride from Broadway in New York City.
The Norwalk Conservatory College will be run by the founders of the Norwalk Conservatory of the Arts, a nonprofit organization started in 2018 by Broadway performers Danny and Ricky Loftus George that offered theater classes to students from different colleges and universities. The two have spent the last three years developing a college curriculum and preparing to launch an accredited, four-year performing arts college. The conservatory plans to welcome its first class of students to live and study at its Connecticut campus in August 2022.
The rate of college mergers, acquisitions and closures was hastened by the COVID-19 pandemic. At a time when the higher education landscape appears to be shrinking, it's unusual to hear about a new institution opening up, said Deborah Obalil, president and executive director of the Association of Independent Colleges of Art and Design. But getting its doors open will not be Norwalk's biggest challenge, she said.
"It's not a hurdle to open, but I would say it's a hurdle to sustainability," Obalil said.
The college has a long way to go before it becomes a sustainable four-year institution. It must operate for two years before it can even begin the accreditation process. The conservatory cannot grant degrees while it awaits accreditation and will offer two-year certificates to undergraduates and one-year graduate certificates in the interim. The college's current curriculum is designed to condense a four-year program into a two-year time frame and a two-year graduate degree into one year.
College officials are also working on a myriad of other projects to get the institution up and running, including renovating a historic theater, building student housing, fundraising for an endowment and putting together an advisory board.
Norwalk's first class will include 75 students. Applications will be accepted starting Aug. 1, and auditions for the program will be held in January.
Demand for performance and visual arts education was growing nationally prior to the pandemic, Obalil said. It's possible that the rise in demand will continue, but it's too soon to say whether the pandemic dampened enrollment at arts institutions over the past year.
Danny Loftus George, co-founder and president of Norwalk, is not worried about attracting students. He's hopeful the college's lineup of all-star faculty members will draw students to apply. The conservatory faculty is made up of more than a dozen professionals with years of experience in the theater world.
"Our faculty are some of the biggest directors and choreographers working in the industry," Danny Loftus George said. "I think most students will see the value in that."
Many of the Norwalk faculty members don't have master of fine arts degrees, which accrediting agencies require of college professors, Danny Loftus George said. That means the conservatory will have to reshuffle faculty members once it's accredited. Some professors will be moved to adjunct positions. The college may also petition the accrediting agency to allow some faculty members to stay on without M.F.A.s.
"Some people we can make cases for with the accrediting body and some we can't, but we'll definitely have to cross that bridge when it comes," Danny Loftus George said. "We are always trying to find those with M.F.A.s that are currently working in the field at a very high level."
Tuition at Norwalk will cost $35,000 annually. Because the conservatory is not yet accredited, students accepted into the program will not be eligible for federal financial aid or Pell Grants. College officials hope to raise enough money to support some student scholarships, and they will also help students secure private loans through Sallie Mae. The amount students pay out of pocket will vary based on available scholarship funding.
Without access to federal financial aid, it could be difficult for some students to attend the conservatory, Obalil said.
"Any institution that cannot access federal financial aid support is automatically self-selecting into a certain demographic of students," she said. Low-income students who rely on federal aid or Pell Grants may not consider Norwalk.
Danny Loftus George is hoping that scholarship funds will help address that concern.
"The more scholarship money we have, the better. I'd love to be able to provide training to kids from everywhere at an affordable rate," he said.
Norwalk classes will be held in a historic theater building in downtown South Norwalk, which was built in 1914 and has hosted performances by Harry Houdini and Ella Fitzgerald. Restoring the building to bring it up to 2021 standards has been a challenge, said Kate Guthrie, director of development at Norwalk.
"We are learning a lot in terms of historically renovating the theater to bring it back to its glory," Guthrie said.
Restoring the theater is the largest financial hurdle the college currently faces. Completing the project will require between $10 million and $15 million. The conservatory is fundraising to finance the project and has received funding from a variety of other sources including local, state and federal financial assistance, grants and tax credits. College officials declined to share how much money they've raised so far.
Norwalk is putting together an advisory board, which will govern the college and weigh in on everything from program structure to institutional budgeting and spending to the ongoing theater renovation. The board is small -- five members are currently listed as board members on the college's website, but Guthrie said the college will eventually settle on six to 10 members.
"We really don't want to extend past six to 10 people, because the most effective boards are really a small group of action-based individuals," Guthrie said.
While the COVID-19 pandemic hurt many higher education institutions, Danny Loftus George said the forced slowdown caused by the public health crisis allowed college officials to move up their timeline for opening the institution.
"We were doing a million things, and it made us slow down and reorganize and really push this further along," Danny Loftus George said.
During the last academic year, the conservatory continued its in-person theater classes and required each student to get three COVID-19 tests and quarantine for two weeks upon arrival. No student tested positive for COVID-19 throughout the academic year.
"It felt like we were living in a bubble. It was just so cool," Danny Loftus George said.
The town of Norwalk, where the conservatory is located, has been very supportive of the new college, according to Danny Loftus George. The town is a two-hour drive to midtown Manhattan, and it has a growing arts scene.
"There's a real eye on Fairfield County for arts and culture right now, as so many New York City residents have relocated to Connecticut and to Fairfield County," Danny Loftus George said.