You have /5 articles left.
Sign up for a free account or log in.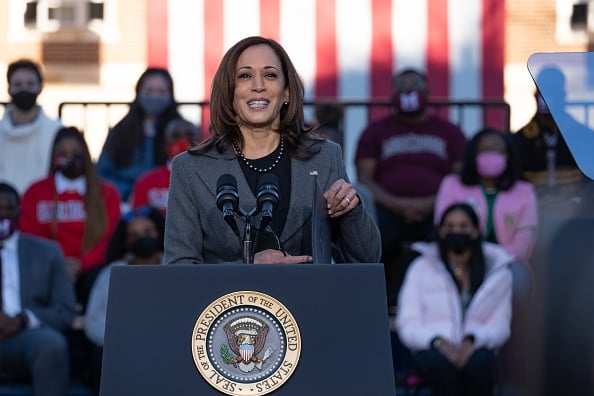 Megan Varner/Stringer/Getty Images
The Education Department will automatically discharge $5.8 billion in federal student loans owed by over 560,000 borrowers who attended any campus operated by Corinthian Colleges, a for-profit education company that was found guilty of defrauding students.
Vice President Kamala Harris will be announcing the group discharge at noon today.
This is the second mass group discharge of federal student debt accumulated by students who attended predatory for-profit colleges in history, following the group discharge for 28,000 students who attended Marinello Schools of Beauty by the department in April. The Corinthian discharge is 20 times larger than that of the Marinello Schools, making it the largest group discharge of student debt in history.
Once one of the largest for-profit education companies, Corinthians enrolled nearly 110,000 students at 105 campuses in 2010.
"As of today, every student deceived, defrauded and driven into debt by Corinthian Colleges can rest assured that the Biden-Harris administration has their back and will discharge their federal student loans," said Education Secretary Miguel Cardona. "For far too long, Corinthian engaged in the wholesale financial exploitation of students, misleading them into taking on more and more debt to pay for promises they would never keep."
In 2013, Harris, at the time serving as California's attorney general, sued Corinthian for predatory practices. The Education Department joined the investigation two years later. Their joint findings revealed that Corinthian was misrepresenting job placement rates across hundreds of programs, misleading students about their job prospects after graduation.
In 2015, the Education Department fined Corinthian Colleges $30 million for misrepresenting job placement rates, which sank the for-profit education company into bankruptcy weeks later, and it closed its 28 campuses, which enrolled nearly 16,000 students at the time.
After Corinthian closed, the federal government allowed students who did not complete their programs to apply for debt relief under the borrower defense to repayment law. However, due to a lack of communication from the Department of Education and the complicated nature of borrower-defense claims, many students did not know how to achieve such relief.
Corinthian is just one of many for-profit colleges that have been caught using fraudulent advertising, which makes their programs look more promising than they are in reality, to attract vulnerable populations, such as low-income and minority students, veterans, or single mothers, to their programs.
A group of 15 former students who went into significant debt attending Corinthian Colleges went on strike in 2015 by refusing to pay back their student loans to bring awareness to the predatory practices that led these students into debt. This strike grew to more than 1,000 students advocating for their debts to be relieved by the federal government.
Members of the group, who call themselves the Corinthian 15, spoke Wednesday about the announcement alongside the Debt Collective, an organization that advocates for debtors and that helped the Corinthian students apply for debt relief.
"I am happy that our loans are being discharged, but the battle is not over. There is way more that we have to do, and at the end of the day, this took too long. I struggled for years because of this," said Latonya Suggs, one of the original Corinthian 15.
Although 100,000 former students of Corinthian institutions have been able to get their loans forgiven through borrower-defense claims, this action by the Biden administration will allow students to have their debts automatically forgiven, with no need for the borrower to take any individual action.
Former Corinthian students with outstanding debts can expect to receive a notification from the Education Department that their remaining loans will be discharged. According to a senior Biden administration official, borrowers will be refunded on past payments if they still have an outstanding balance. However, borrowers who have fully paid off their loans will not be refunded.