You have /5 articles left.
Sign up for a free account or log in.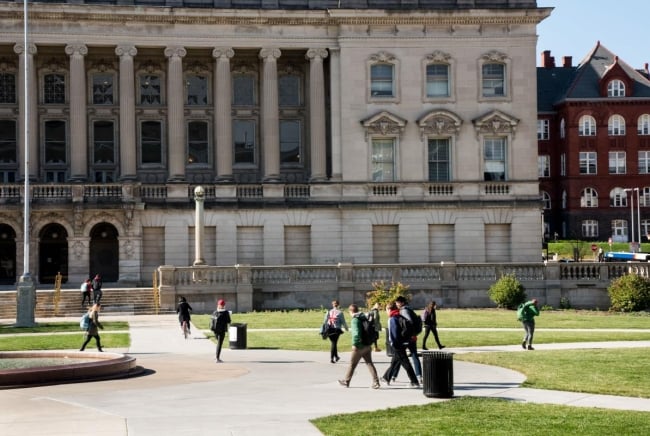 Universal Images Group Editorial/Getty Images
Students at the University of Wisconsin at Madison are calling on the administration to take action after a doctoral student from China was reportedly punched and kicked by a group of men while walking in downtown Madison near campus.
John Karl Scholz, interim chancellor of UW Madison, said in a statement last week that the incident was one of "a series of violent and aggressive attacks that have affected University of Wisconsin, Madison students and have touched many on campus, especially our Asian, Pacific Islander and Desi American (APIDA) and Asian communities."
A Chinese undergraduate had a banana repeatedly thrown at him that same night, June 14, and reported injuries from the encounter, according to the statement. Madison police also reported to university officials that another attack occurred in the area on June 12 in which the victims were a white male with no connection to campus and a Latino undergraduate who went to the hospital for his injuries. The same four suspects, who have been arrested by Madison police, are believed to be connected to all of the attacks.
An incident report from the City of Madison Police Department about the battery of the doctoral student said detectives have "no information that leads them to believe this attack is racially motivated at this time." Campus administrators and police echoed this message in a campus safety update on June 22 while acknowledging fears and concerns Asian students might be feeling.
"While we don't have evidence these incidents were motivated by race, we know that each time incidents like these occur, it has an impact on the well-being of all our students, and particularly our Asian, Pacific Islander and Desi American students, faculty, and staff, and other communities of color," the statement read. "We are committed to creating a safe community at UW–Madison where everyone feels they belong, and we know we have more work to do."
The campus held two Zoom events to provide virtual support to Asian students last week. Campus police and Madison police also increased their presence in the downtown area.
Students do not appear to be reassured. An open letter, signed by a variety of student groups, the student government association, individual students and faculty and staff members, emphasized that the incident had an "adverse impact" on "Asian Americans, Pacific Islanders, and Desi Americans" on campus. Meanwhile, a public petition, signed by more than 2,500 people, raising similar concerns continues to garner signatures.
"We are appalled, devastated, and enraged by this abominable incident," the open letter read. "Many of us were shocked because this attack took place on one of Madison's busiest streets, where our friends and families live and walk by every day. What is worse, this is far from an isolated event. We have witnessed increasing anti-Asian racism on campus and across the country in the past few years."
The letter questions university and police officials' assertion that the recent incidents were not motivated by racism and calls that conclusion "incompatible with what we have learned from multiple credible sources, including victims themselves." It demands that campus police, Madison police and the Dane County District Attorney's Office "investigate the case more thoroughly, fairly, and swiftly," and that the university penalize the attackers if they're found to be affiliated with the campus.
It also asked that the administration "work on a systematic measure to prevent the occurrence of similar events" and be transparent about how it plans to respond to violent or discriminatory incidents in the future. The letter also calls for a mandatory diversity, equity and inclusion course for all students, faculty and staff members.
"During this trying time, we need clarity, understanding, and most importantly, concrete actions, as soon as possible," the letter reads.
The incident comes at a time when anti-Asian hate crimes have been on the rise.
Russell Jeung, co-founder of Stop AAPI Hate, a nonprofit that tracks discrimination and harassment against Asians and Pacific Islanders in the U.S., said nearly 11,000 incidents have been reported to the group since March 2020, when the pandemic was declared a national emergency. A fifth of Asian Americans said they had experienced a hate incident between March 2020 and September 2021. A Pew Research Center report, released in May, also found that a third of Asian Americans changed their daily routines out of fear of rising attacks.
"Since the start of COVID-19, there has been a surge of racism against Asian Americans, especially East Asians," said Jeung, who is also a professor of Asian American studies at San Francisco State University. Former president Donald Trump calling COVID-19 the "China virus," and his rhetoric about its Chinese origins, "scapegoated Asians for being the source of COVID-19, and I think a lot of other Americans directed their fear and anger about COVID toward Asians."
While hate crimes against Asians in the U.S. are not new, "this really is a period of collective racial trauma," he added. "A lot of us have heightened anxiety, hypervigilance, anger—that's our trauma responses."
Two years into the pandemic, he continues to see it as a driver of discrimination against Asians.
"There's still a lot of outbreaks. There's still a lot of fear about COVID-19," he said. "There's still a lot of anger about the economic conditions of the U.S., and there's over a million people who died and there's a lot of grieving. I think a lot of that emotional pain gets focused on Asians as the blame."
The blaming and scapegoating have led to concerns among Asian students across the country who have faced anti-Asian cyberbullying, verbal assaults and an array of microaggressions, Jeung said.
However, he also noted that these kinds of incidents have spurred activism among Asian students, who have pushed for expanded ethnic studies programs and more Asian American studies faculty members on campuses and had their demands met.
"There is a proactive response," he said.