You have /5 articles left.
Sign up for a free account or log in.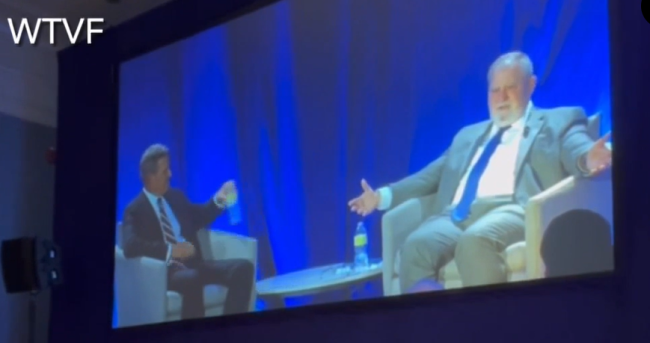 Governor Bill Lee of Tennessee has come under fire from teacher groups and education leaders in his state for sitting by as the president of Hillsdale College—who is advising him on education policy—referred to teachers as being trained "in the dumbest parts of the dumbest colleges."
Lee is among the Republican governors who are turning to Hillsdale and its president, Larry Arnn, for advice on education policy. As an institution that describes itself as a small, Christian, classical liberal arts college that shuns federal funding and "social justice," Hillsdale has built a national network of charter schools and has become influential with conservative politicians such as Governor Ron DeSantis of Florida.
In Tennessee, Lee has planned for Hillsdale to help it expand the role of charter schools, which has led civil liberties groups in the state to question the Michigan institution's strong religious orientation and other critics to cite Arnn's controversial past statements about race.
With that backdrop, a local television station's published last week edited video footage from a private event at which Arnn, with Lee seated and listening quietly at his right, describes teachers as being trained "in the dumbest parts of the dumbest colleges in the country." (Teacher education programs have come under criticism for having lower academic standards than many other programs at their institutions.)
Elsewhere during his talk, Arnn said that teachers "are taught that they are going to go and do something to those kids … Do they ever talk about anything except what they are going to do to these kids?"
Arnn also said that colleges were hiring significant numbers of diversity officers who were trained by those same education schools. Why? "It's easy. You don't have to know anything."
The video also shows Arnn making this comment: "And the administrators you hire are all diversity people, and that helps you, by the way, with your federal requirements that you have a certain number by color." There are no federal requirements or quotas mandating that colleges hire specific numbers of administrators from underrepresented groups.
Reaction From Tennessee
Criticism came fast and furious from teacher education groups and college leaders in the state.
The Tennessee Association of Colleges of Teacher Education, which represents teacher preparation programs from across Tennessee, said in a letter to Lee that Arnn's comments "insult Tennesseans dedicated to teaching and learning, as well as thousands of students across the state attending programs with the goal of becoming professional educators … Devaluing and insulting these educators is not in the best interest of Tennessee's children, economy, or reputation." It urged Lee to "speak out now in defense of teachers and professional educators."
The Tennessee Independent College and University Association issued a statement in which its president, Claude Pressnell, called Arnn's comments "both uninformed and deeply offensive."
In a statement, Lee's office said, "Governor Lee has been an outspoken advocate for Tennessee public school teachers by raising their pay each year in his term … Under Gov. Lee, the future of public education looks like well-paid teachers and growing a workforce to support our students and build the profession."