You have /5 articles left.
Sign up for a free account or log in.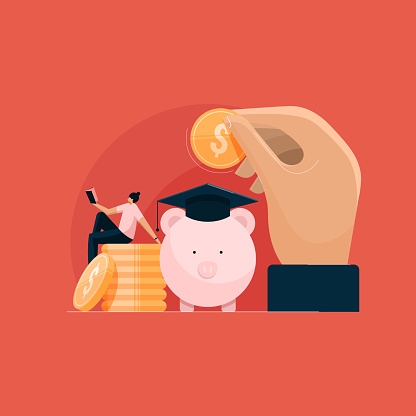 Getty Images: uniquepixel
Most Americans agree: there is increasingly limited value to higher education.
Over the last decade, the American public has increasingly lost confidence in the economic benefits of a college degree. Americans across the political spectrum are questioning whether a college degree is worth it in the face of an economy that they view as benefiting the rich at the expense of the lower and middle classes.
A new study from Public Agenda, a nonpartisan research organization, released Monday reflects several public opinion surveys across the years that demonstrate increasingly pessimistic attitudes on the value of higher education. The study shows that most Americans are concerned with affordability, access and the overall payoff of a college degree. Among the most skeptical were young Americans without college degrees.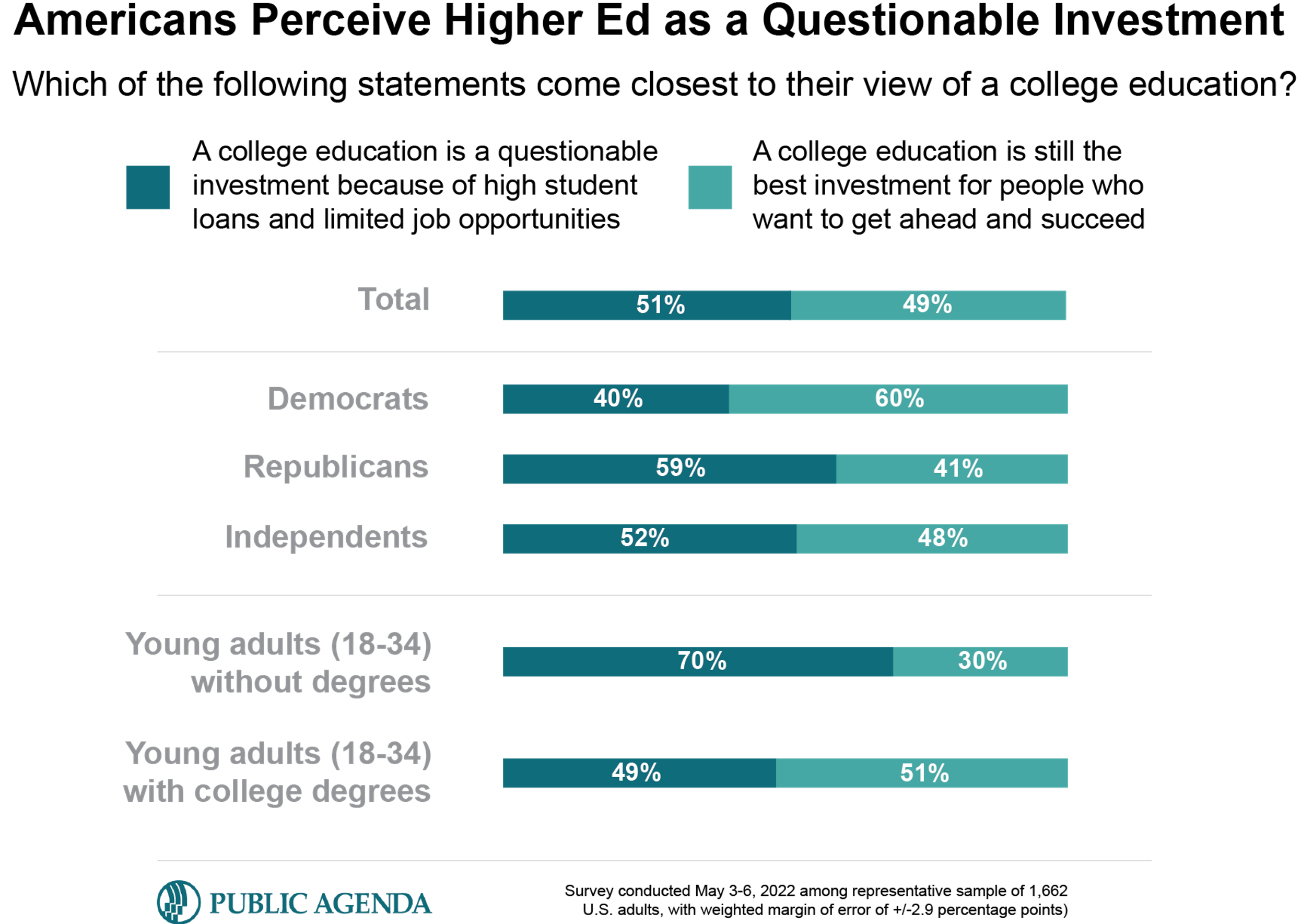 The results of the survey highlight the connection between the perceptions of the state of the economy and higher education. Although Democrats and Republicans remain divided on how to address college access and affordability, most agree that access to college is limited due to rising costs.
"Some people went to college for four years and then don't even have a job with the degree they have. It's money wasted and time wasted. I think college is very overrated and overpriced. The amount of people that go to college and the people that drop out doesn't add up," said a 20-year-old Black female respondent from Tennessee with some college experience but no degree.
Pessimistic Views
As tuition prices and student debt rise across the country, many Americans on both sides of the political spectrum believe that colleges are not addressing the financial need of their students. Inadequate financial aid and student debt were both seen as serious problems in higher education that are limiting students' opportunity.
Two-thirds of Americans, 67 percent, believe that although many people are qualified to attend college, the opportunity to do so is limited, a trend that has grown increasingly pessimistic since 1993, according to the survey.
Both Democrats and Republicans held negative views on the state of the economy and of higher education. Majorities of respondents—65 percent of Republicans and 81 percent of Democrats—agreed that the economy is rigged in favor of the rich. Additionally, 66 percent of respondents said they believe colleges are "stuck in the past" and do not meet the needs of the current student population. Democrats were 13 percentage points more likely to agree with this statement.
Democrats and Republicans agreed that insufficient financial aid was not only making it harder for lower-income students to attend college, but middle-class students as well. Over all, 78 percent of respondents agreed that financial aid does not adequately cover the cost of attendance for low-income students. In addition, 76 percent agreed middle-income students could not afford college because their parents earned too much money for them to qualify for financial aid.
Partisan divides did exist, however, on the impact of race on access to higher education. Although a majority of respondents over all agreed that there should be additional state investment to address racial disparities in higher education, only 24 percent of Republicans agreed that racial discrimination makes it harder for students of color to get a college degree, compared to 72 percent of Democrats and 49 percent of Independents.
Although only 54 percent of Republicans agreed that colleges should provide scholarships specifically to students of color to help them complete their degrees, compared to 86 percent of Democrats, there was greater support for state investments into institutional resources to help students of color make it to graduation. For example, 63 percent of Republicans and 89 percent of Democrats believed that states should invest in guidance and advising to help students of color complete their degrees.
There was far greater bipartisan support for state investments to help low-income students. Over all, 78 percent of respondents regardless of political affiliation believed there should be more state investments to colleges that educate high populations of low-income students. This included increased financial aid for low-income students (89 percent of Democrats and 78 percent of Republicans), guidance and advising to help low-income students reach graduation (90 percent of Democrats and 81 percent of Republicans), and increased oversight of colleges that are doing an insufficient job of serving low-income students (78 percent of Republicans and 84 percent of Democrats).
Views on Public College
The study focused particularly on views of public colleges, including state colleges and universities and community colleges. Americans generally supported increasing state funding for public colleges, including community colleges, with 61 percent agreeing that it would be worthwhile for their state to invest more in these institutions. However, views on increased public funding were more enthusiastic when asked about specific programs.
Community colleges were viewed as a more worthwhile investment compared to other public universities, both for students and states. Community colleges were viewed as being particularly useful for students who have not yet identified their career path and need to explore available options.
Across the political spectrum, 57 percent of respondents said community colleges were more affordable and helped students get an education in a timely manner, while only 28 percent thought the same for public four-year colleges and 20 percent for the most selective public universities.
Funding for specific initiatives from the state to improve public college programs and affordability had greater public support than general funding for higher education. This demonstrates that when Americans know where their taxpayer dollars are being spent, they are likely to be more supportive of public investments in higher education, as the Public Agenda study concluded.
For example, 86 percent agreed that public colleges should be required to inform students about how much debt they are taking on, 79 percent supported tax incentives for employers who help pay for their employees' tuition, 77 percent agreed there should be interest-free student loan options and 69 percent agreed borrowers should pay back their student debt based on a percentage of their salary.
There was broad-based support for state funding to create and expand specific programs like internship and training programs, workforce training and certificate programs, short-term credential programs, and K-12 partnerships.
Other public policy initiatives, however, did not have broad support. Free college was supported by 57 percent of Republicans and 68 percent of Democrats, and an increased tax on the wealthy to fund public college was supported by 53 percent of Republicans and 84 percent of Democrats.