You have /5 articles left.
Sign up for a free account or log in.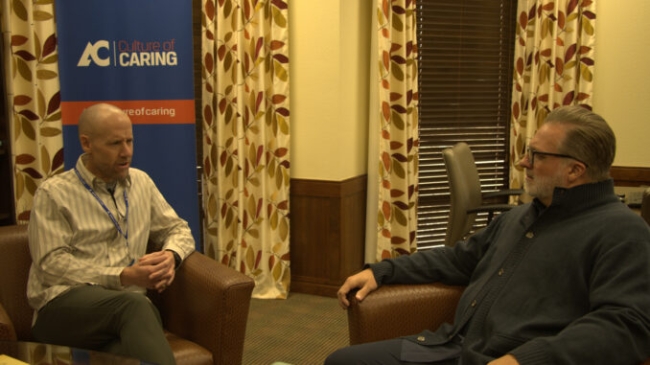 Adam Gray was instantly intrigued the first time he heard the term "corporate chaplain." After working as a pastor full-time for 25 years at Central Church of Christ in Amarillo, Tex., Gray couldn't stop thinking about it.
"I wasn't looking for a job change or really looking to leave my church, but when I heard about this idea about being a corporate chaplain, it struck me, and then, like two weeks later, I'm still thinking about it," Gray recalled.
It was fall 2020, and he knew he wanted to try being a corporate chaplain, but not in a corporate setting. Gray felt inspired to instead become a chaplain at Amarillo College and help faculty and staff of the two-year institution with their mental health struggles.
He resigned from his pastorship with the blessing of the church's leaders ​and waited roughly six months before fully pursuing a career in corporate chaplaincy. He used the transition period to get training and certifications in employee wellness and stress management, among other areas, and then in June 2021 founded his company, InnerWell, which offers life coaching, corporate chaplaincy and proactive "soul care" services.
Meanwhile, Amarillo College had launched an initiative in the wake of the pandemic to determine the mental health status of students and the resources available to help them address mental health challenges.
Gray was more interested in the mental health of faculty and staff members. He believes it's just as important for colleges to be cognizant of what their employees are feeling or experiencing.
"What I was most passionate about was not necessarily being a chaplain for students," he said.
Gray eventually reached out to the institution's president, Russell Lowery-Hart, to discuss creating a corporate chaplain position at the college. Lowery-Hart thought it was a great idea and used federal pandemic relief funds to create the contracted position, according to William Ratliff, the college's director of organizational development.
"The timing couldn't have been more perfect," Gray said.
He started in the nonsectarian position in December 2021 and formally introduced himself to faculty and staff members in a letter the following month.
"We have all personally experienced significant stress, anxiety, change, and loss in the past couple of years during the pandemic," he wrote. "And our personal challenges have the potential to affect us at the workplace, and vice versa. It's even more difficult to navigate this difficult and sometimes lonely season if there is not a pathway to process or share with others what is going on with you.
"My goal as your Chaplain is to connect with and support you and your family in any way that I can. You will begin to see me on your campus regularly for me to simply walk around and say hi and get to know you. And if you feel comfortable and are ever interested, you are welcome anytime to pull me aside for a few minutes to talk, or we can set aside a time during the workday or after hours if needed."
As the college's only chaplain, Gray makes daily rounds across all five of the institution's campuses. He goes from building to building, striking up conversations with faculty and staff members, asking how they're doing and building relationships along the way. He also makes himself available for private, one-on-one conversations about daily stressors or personal adversities employees may be facing.
Corporate chaplains are not common in higher education, but university chaplains are frequently used as a resource provided to students. Supporters of the position say providing corporate chaplains for faculty and staff is a good investment for colleges and universities.
"​​What some colleges don't understand is that you have to take care of your staff to the utmost of your ability if you want them to continue to go above and beyond for the students who they're trying to help navigate the system," said Melodie Graves, associate director of academic advising at Amarillo.
Graves has struggled with depression and considers her sessions with Gray to be a "godsend" that helped her get through her mental health struggles.
"I can't imagine life without him," she added. "I tend to be a person who puts myself on the back burner, and he's really been instrumental in helping me to understand that I can't give good service if I'm not first taking care of myself."
Graves said Gray obliged when she asked him to pray with her.
Jacqueline S. Llewellyn, an instructor and dual-credit coordinator in the Department of Speech Communication, was initially skeptical about Gray's services, which were offered to faculty and staff members as a new health benefit. But she decided to meet with Gray first before making a judgment.
"I'm so glad that I did, because I had such a wonderful experience, and I think it's really a great benefit offered to us, and just personally I'm very happy to know Adam," Llewellyn said. ​"I felt completely re-energized after visiting with him and relieved in a sense of things I've been carrying—there were things bothering me outside of the classroom, and I felt better able to go into the classroom without bringing any of that into it."
Only 7 percent of employees contact a mental health professional when they're experiencing stress or emotional problems, whereas employee usage rates for chaplains are above 50 percent nationwide, according to a report by Marketplace Chaplains, a Texas company that provides businesses with chaplains. Companies are responding to the growing embrace of chaplain services and are now hiring corporate chaplains to support employees, according to the report. Corporate Chaplains of America, a North Carolina company, says on its website that it provides chaplaincy services to 500,000 employees and their families nationwide at companies with "as small as a few dozen employees and larger than ten thousand."
Gray provided crisis care services after an employee in the registrar's office at Amarillo passed away. The department's director reached out to Gray, who spent the day in the department providing grief counseling.
"He's just here to be a friend, to be that listening ear and be someone you can share those difficult moments with," Ratliff said of Gray. "I think that definitely can be a benefit for any college or university."