You have /5 articles left.
Sign up for a free account or log in.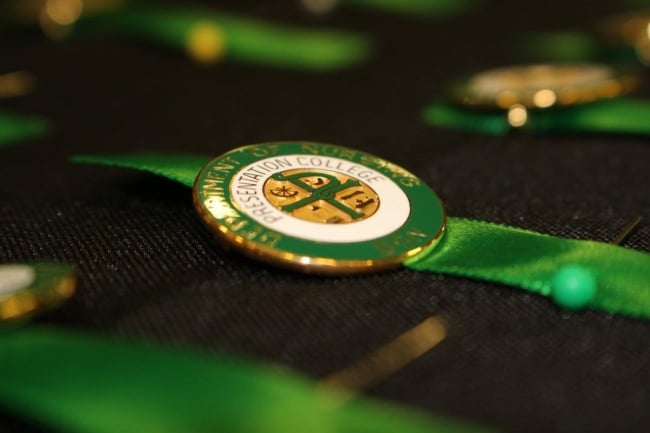 Presentation College/Facebook
Presentation College in South Dakota announced its impending closure this week, making it the latest higher education casualty in a sector squeezed by slumping enrollment and rising costs.
The announcement, made Tuesday afternoon, noted that the private Roman Catholic institution will close "after careful evaluation of the sustainability of the College's academic programs, and a thorough review of alternatives," according to a statement from campus officials, who noted that the institution will immediately cease enrolling students and officially wind down after the summer semester.
"We understand and share the heartbreak by our students, faculty, staff, alumni, and Aberdeen community, and we will work closely with them to succeed through this transition," Sister Mary Thomas, president of the Presentation Sisters Corporate Board, said in the statement.
Presentation College joins several institutions that announced closures in December, including Cazenovia College, Holy Names University and Living Arts College. Cazenovia, struggling with enrollment, missed a $25 million bond payment in September, which led to its closure. Holy Names, which also suffered from enrollment declines, cited rising operational costs and the challenges of the coronavirus in its closure announcement. The for-profit Living Arts College closed abruptly after the shutdown of the embattled Accrediting Council for Independent Colleges & Schools and blamed the federal government for its demise.
While many of the colleges that announced closures last year cited the coronavirus, in part, for putting them out of business, experts note that federal government funding during the COVID-19 pandemic may have kept many institutions alive. Now that the spigot of federal relief funds has been shut off, higher education observers believe that other embattled institutions may ultimately succumb to closure, a path that many were on prior to the pandemic.
And in a higher education world divided into haves and have-nots, analysts see particularly choppy waters ahead for nonselective private nonprofit institutions and increased operational challenges for underfunded regional public universities.
Plans for Presentation College
Presentation College has been a fixture in the small town of Aberdeen, S.D.—population 28,324—for more than half a century. Founded in 1951, it draws its name from its sponsors, the Sisters of the Presentation of the Blessed Virgin Mary.
Recent federal data shows that Presentation enrolled a total of 577 students in fall 2021. A decade earlier, in 2011, the student head count was 718, according to federal enrollment data.
Officials had been in the process of reviewing the institution's financial health and developing a plan to grow enrollment when the pandemic struck, according to the college's statement. But it couldn't survive the virus.
"The impact of COVID exacerbated the College's challenges," the college's statement noted, adding that "numerous partnership options" had been explored prior to the closure announcement.
Ultimately, one partnership option will keep a sliver of Presentation College alive.
St. Ambrose University in Iowa will take on Presentation's online nursing program, creating the Nano Nagle Online School of Nursing, named for a famous figure in Catholic higher education. St. Ambrose University is also one of several teach-out partners designated to help Presentation students finish their degrees, along with the University of Mary in North Dakota and Olivet College in Michigan. Other teach-out agreements may be added later, according to the college.
The campus itself is owned by the Presentation Sisters organization.
Trouble Ahead for the Sector?
With continued enrollment challenges for many colleges and the end of federal COVID-19 relief money, some higher education observers believe that 2023 may be the year vulnerable institutions succumb to the closures that government funds helped them stave off.
"We think that there is going to be a catch-up of closures in 2023, and probably into 2024," explained Rachel Burns, a senior policy analyst for the State Higher Education Executive Officers Association. "It depends on how institutions have decided to spend down those federal funds, where they've invested them or given them directly to students. So it's hard to predict when it's going to happen and which type of institutions that it will happen to, but we anticipate a catching-up period to account for the past two years for colleges that would have closed but didn't."
Burns also noted that student outcomes in the aftermath of a closure are "overwhelmingly negative." She pointed to a recent SHEEO study, which found that only 47 percent of students re-enrolled after their college closed. Of those who re-enrolled, only about a third earned a credential, based on an analysis that examined college closures between 2004 and 2020.
Students caught in an abrupt closure with little notice to plan their next moves or continue their education through a teach-out agreement have the worst outcomes, the SHEEO study revealed.
An analysis last year from EY-Parthenon, drawing on 2020 IPEDS data, projected that 20 percent of four-year colleges in the U.S. were facing operational risk. But when 2021 IPEDS figures became available in recent weeks, EY-Parthenon reran the analysis with the newer data, and the results—not yet published—deemed only 10 percent of colleges at risk.
That number, analysts say, reflects federal coronavirus relief funds; it isn't that struggling colleges have suddenly improved their outlook but rather, they've been buoyed by federal funds.
Kasia Lundy, a principal at EY-Parthenon, said that federal funding "artificially bolstered the profit margin" for colleges, which explains why fewer institutions appear at risk in the latest analysis.
"It also—artificially, we think—stopped the conversation that institutions were starting to have about bigger changes. We think this effect is going to be very temporary," Lundy said. "And we're already starting to see the cracks in the foundation, where more institutions—and not just small institutions—are starting to talk about long-term financial health issues and are beginning to look a lot more holistically at what they need do, both on the revenue side and on the cost side."
As colleges face hard choices and the end of federal relief funds, officials will have to make decisions in an environment rife with serious challenges for higher education. And while many colleges have closed, others have opted for a different route: finding a merger partner to keep the institution alive in some way, even if that means being absorbed into another college. Some struggling institutions, like Bloomfield College in New Jersey, have made public appeals for partners. For Bloomfield, that appeal paid off in the form of a merger with Montclair State University that is now underway. (And just today St. Joseph's University announced a merger with Pennsylvania College for Health Sciences—the the second merger in less than 12 months for St. Joseph's, which absorbed the University of the Sciences in June.)
Others may follow. In December, Fitch Ratings declared a "deteriorating" outlook for the sector, noting operating woes brought on by rising costs and wages combined with dwindling enrollment. Volatile markets also drove college endowments down, with an average projected loss of 10 percent. The "deteriorating" designation is a downgrade from Fitch's "neutral" outlook in 2022.
Another sector analysis from S&P Global Ratings, released Wednesday, found that the 2023 outlook for the U.S. nonprofit higher education sector is "mixed." An S&P Global press release noted that "less selective, regional institutions will struggle amid growing competition, higher expenses, and operating margin pressure that could weaken credit quality." In 2022, S&P Global declared the sector outlook "stable" after four straight years of a "negative" outlook.
"The college and university sector has experienced financial tailwinds from unprecedented federal emergency relief funds, but these funds have mostly been exhausted entering calendar 2023, likely creating operating pressures for many schools," S&P Global Ratings credit analyst Jessica Wood said in a news release. "Student enrollment has not rebounded to pre-pandemic levels uniformly across the sector, and many schools continue to face enrollment pressures. At the same time, wage and general expense inflation will continue to be an economic challenge for most higher education providers while revenue recovery, even with tuition increases, is likely not enough to fully offset expense growth."