You have /5 articles left.
Sign up for a free account or log in.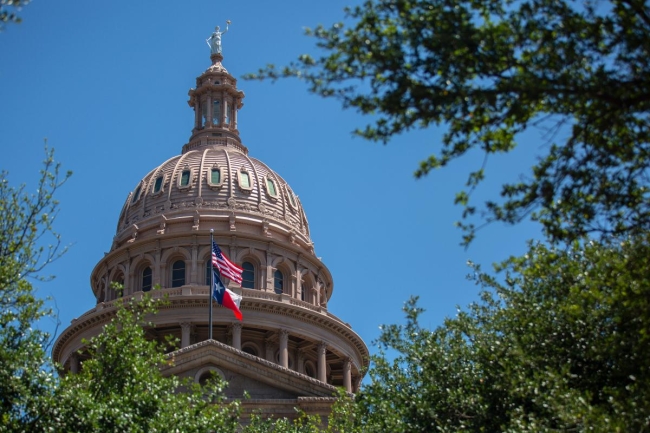 Montinique Monroe/Getty Images
State budget season is here, and with a few notable exceptions—California and New York among them—many states are entering it with a significant surplus.
Thanks to a number of factors—including increased tax revenue, lingering pandemic stimulus funds and, at least in oil- and gas-rich states, boom times for the energy sector—49 out of 50 states collected more revenue than they projected, according to a fiscal survey conducted by the National Association of State Budget Officers.
But will public higher ed institutions see some of the windfall, as predicted a year ago? Or will an unsteady economy and political uninterest shrink their piece of the pie?
Tom Harnisch, vice president for government relations at the State Higher Education Executive Officers Association, said concerns over a potential economic downturn and skepticism of higher education's value for students and state economies alike could make it more difficult for higher ed institutions to make their case to lawmakers.
"Sizable—in some cases, historic—budget surpluses are providing hope to higher education, particularly institutions and systems that have had their budgets either flatlined or cut," Harnisch said. "A lot of it will depend on the political dynamics of the state, and the priorities of the governor and Legislature … there are a lot of other needs post-pandemic that higher ed will have to compete with."
Will Surpluses Spill Over Into Higher Ed?
As budget proposals roll in from governors across the country, some include much-needed increases in higher education funding—even if they're unlikely to pass legislative muster. Others are exploring new funding models to ensure that public higher education can help boost the state's economy and train students for in-demand jobs. And in states like Kansas and West Virginia, which have repeatedly cut higher education funding in the past decade, institutions are eyeing the fuller-than-usual coffers with a mixture of hope and trepidation.
Still, a surplus, even an unprecedented one, is no guarantee of a funding boost for public institutions, Harnisch said. A political push for tax cuts and post-pandemic economic needs like jobs programs may drain much of the largess, and anxiety about an increasingly likely recession in the near future could earmark the rest for rainy-day funds.
"A concern I have is that states will use this opportunity to make sharp reductions in their tax rates, and then as the economy slows down and federal funds disappear, they'll have deep deficits that result in cuts to state programs, including higher education," Harnisch said. "There's going to be a considerable amount of pressure on legislators to provide that broad tax relief."
That pressure is already dampening the hopes of some state higher education leaders.
In Kansas, which is enjoying a $3.2 billion budget surplus, higher ed officials were delighted last week when Governor Laura Kelly announced her plan to give the state's colleges and universities an additional $100 million in funding, including $20 million to support financial aid. Kelly, a Democrat, branded herself as "the education governor" during her 2019 gubernatorial campaign and appears eager to live up to that moniker. But many lawmakers in the statehouse balked at Kelly's proposal, arguing instead that the state should stash more money in a rainy-day fund and implement broad income tax cuts.
A similar dynamic is playing out in Arizona, where the Republican state Legislature will have to negotiate with a Democratic governor—the newly elected Katie Hobbs—for the first time since 2008. Hobbs used a $5 billion budget surplus to propose significant funding increases for the state's higher education institutions, including $80 million for scholarships to low-income and DACA students in the state. Republicans in the statehouse, however, much like those in Kansas, are preparing to put up a fight; House Speaker Ben Toma said the governor's budget is as good as "dead on arrival."
In other states with budget surpluses, leaders do not seem even remotely inclined to give higher education a slice of the extra cash.
In West Virginia, oil, coal and natural gas severance taxes—state-imposed taxes on the extraction of nonrenewable natural resources to be used in other states—have helped bring the budget surplus to a record $1.3 billion. In light of the overflow, members of the state higher education commission hope that, at the very least, they won't have to brace for another round of cuts. Over the past decade, the state has slashed $156 million of funding for public institutions, while tuition has risen nearly 58 percent, according to an October study from the West Virginia Center on Budget and Policy.
"We are hopeful, given the state's finances, that we will not see a reduction but some stability," Rob Alsop, West Virginia University's vice president for strategic initiatives, told The Daily Athenaeum, WVU's student newspaper.
There's less optimism that the state's institutions will get a fresh infusion of cash. Despite the surplus, Governor Jim Justice's budget proposal, announced Jan. 11, included no additional funding for higher education. It did, however, include a 50 percent income tax cut.
Kelly Allen, executive director of the nonprofit budget and policy center, said this pattern of tax cuts and flat budgets has led to "deep holes" in the state's higher education budget. While she said this year of record surplus would be a good opportunity to fill some of those holes, she "doesn't see the appetite" from Charleston.
"Higher education is always on the chopping block when the budget is tight or revenues are down, so I think it would make sense to go back and invest in higher education specifically with this surplus," Allen said. "Unfortunately, I don't think the governor's budget has that as a priority … all of the energy is focused around big, sweeping income tax cuts."
Texas Is Flush With Cash, and Institutions Want In
Texas projected a $32.7 billion surplus this year, an unprecedented 26 percent increase, for a total state budget of over $188 billion for the next two years. Public higher education institutions are angling for a bigger share of state funding than usual—and they are prepared to negotiate.
The chancellors of all six of the state's public university systems wrote a letter to state lawmakers proposing a deal: they vowed to freeze tuition at current rates if the state injects nearly $1 billion into higher education over the next two years.
Texas higher education commissioner Harrison Keller said that number, though certainly large, is more modest than it seems given the size of Texas' six systems. The tuition-freeze proposal would address affordability, a priority for lawmakers, while securing funding for faculty hires, construction and maintenance, and research.
That $1 billion is in addition to funding requested for what Keller calls "emerging research universities," which aren't eligible to draw from the permanent university fund available to the University of Texas and A&M systems. Those include the University of Houston, Texas Tech University, Texas State University and the University of North Texas.
Yesterday morning the Texas House and Senate released their initial budget proposals. Both versions include $2.5 billion for those emerging research universities and $650 million for community colleges, the latter of which could, for the first time, be contingent on those colleges' transfer and completion rates rather than calculated based on student credit hours. The House budget includes a placeholder for potential funding related to a tuition freeze, but there is no mention of the deal in the Senate version.
Keller called the initial funding proposals "a great starting point" but said it won't be clear whether the state is open to the tuition-freeze exchange put forth by the Texas system heads until appropriation discussions get underway—and it will take months of debate among lawmakers in Austin before a final deal is reached. But after a quarter century of working in the state's higher education sector, Keller said, "I'm more optimistic than I've ever been going into budgeting."
"It's sort of like the anticipation of Christmas morning, waiting for the final budgets to come out," he said. "Legislators are going to ask hard questions about what kind of return they're going to get on that investment … but based on the tone of conversations I've been having, I think the will is there."
New Funding Models Center Workforce Development
A handful of states are looking to try a new approach to their higher education funding formula: directing money to academic programs that will prepare students to take jobs in state industries that need workers.
Last year, the Iowa state Legislature considered a proposal to tie some higher education appropriations directly to workforce preparation and in-state retention. The proposal never made its way into the final budget, but Republicans in the state Legislature have said they're looking to bring the issue to the floor again this budget cycle.
Instead of appropriating more funding for the board of the state's public colleges and universities to distribute among the institutions, the new model would create a Workforce Grant and Incentive Program to dole out grant money to individual students on a path toward a career deemed "high-demand" by the state, like teaching, nursing or engineering.
Iowa is working with a nearly $2 billion surplus, a number that shattered last year's state record by more than 50 percent. Statehouse speaker Pat Grassley, a Republican representative who has advocated for the proposal, did not respond to multiple requests for comment from Inside Higher Ed.
Iowa isn't the only state exploring ways to tie higher education funding to workforce outcomes. In North Dakota, which has a $750 million budget surplus, Governor Doug Burgum included a similarly named Workforce Innovation Grant in his budget proposal in December. Billie Jo Lorius, communications director for the North Dakota University System, said the system has only received a 1 percent funding increase since the 2013–15 biennial budget; this year, leaders are asking for an additional $8.5 million, which amounts to another roughly 1 percent increase.
"We want to ensure our students and their families are not the ones that have to incur a major increase in cost," she wrote in an email to Inside Higher Ed.
In Indiana, where similar performance-based incentives have been a part of the higher education funding formula for 20 years, the Legislature passed a bill last week that establishes formal metrics for retention and workforce development, according to Allison Kuehr, communications director for the Indiana Commission on Higher Education.
"The revised formula addresses the key challenges facing Indiana and many other states," Kuehr wrote in an email to Inside Higher Ed. "The metric supports the needs of Indiana businesses and is a concerted effort to retain college graduates where taxpayers have provided investment."
Harnisch said the move to link funding to workforce development has been years in the making, and that while the value of higher education can't be reduced to its economic contributions, state governments are increasingly likely to see it that way. State institutions, he added, are learning to cater to that view in exchange for the dollars they need.
"That's been a starkly growing trend in recent years, and the way governors talk about higher education is in the context of economic and workforce development right now," Harnisch said. "Certainly, our mission extends beyond that."